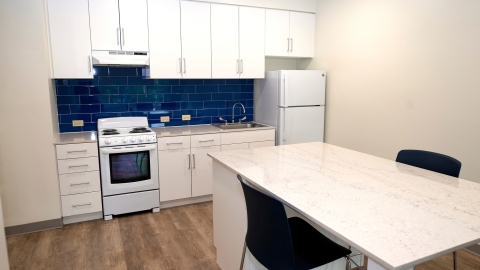 New West Campus Apartments are Ready for Residents
August 11, 2023
Junior and senior students returning for the 2023-24 academic year will have a new set of residence halls to call home, as the first buildings of the University's reimagined West Campus are complete.
Last summer, Bucknell announced that the 50-year-old complex of residential housing units known as the "Mods" would be replaced by four apartment-style residence halls with enhanced outdoor recreation amenities. The first phase of this yearslong project razed half of the Mods, clearing space for the first two buildings.
Towering above the Depew baseball field and Emmitt soccer field, these halls display the red brick iconic to Bucknell's historic architecture. Inside, up-to-date appliances and stylish furnishings usher this side of campus into the 21st century.
The 34 student units (four of which are wheelchair accessible) include four single bedrooms, a spacious shower and separate bathroom vanities with ample storage. Taking cues from student feedback, the kitchen — featuring "Bucknell blue" tile — houses a large, multifunctional island.
"Students really like the islands in the South Campus Apartments, so that's what we went with here," says Stephen Apanel, director of housing services & card access services. "Students also told us that they like to customize their furniture, so we provided room to do that by not cluttering the space with too many pieces."
Lounges with ultramodern furniture provide energizing spaces for studying, socializing and relaxing on all three floors. Some are filled with shared tables and couches doubling as laptop desks, while others feature mobile one-person study pods and half a dozen whiteboards. Each space is designed with flexibility and comfort in mind.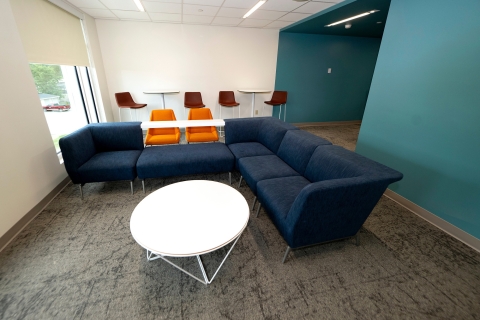 The West Apartments also feature first-floor laundry facilities, shelving for food deliveries from services like Grubhub and Door Dash, and a motion-controlled temperature system. A geothermal heating and cooling system eliminates the combustion of fossil fuels on-site, dramatically lowers the need to generate power, and significantly reduces the emission of greenhouse gasses.
Construction on the second pair of West Apartments and the outdoor quad will begin in December, with plans to open the final halls in fall 2024. Once complete, students on West Campus will enjoy outdoor ping pong tables, a fire pit and barbeque grills, an amphitheater and more.