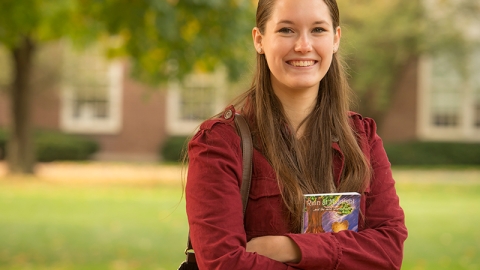 Pushing Through Adversity
January 15, 2016
Kelly Pretz '18 advocates for epilepsy awareness.
By Erica L. Shames
Kelly Pretz '18 was 10 when she had a grand mal seizure. Her mouth filled with saliva and she lost control of her body. "I was confused and scared," she recalls.
Diagnosed with Rolandic epilepsy and advised by doctors to keep the disease a secret, Pretz recorded her thoughts and feelings in her diary. Years later, she edited her reflections into a book, Rain at Midnight (2011, The Place in the Woods), to help others who are "different," as she says.
She also created a mentoring program for children and teens and spoke with congressional leaders about funding epilepsy research. In 2014, she earned a $5,000 Spirit of a Hero Scholarship award from New Jersey's first lady, Mary Pat Christie, for her profound effect on global awareness of the disorder, as the award announcement stated.
"Epilepsy had a big impact on me," Pretz says. "It jump-started me to be an ambitious person. Volunteering at the Epilepsy Foundation of New Jersey made me realize what it's like to have a passion."
Having a seizure disorder, Pretz realized, also gave her something to prove. "Because epilepsy made everything more difficult, it motivated me," she says. "People would ask why I was taking a demanding class, and I would answer, 'I'm going to struggle through it, but I'm going to show you I can do it.' I wouldn't wish my experience on anyone, but it did make me a lot stronger and encouraged me to strive for a lot more than I thought possible."
Her experiences prompted Monna Rarig, a cataloging specialist, to create a display at Bertrand Library during National Epilepsy Awareness Month in November. "I was curious to learn more about the disease and thought others could benefit, too," says Rarig.
On campus, Pretz's can-do attitude is apparent. She is a counselor for Building on Foundations, a leadership and service preorientation program; a member of Kappa Alpha Theta; and, with sister Amy '16, part of the We Brake for Nobody improv comedy troupe. An animal-behavior major, she helps train shelter dogs to make them more adoptable and does observational research with primates on campus.
Seizure-free for nearly five years, Pretz's life is on an even keel. New challenges, however, have emerged with a recent diagnosis of an autoimmune disease, Hashimoto's thyroiditis.
"I grew up with what I'm dealing with now — changing medications, revising dosages. I'm more equipped to handle it," she says. "Sometimes it's a lot of just pushing through."
Pretz is the 11th in her family to attend Bucknell. "They all wanted me to go to Bucknell," she says. "I looked at other schools; unintentionally, I kept comparing them to Bucknell, and they fell short. I had the feeling that if nothing can equal this, and I feel at home here, this is where I need to be."
This story originally appeared in Bucknell Magazine. To read more from the latest issue, click here.