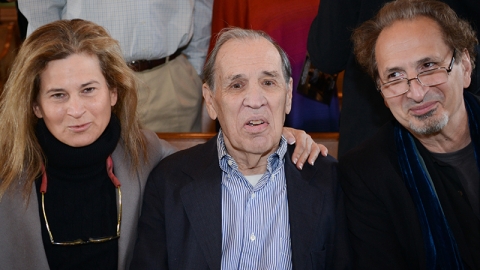 Reflections on Jack Wheatcroft '49
January 19, 2016
At a ceremony during Homecoming, siblings Peter '73 and Jan Balakian '83 depicted the teacher/poet/mentor who animated their lives professionally and personally.
Jack Wheatcroft '49
By Peter Balakian '73
I'm happy to be here this morning in the house that Jack built.
Jack pulled me aside one evening in the winter of 1972 when I was a junior — after a group poetry reading in the student union — and told me to come and see him if I wanted to talk further about my poems. My life as a writer is inseparable from — and in some way began — with our conversations over drafts of my poems in that inimitable Bison coffee shop with its '60s space-age décor.  
For my own life, Jack connected Bucknell of the 1940s, from which my mother graduated in 1948, to Robert College on the Bosporus of 1904 where my grandmother Koharig graduated — and the connection is liberal education. Jack embodied liberal education, by which I mean that process which is subversive in its demand of critical thinking and its unmasking of power structures aimed at brutalizing the poor and marginal and reducing complexity to clichés and cartoons; in Jack's case, this meant unmasking with the imagination — with language — with transformation — of an empathic, creative force. Go back and read his early prize- winning play Ofoti if you want to get a sense of his ideas about the imagination and its force for living.
Jack was a great teacher both one-on-one and in the class; he was a nurturing, caring teacher, on the side of you the student, appreciative of what you were doing, and asking you — by his very intensity — to do more. He taught literature from a deep place in himself, and he believed in it as a sacred-secular script, something to live in and by. In Jack's lectures and conversations there was always an existential urgency in his eloquence and — his eloquence was never sentimental — but always probing, always making connections and always about being.
He did more than anyone I know to create a literary community at Bucknell, where writers and scholars and readers of literature could come together. This beautiful Stadler Center is one emanation of this — but there are many other spaces on the campus where Jack made that community happen. And, I don't want to forget The Press of Apple Tree Alley, which Jack founded with his dear friend Barney Taylor and which brought out beautiful handmade limited editions of poetry with woodcuts. Jack and I co-authored one together as did Bruce and I and Karl Patten and Jack — and there was a whole rich series of books in this vein by important American poets.
As you know Jack was a prolific writer — poet, novelist, short story and plays; sometimes romantic, sometimes dark as a knife; obsessed with the grotesque, with human frailty and characters searching their inner conflicts. His best-known book is Catherine, Her Book, a novel that revisits his own obsession with Emily Bronte's Wuthering Heights, a novel that thousands of Bucknell students learned with Jack. Some of you know that Jack never stopped writing, but I'm not sure if many of you know that in his 80s Jack wrote three works of fiction and two books of poems — five books in less than a decade — at a time in which he had a very scant publishing apparatus behind him and almost no audience. His passion to make his art was supreme — the making was the meaning; his life was a focused and disciplined celebration of this fact — the making was the meaning and the meaning was essential to how to be in the world.
I don't want to close without noting just briefly (as this isn't a time for personal reveries); out of our work together, we've had so much fun over the past 40 plus years; endless hours on South 11th Street with Jack and Joan; endless beautiful dinners; and so many days and nights with Jack and Katherine at Gundy farm — endless beautiful dinners — much wine, martinis, coffee — Jack's sardonic black humor; the Yankees, Giants, Knicks, Beethoven concertos, Blind Lemon Jefferson, Baptist hymns with irony; with Bruce and Jack and Keeper along the river;  cooking with Jan Armenian fare for Mildred and Jack on South Front St.; with Barney in the typesetting room on Apple Tree Alley; Jack's generosity always an animating force and still his. Our only way to thank you Jack is: to keep doing and doing.
Let me close with an excerpt from Jack last book I Am? (pages 37-38). This long poem deals with the poet and artist as maker and shaper of things, of the world.
"To begin, consider the shaped prisons in which Giotto,
Vermeer, Georges Braques, and Joseph Cornell, to choose
seemingly at random, found what shapes they had to confine:
a gang of saints who are no more than they ever weren't,
a woman who might be opening or closing a casement while
she grasps the handle of a pitcher that is or isn't empty;
a guitar without strings; a house of cardboard in which no
children play, which has been made for dolls that before
a prostitute named Barbie and her pimp named Ken
weren't and still aren't. (Are any of you following me?)
 "Or moving across to
La Traviata
: listen to the chants
or melodies, the soprano and tenor, who try to unmake the
self in order not to be, by shaping their voices to live in lines
and spaces, scores of sound we can only hear, as we listen
in silence to their out-of-body vocals, while on-pitch sounds
are beat, blown, bowed, breathed, sighed, blared, rippled,
clanged, and boomed into being, which wouldn't be if they
all weren't led on by a  conductor flailing dislocated arms.
  "And since we're on this track, take into account Cagey John,
who himself can hear and make you listen for silence that
isn't there and must be nothing nowhere else. What else is? …"
Peter Balakian '73 is the Donald M. and Constance H. Rebar Professor of the Humanities at Colgate University in New York.
Memories of Jack Wheatcroft '49
By Jan Balakian '83
As an anxious freshman (and then sophomore, junior and senior), I knocked on Jack's second-floor, corner office in Vaughan Lit so often that I know my knuckle marks are still there. My aunt in New Jersey would tell me, "You're driving that Professor Wheatcroft crazy!" But Jack was always there for students — to help, explain, listen. When I was having a panic attack about defending my senior thesis on William Saroyan's short stories, he asked Katherine to step in.  And so she did—right outside Vaughan Lit., assuring me that things would be ok.
I loved the way Jack led us by the hand through texts that mystified many of us.  With his eloquent lectures about the Novel through Austen and the Novel through Conrad, he taught us about theology in medieval literature and its breakdown with Newton's influence on the 18th-century novel. The course on drama began with Aeschylus' Oresteia and ended with Edward Albee's Zoo Story. In between, we read the plays that would become my area of interest — Streetcar and Salesman.  "Deracination," he said was the defining fact of modernism.
As he lectured, he always gazed out the Vaughan Lit. window, communing with some mystical force out there — as if watching Catherine and Heathcliff walking the wild moors of Yorkshire in Wuthuring Heights. As if Willy Loman were planting his garden in the parking lot of Vaughan Lit.  But by the end of the semester, he said he should become invisible, so students would give presentations.
I loved those free pieces that he assigned to freshmen. We could write whatever we wanted in any form. The only restriction was that we would write our names on the back so that he could read each piece objectively. He would return them promptly, folded down the middle, with careful comments written in pencil — always instructive, always encouraging. Teaching us how words matter. As Catherine says in his novel, Catherine, Her Book, "The word enables."
But Jack was not just a great teacher of literature; he was good at and disciplined in everything he did: When fights broke out in committee meetings, they would call in Jack to resolve them. I saw him making a garden outside Vaughan Lit. for a colleague who passed away. When we played tennis, he was a natural. He also generously nominated students for prizes. Later, he faithfully sent us his many books with personal inscriptions. He is a Renaissance Man.
He will always be the students' professor, carrying the classroom from Vaughan Lit. to the Bison over 11 a.m. coffee, ceaselessly giving us his time and counsel. I'll never be as erudite as Jack, but whenever I can help a student, or when a few students engage with the big questions that literature asks and teaches them about their lives, I think of my students as Jack's grandstudents.
Jan Balakian '83 is a professor of English at Kean University in New Jersey.