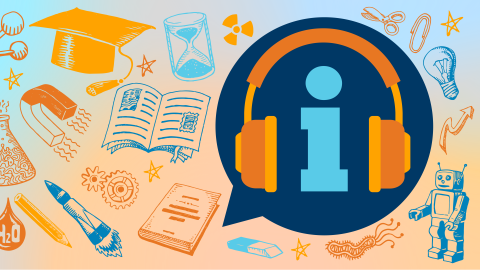 Minisode: Get To Know Your Hosts
April 11, 2022
---
We're dropping in mid-week with a special mini-episode to share some recent changes at College Admissions Insider. Bryan Wendell, who cohosted the podcast, is now pursuing new and exciting career opportunities beyond Bucknell — and we wish him the best of luck!
Joining Brooke Thames as the podcast's new cohost is Becca Haupt Aldredge, senior associate director of admissions at Bucknell.
If Becca's name (and voice) sound familiar, that's because she's been a guest on several prior episodes. In fact, she was our first guest ever! You may remember her expert advice on Episode 1: Choosing a College Without Visiting as well as other topics like the role of social media and what to do after you've been admitted.
In this minisode, you'll learn more about Becca, her college experience and her work at Bucknell — plus a couple of fun facts about Brooke.
If you have a question, comment or idea for a future episode, please email podcast@bucknell.edu.
Minisode Transcript
[INTRODUCTION]

[00:00:06] BT: Hey there, listeners. It's Brooke Thames from Bucknell University bringing you a short and special College Admissions Insider minisode. We've undergone some recent changes here at the podcast and wanted to dedicate a few minutes to filling you in. Bryan Wendell, whose voice you've come to know, is now pursuing new and exciting career opportunities and will no longer be cohosting our biweekly episodes. We wish him all the luck in the world on his new ventures, and we'll definitely miss his presence and talent here at Bucknell.

As for the future of the podcast, we'll still be here every other Monday to give you insight into your most pressing questions about the college admissions process. And by "we," I mean myself and our new cohost, Becca Haupt Aldredge.

[00:00:49] RHA: Thanks, Brooke. And hey, listeners! Bryan, if you're listening, we miss you.

[00:00:54] BT: If Becca's name and voice sound familiar, that's because she's been a guest on several prior episodes of the podcast. In fact, she was our first guest ever. You may remember her expert advice on that episode — Episode 1: Choosing a College Without Visiting —as well as other topics like the role of social media and what to do after you've been admitted. 

We're so glad to welcome you as a cohost of College Admissions Insider, Becca, and to help me and our listeners get to know a bit more about you, I have just a couple more questions for you to answer if you're up for it.

[00:01:27] RHA: Of course. But let's not make it all about me. If we're going to be cohosts, I'm sure our listeners would like to know more about you as well.

[00:01:34] BT: Yeah, for sure. Alright, let's do it. 

So starting with you, Becca, we've mentioned your title before when you've appeared on the show. You're a Senior Assistant Director of Admissions at Bucknell. Can you share what all of those words mean and what it is that you do?

[00:01:48] RHA: Yeah, definitely. So at Bucknell, I work with our on-campus recruitment team. That's the team behind the scenes that plans all of our daily visit operations, our campus tours, overseas, our student tour guides. I specifically get to plan all of our fall open houses and are admitted and enrolled student days in the spring. But aside from that, I also read applications. I'm an admissions counselor, and I specifically work with students from Pennsylvania — Bucks County, Delaware County, Philadelphia County, South Central and Southeastern PA.

When I'm not traveling or planning events, I also am the scholarship manager for our Community Engagement Scholarship, and I'm the co-chair of the Enrollment Management Diversity, Equity & Inclusion Council. But what all of that means to me is that I really just advocate for students, and I find lots of ways to do that through every step in the college admissions process.

[00:02:41] BT: Yeah, sounds like a really full and fun job getting to work so closely with prospective students.

[00:02:47] RHA: It definitely is, Brooke. So, Brooke, you are a writer with the Communications team here at Bucknell. Can you tell us about what other projects you get to work on when you're not planning and recording the College Admissions Insider podcast?

[00:03:00] BT: Yes. So my general job is, as a writer in the Communications division at Bucknell, you can typically find me working on everything from new stories about cool and interesting students and projects going on at the University to writing copy for the array of viewbooks, and brochures, and other Bucknell materials, and even one or two of those emails that end up in a prospective students' inboxes. I even help our team create experiences that help prospective students get to know Bucknell in awesome new ways like our custom viewbook and the immersive VR tool that we have that allows students to explore Bucknell in virtual reality.

[00:03:37] RHA: Wow. So it sounds like you're super busy. 

[00:03:39] BT: I get to have my hand in a lot of different pots, which I really enjoy as a creative person. 
So, we're both here on a podcast about college admissions, and so I'm curious to know a little bit more about your own college experience, Becca. Can you tell us where you attended school and what you studied?

[00:03:56] RHA: Definitely. This is one of my favorite questions because no one actually majors in undergraduate admissions, as it turns out. We all just sort of end up here. I'm a proud Red Hawk from Montclair State University in Montclair, N.J. And there, I studied exercise science. I picked Montclair for really practical reasons: It was actually near my home ice rink. I was an athlete growing up, a figure skater on a synchronized skating team. And at the same time that I was searching for colleges, I also had been invited to represent Team USA. I wasn't about to miss out on that opportunity. So I decided to stay nearby, skate at my current rink and enjoy my final year of eligibility with my team. It was a really great decision in the end and I ended up loving my time at Montclair.

After I graduated with my degree in exercise science, I knew there was more to well-being than physical health, fitness and athleticism. So I went on from there to get my master's degree from Rowan University in Glassboro, N.J., in counseling. This combination really allowed me to bring a holistic mind, body perspective to the work that I do with students.

[00:05:01] BT: Wow, representing Team USA. So that's like big league. What was that like for you?

[00:05:06] RHA: It was a whole lot of fun. Synchronized skating meant that I got to do it with some of my teammates who are still my current best friends, and so it was a really special experience.

[00:05:14] BT: Yeah, that's awesome.

[00:05:15] RHA: How about you, Brooke, what was your college experience like?

[00:05:17] BT: I went to a really small liberal arts university in the Pacific Northwest called Pacific Lutheran — go Lutes! I was born and raised in California but was really drawn to the idea of going to explore somewhere else during college, somewhere new, while also being just a short flight away from my family. I've always been a writer, so I knew that's what I wanted to study and PLU had a communications major with a concentration in journalism. I will admit that I did not quite know what journalism was at 18. But I jumped in any way and ended up loving it. I worked at the student newspaper all four years, eventually serving as editor-in-chief. And I even got to intern at the university's Marketing & Communications department doing pretty similar work to what I do now at Bucknell. 

I mentioned the school is small, and that ended up being the perfect fit for me, personally. I'd gone to really small private schools my entire life and so that felt really natural. I loved seeing familiar faces every day no matter where it was on campus. And the friends I met in my first-year dorm wing are still my best friends today.

[00:06:24] RHA: Wow, who knew an internship at PLU in the Communications office would lead you to working at Bucknell in our Communications office.

[00:06:33] BT: Speaking of paths and one thing leading to another, how did your path post-college lead you to admissions?

[00:06:39] RHA: Yeah, so after I had finished ice skating, I had a lot of time to fill my sophomore and junior years. So I ended up really finding my way to admissions through something called Student Affairs. I was a residential advisor in college, with our Residential Education office. I also gave tours for the Admissions office, of course, and I found I really loved working with students. I had two really great advisors, Omar Mahmud and Dr. Rob Gilbert, who encouraged me to consider higher education as a career. And looking back, I'm really glad that they did.

I followed that path to graduate school, where I got to spend a lot of time working with college students on the autism spectrum, which was a really neat experience. And from there, I ended up at Bucknell working in residential education, where I got to oversee our affinity housing program kind of combining my background in ResEd with some of the counseling work that I did. The affinity housing program at Bucknell meant I got to work with some of our interest and identity-based communities here on campus, like Fran's House that serves our LGBTQ community, and Seventh Street House, which serves students who identify with the Black diaspora — plus interest-based communities like entrepreneurship & innovation and Bohemia and arts community here.

So, in that position, I got to meet so many fabulous students. I really fell in love with what Bucknell was doing, who Bucknell students were and what they were all about. I actually lived on campus in my role, so I got to know the students really well. I was living where they were living, and I was eating where they were living, and I was really immersed in the community here. But I was ready for a change and admissions allowed me to serve students in new ways, move off campus and find some better work life balance, which I really appreciated, too.

[00:08:18] BT: Yeah, that's awesome. So you also had some experiences while you were a college student that ended up translating to what it is that you do here.

[00:08:25] RHA: How about you, Brooke? Has your post college trajectory been a straight line? Or was it a wandering path that led you here?

[00:08:31] BT: It definitely wasn't a straight line. I mentioned that I majored in communications with a journalism concentration. And when I graduated, that's what I thought I was going to do 100%. I ended up going straight from undergrad into a master's program for journalism at the University of Southern California. It was a yearlong program that was really challenging and highly rewarding, and it sharpened so many of my skills and also equipped me with tons of new ones, including audio production. It also threw me in the deep end of what real-life journalistic work is like and what that industry can be like. Ultimately, it didn't end up really meshing with me the way I thought it would.

I still wanted to write and have that be a core of my career, and I really enjoyed the marketing and communications work I did as an undergrad. So that's the route I decided to pursue after graduating. And believe it or not, I'm still using tons of those professional and personal experiences from my journalism grad school experience in my everyday work here at Bucknell. The two fields overlap in a lot of unsuspecting ways.

[00:09:34] RHA: Wow. So for students listening, I guess they should take caution that student-employment opportunities on campus and internship opportunities on campus, could really end up shaping your career, both related to your academics and in whole new ways.

[00:09:47] BT: Yeah, it's definitely a formative time. 

Let's talk a little bit more about admissions since we are so lucky to have someone who does that work every day joining us on the podcast. It seems like it's such a fast-paced division of any school. There's always something happening, whether it is tours, informational events, or reading applications every year. I mean, you mentioned so many things you're constantly working on. So what's your favorite part of working in college admissions?

[00:10:14] RHA: It's hard to identify a favorite part. But what I really love is that admissions comes with distinct seasons. Whether we're traveling in the fall, meeting with high school juniors and seniors, reading applications throughout the winter months, or working to yield our incoming class in the spring at admitted student events, there's really always something new to do. I'm also really grateful to work with an incredibly supportive and innovative team that allows me to work on projects like this one. We work in a team that allows us to pitch new ideas for programs and events, and go ahead and try new things and make things happen. I think our admitted students, our prospective students and their families really appreciate our willingness to try new things and see what works.

[00:10:56] BT: Yeah, even though admissions can be cyclical with that natural admission cycle. And like you said, I imagine it's really cool to be able to try to do things new every time.

[00:11:05] RHA: Exactly. At the end of the day, it's the meaningful conversations with students and their families that keep us inspired to do this work. But none of that would be possible without the incredible team in the Communications office, Brooke. Your team is critical to helping us recruit and attract the most interesting, talented and diverse students to Bucknell. So what's it like to collaborate with admissions and do you work with other offices too?

[00:11:28] BT: Yes, I do. Because I'm constantly looking for ways to showcase all the amazing and innovative work going on at Bucknell. I'm constantly connecting with students of various majors, professors from different disciplines, and colleagues and offices across campus from Civic Engagement to our Sustainability office. 

One of my favorite aspects of this job is getting the opportunity to work with Admissions, speaking directly to prospective students. It's so fun getting to collaborate on materials like our viewbook, or email communications, and even this podcast to provide students and their families with the resources they need to navigate the admissions process — and also show off the best parts of Bucknell and the educational opportunities that await prospective students here.

[00:12:10] RHA: That's awesome, Brooke, and it seems like you and your team are doing a fabulous job.

[00:12:15] BT: Well, thanks. I think everyone here in Communications would agree that you guys are doing awesome job as well. 

Well, I have thoroughly enjoyed getting to hear more about you. We are so excited to have you and all of your experience and expertise on the show, and I'm sure our audiences too.

[00:12:29] RHA: The feeling is mutual. And speaking of audience, thanks to everyone out there listening to our minisode. A new full length episode of College Admissions Insider will release on Monday featuring me, Brooke, and an expert guest or two.

[00:12:42] BT: Remember, you can always learn more about Bucknell via your favorite social media apps. Just look for @BucknellU on Instagram, Facebook, Twitter, YouTube and TikTok. You can also follow our student-run Instagram account which is @iamraybucknell.

[00:12:58] RHA: Until next time, keep reaching for your dreams and your dream school.

[END]
 
Contact Details
Office of Admissions
Location
Hours
Monday – Friday:
8:30 a.m. – 4:30 p.m.