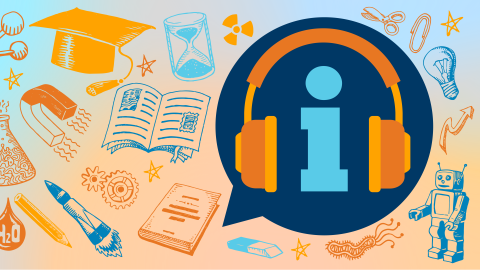 Episode 1: Choosing a College Without Visiting
October 19, 2020
---
In this episode of College Admissions Insider, brought to you by Bucknell University, Brooke Thames and Bryan Wendell welcome Becca Haupt, senior assistant director of admissions at Bucknell, to discuss how a student can choose a college without ever visiting campus.
Because of COVID-19, many schools have canceled or significantly reduced their visit opportunities. That's tough on high school students looking to build their list of college finalists or start sending off applications. But it can be done, and we'll show you how.
Hear how it's possible to make this important decision from the comfort of your laptop at home.
If you have a question, comment or idea for a future episode, email podcast@bucknell.edu.
Episode 1 Transcript
[00:00:00] BW: Welcome to College Admissions Insider, the podcast where we talk to real college admissions counselors to bring you expert advice for your college search. And I'm Bryan Wendell from Bucknell University. 

[00:00:09] BT: And I am Brooke Thames, also from Bucknell University. Our goal is to cut through all the fluff and give you everything you need to start to continue and complete your college search.

[00:00:19] BW: Hey, Brooke. This is an application season that we haven't really seen before. Because of COVID-19, many schools have canceled or they might've significantly reduced their visit opportunities, and that's tough on high school students looking to build their list of college finalists or start sending off applications. 

[00:00:35] BT: Right. If they're accepted into multiple schools, then visiting is usually the ultimate way to make the final decision. 

[00:00:43] BW: Yup. Each year, we know countless students apply to colleges they had never visited, and many end up committing to a school before they actually step foot on campus that first time. With COVID, that trend is only expected to increase this year and beyond. 

[00:00:59] BT: How do you make such an important decision from the comfort of your laptop at home? Well, we asked an expert to find out. Becca Haupt is the Senior Assistant Director of Admissions at Bucknell University. She helps coordinate a lot of Bucknell's on-campus visit experiences and has, since COVID, helped reinvent the University's virtual visit options. Welcome to College Admissions Insider, Becca. 

[00:01:21] BH: Thanks Bryan and Brooke for having me. 

[00:01:23] BW: So let's start with just the basics. What are some of the most effective ways to explore a college from home?

[00:01:31] BH: Yes. So there were a lot of ways to explore colleges from home before COVID-19 happened, but now our virtual visits are even more robust than ever before. I would always recommend that you start by taking a look at the website. Hopefully, the schools that you're considering have a great website developed both for your web browser and for you to be able to browse on your mobile device too. But I'd recommend starting to look a couple places. One place you might want to look is checking out the major that you're interested in. You should be able to read the courses that you'd have to take for that major and read the course descriptions. I like to caution students that when you're reading course descriptions, you shouldn't be bored reading them. These are classes you're going to really have to take, and so hopefully you're excited and curious about the content. If you're reading them and saying like, "Oh, no. That class sounds terrible," maybe you should check out another major, or check out what some other courses look like, or compare course descriptions from one university to another. So definitely take a deep dive into the webpage for your major. 

Somewhere else I like to look — I actually just did for Bucknell the other day — if you search calendar on your school's website that you might be interested in, you'll probably be able to find their events calendar. When you're a student, that's the same calendar that you would navigate to see what events are coming up that weekend. You might find that they have a sporting event coming up. They might have volunteer opportunities. Bucknell, we have a community garden downtown, so students can sign up for hours to volunteer at the community garden. You might sign up for a slot to use the recreation center, where at Bucknell, we have a rock-climbing wall that's open to students. This weekend, it looks like students are able to make s'mores on the quad. So those are the types of events you'd see that can help you get a feel for, when you're a student at that university, how you might want to spend your time or how you might want to spend your weekends. 

Then last thing you might want take a look at too is, at least at Bucknell, we do a really great job recording different stories from students, from faculty, and even from alumni. So you can read those stories and start to get a sense of what students are up to, what type of research faculty members are doing, what types of exciting projects are happening. Most websites will also feature some of those key highlight stories right on the main page too, so they're not too hard to find. But the website is probably step one for your college exploration from home. 

[00:03:39] BT: Nice. When it comes to getting a feel for what college or the college campus looks like — whether it's modern or more traditional, more rural or more city-based — what are some ways that students can see the campus for themselves even if they can't visit? 

[00:03:53] BH: Yeah. So I think this is where video really starts to help. Check out your universities. Check out to see if they have a YouTube channel. At Bucknell, we've got some great drone footage of campus. So while you can't be here in person, you can pretty much fly right over campus and see what it looks like. You might also see a virtual tour. Many schools at this point are offering virtual tours on their website, whether those are actually led by students walking around campus with a camera or a GoPro, or whether it is kind of like a 360 so you can kind of drag yourself. Drag around campus and explore a 360 of maybe inside a residence hall or take a walk across the quad as if you were there. Obviously, it's not the same as seeing campus in person, but video and 360 tends to help a little bit more than still photos would help you explore campus. 

You might also want to check out Google Maps, or Google Earth View or Street View. That way, you cannot only walk around campus but maybe also want to walk around town and see what the downtown area looks like, see what the area surrounding the university looks like too. So, yeah, I think video is definitely the way to go when trying to get a feel for what campus actually looks like. 

[00:04:55] BW: Yeah. I love that because looking at a bunch of photos, you don't always understand how everything kind of interconnects and what it might look like to go from one building to the next. Just as other spaces that you're going to end up spending a lot of time on campus that maybe that university didn't highlight in a photo. That's awesome. Speaking of trying to get that view that the university isn't specifically putting a giant spotlight on, things like social media would be a great way to get a different perspective on the schools that are on your list. So how do you suggest students use social media to try to really analyze their finalists or find schools that might be right for them?

[00:05:33] BH: Yeah. I think oftentimes social media can be both an official and unofficial look at a university. So here at Bucknell, we have some official social media channels. We have @bucknellu on Instagram or Facebook. Then we have a student-led channel called @iamraybucknell. So those are all kind of official university channels. But then as you dig deeper through Facebook or Instagram or even YouTube, you might find channels or pages that are moderated by different student clubs and organizations or even different departments. I know the arts at Bucknell has an Instagram page and some other student clubs. Bucknell's after-education and leadership program also has some social media presence too. 
What's nice about that is you cannot only see what the university is officially curating for your social media viewing but you can see what other students and folks in the community are posting about. You might not only just want to look at pages but you might want to use your hashtags here too, and this is almost a way to kind of go undercover and see what's going on at a university. So maybe you'll look up the school motto, the school name, or even the school mascot and see who's tagging it. You'll probably find current students, maybe even faculty members, maybe alumni. This past weekend was Bucknell's homecoming, so there's probably lots of hashtags related to that. We did a big virtual homecoming, so that's once place that you can find some things. 

Then the last one that you might want to consider looking at is location. You can use like I guess like Geofilters, or in Instagram, you can tag a specific location. So maybe look up the city and state or the town where your university is, or where the university that you're exploring is, and see what types of posts are from the area. You'll probably see students, faculty, and staff. But then on the flipside, you'll also see community members. When you look up Lewisburg, Pennsylvania on Instagram, for instance, not only will you see different student posts and faculty posts, but you'll see posts from different downtown businesses. You'll see our local ice cream shop. You also see our local farmers market and all the vendors that are there, more upcoming movies that are playing at the campus theater. It will give you kind of a broader view of who is using those hashtags both within an official university channel and just regular community members that are using those hashtags or locations too. Social media can be a great tool. It's right on our phones, so it's really right at your fingertips and really accessible for anybody to begin to explore different colleges and universities. 

[00:07:55] BT: Yeah. I know for me in my college search a handful of years ago, looking on social media was something that was really helpful, especially seeing posts from students who are sharing their first-hand experiences between talking to college admission counselors and other folks connected with the university. So talking about not being able to visit, is it possible for the college to know when a student hasn't visited and is that something that can or cannot be used against them when deciding whether to admit that student?

[00:08:22] BH: Yes. Believe or not, in most cases, yeah, we'll know whether or not you've visited officially or kind of unofficially. When you go on a school's website and sign up for an official visit, whether it's in person or online, the school kind of receives that data and it's often linked to your application or your applicant ID, that type of thing. That means when a counselor like myself reads your application, we're able to see not only what types of events you've been to — so I might say, "Wow, this student came to our STEM open house last year," or, "Wow, this student did a virtual information session or a virtual tour." But then there are other ways to come onto campus where we would really never know about it. If you come onto campus and walk around on your own, I would really, as a counselor, would have no way of knowing that. 

Then as far as schools using that information, every school is going use it differently and what we call it is demonstrated interest. Demonstrated interest is not only the official visits you've done but also the points of contact you've made. We can even see things like how often you've clicked around our website or what you've been exploring. Then we can also see things like how often have you emailed your admissions counselor. Have you reached out to introduce yourself? Did you have any questions for your admissions counselor? That type of thing. 

Here at Bucknell, we do take a look at demonstrated interest, but we use it to create context when reading your application to get a better sense of how well you know us as we start to learn and get to know you a little bit better through the application. It's not necessarily a make-it-or-break-it kind of decision factor here at Bucknell, but it is something that we will take into consideration when we're shaping our class. Again, we want to know what steps you've taken to get to know us better. Each university or college that you're looking at uses demonstrated interest differently, and so it's probably a good idea to ask different schools whether or not they use it or how they use it in their application process. 

Here at Bucknell in particular, we know that not every student can come to Lewisburg, Pennsylvania and come see us. Depending on where you live, we might be a car ride, a train ride, an airplane ride away. Especially right now during COVID-19, that might not make sense for you and your family to come check us out in person. So that's why we're excited about all these virtual options that we're offering because you can still express interest. You can still get to explore us while making decisions that make sense for you and your family. 

[00:10:34] BW: That demonstrated interest can come into play virtually if you register for an event that one of these schools. Specifically in this case Bucknell, you as a counselor would see that just like you'd see a more traditional on-campus visit?

[00:10:47] BH: Yeah, absolutely. I would see exactly what events you've signed up for and whether you attended or not. Sometimes, students sign up for events but don't always make it. 

[00:10:55] BW: Sure, sure. Plans change, yeah. My next question, it might kind of sound like cheating based on the fact that this episode is called "Choose a College Without Visiting." But are there ways to actually visit without making it an official visit because maybe it's a holiday or a weekend, or that campus is just closed to official visits during that time?

[00:11:17] BH: Yeah, absolutely. Bucknell, like many campuses, is an open campus. Our downtown area and residential area flows right into our campus community, so you can drive right onto campus, park your car, get out, and walk around if that's what you want to do. Bucknell has two different options for students even when we're closed. We've always had something called a self-guided tour packet, and they're actually available in the admissions office. Even if the office is locked, there's a foyer area that's always open, and so students can come in, grab one of those packets, walk around campus, and explore for themselves. It takes you step-by-step on a similar tour route to what our student ambassadors would take you on, so you can see what the different buildings are and what's inside them. While you're outside, you can only guess from the outside what's inside. But the self-guided tour packet will really walk you through and tell you what you're looking at. It also includes something that we call an inquiry card for you to fill out and mail back or drop off to us so that we know that you visited. Obviously, it's up to you whether or not you do that. But again, it helps us have that demonstrated interest and know that you are on campus. 

If you're not feeling like walking around so much, or as we get into the middle of September here in Lewisburg, Pennsylvania, it's starting to get a little bit chilly. You might want to take advantage of Bucknell's new driving tour. That allows you to drive onto campus, like I said. You can access Bucknell's driving tour right on your phone and then listen to one of our student ambassadors, Carolyn Campbell, talk at each of the different stops about what you're seeing on campus. It's up to you whether you hop out of your car and walk around at each of the stops, or maybe you just stay comfy and cozy in your vehicle — really whichever make sense for you. We offer both of those options because we know that when the best time is for you and your family to visit, that's when we want you to visit, right? If we have a visit at 9:00 a.m. on Monday and 9:00 a.m. on Monday is never going to work for you or your family, come when it works for you because we have lots of visit options that you can really customize and make it work around your schedule. We know you're super busy, and we know many of you might even be taking a hybrid or a virtual or in-person classes or any combination, so we really want to make our visits as accessible as possible for you to check us out on your own time. 

[00:13:26] BT: Yeah. That flexibility, especially now during COVID, is especially important. Yeah. So taking advantage of all of those opportunities — driving tours, being able to drop by campus and just to do a self-guided tour — is super helpful, and you'll be getting a sense of the campus even if you can't be guided. In instances where you can't be guided by someone who is on-campus, there are also other people who students will be in contact with throughout the admissions process — admissions counselors, maybe students, alumni, faculty. What are some good questions for students to ask those folks that they are in contact with to get a feel for campus life?

[00:13:59] BH: That's a great question, Brooke, because sometimes students think they're supposed to email their counselor, but they don't know what they're supposed to say. Sometimes, it ends up sounding something along the lines of, "Hi, I'm so-and-so from XYZ high school," and then that's it and that's all they say. So it's a little awkward for the student and it's actually a little awkward for me too as the counselor because there's really nothing to get the conversation going. When you reach out, it's a great thing to reach out but it's helpful to always have done a little bit of research. It always helps to tell us a little bit about yourself. Tell us about what major you're interested in or tell us what you do outside of school. Maybe what activities are you interested in or what are you most looking forward to. 

I've been asking students right now, "How is your senior year going? How is online learning? What has that been like for you?" If you either want to tell the counselor something about yourself or ask a specific question, you're going to also always ask your admissions counselor, at least here at Bucknell, to connect you with a current student. I just had a student email me this week. She said that she was interested in the markets, innovations, and design major in our Freeman College of Management and she said, "I'd really love to hear from a student in that major." So I was able to find one of our student ambassadors, introduced them, and now they're spending some time getting to know and talk to one another. 

So, yeah, be sure to tell us a little bit about yourself or ask a couple of questions when you send that email. It's always a good idea too. You can ask what the opportunities are coming up. Or maybe you've already visited and you want to know what's next. So maybe you're like, "Hey, Becca. Nice to meet you. I'm from this high school. This is what I'm interested in. I've already done the virtual tour. I did the driving tour and I loved it. What's next? What else should I be doing?" You can always go deeper. There are always opportunities to explore more, so sometimes you just need to ask, and then a counselor would be happy to help send you some student stories to read, or send you some interesting social media posts to check out, or just point you in the next direction as you kind of work through both exploring Bucknell and gearing up to submit your application and kind of move through the decision process.

[00:15:58] BW: I think we can sometimes think of the college as like this giant fortress that you have no idea. You're going to send your application into the void and then hope to hear back with a positive response. But really that's proving that if you take the time to reach out, people like you that are at these schools, especially Bucknell, are more than happy to respond and connect you with the right resources, right? So you just have to try and you'll find that there's a friendly smiling face on the other side. 

[00:16:28] BH: Yeah. It's actually my favorite part. We get to meet students, whether they visit here on campus or maybe we engage with them in a virtual visit option. Now, many of our counselors are planning different high school visits, so going directly into high schools via Zoom and meeting with students there. So maybe by the time I read your application, I might have had two or three different touch points to get to know you. I might've heard about your fall football season or I might've heard about that stats class that's really difficult. Then by the time I read your application, I'm like, "Wow, look. They're doing good in stats." Or I'm able to kind of follow your story and get to know you a little bit better. Then it just helps, and it really brings a smile to our faces when we read an application and we say, "Hey, I remember that student. We met at XYZ event, either virtually or in person." It's really part of our holistic application review here at Bucknell. It really helps us paint a picture and get to know you better as an applicant, which is important to us. 

[00:17:20] BW: We've talked about applying to your college without visiting. But what about taking that next step? If you've applied and you weren't able to visit every school on your list, which I know when some students are applying to 12, 15, 20 different schools, sometimes it's going to be almost impossible to visit every single one. So let's say you're accepted to some that you haven't visited and you still aren't able to visit before that deadline to make your final decision, is there a way to kind of help you decide? Because it's one thing to decide to apply, but to me it's another whole level to decide that I'm going to commit to that school before I'm actually able to visit. 

[00:17:59] BH: Yeah. No, definitely. That's a tough one, and it's only going to become even more real for students as we continue to navigate uncertain times seems to be the key word lately, but yeah. So I would encourage you, if you are really thinking about making a decision about a school and you haven't been there yet, I think you really need to zoom out and think about the big picture. I always love a good pro-con chart, so if you want to make those for each of the schools you're considering. But you want to make sure the school that you're serious about has a lot of pros. If you're choosing a school just because of this one major, or this one professor you met, or they have this one great residence hall, what would happen if you didn't get that professor as your advisor or if you didn't get placed in that residence hall? Or, oh my gosh, if they ended up not having that major anymore for some reason. Or maybe you decided that wasn't the major for you, and now you have to transfer to a different major. 

When your decision hinges on one big thing, if that thing goes wrong, you're going to find yourself in your first year really disappointed. But if you are looking at the big picture and the school that you're picking has a lot of pros and a lot of options, right? You love all of the residence hall options. Or at least you're okay with them. You have met multiple faculty members that you like. You've read the class descriptions and you're excited about many of them. Or at a liberal arts institution like Bucknell, we have over 60 majors and minors. So if you end up coming to Bucknell and not loving what you originally thought you were going to study, there are lots of other opportunities for you to find something else that's a good fit for you. So you really want to zoom out and think that the big picture and make sure there's enough there to keep you there, besides just one big thing. Oh my gosh, can you imagine if your best friend was going, and then your best friend changes their mind and doesn't go into that school anymore? You might be really disappointed if that were to happen. 

So you can make all the pro-con list you want. You're obviously going to consider pieces like financial aid and location and all those kind of big decision factors. But at the end of the day, the decision actually ends up being a lot more emotional than logical sometimes, and I think that's okay. Oftentimes, you also might find that you're not on the same page with your family as far as where you might want to be, right? Your family might know for sure that you're going to go to this school and you might just have a funny feeling that says like, "Oh, this isn't the one for me." It's really important to listen to that gut reaction, either if it's telling you this is the place for me or this isn't the place for me — really tuning in to both the logical decision-making, obviously making decisions that are responsible and make sense for you and your family. But then part of it is emotional, and part of it is having to explain those emotions sometimes to your family or friends. 

It can be hard sometimes too when your friends are all talking about what schools they're going to. It can create definitely some conflicting feelings about where you want to go or are you making the right choice. You might have some doubts along the way. But the good news is there's also a whole team or a whole slew of people to support you in that process. While the decision is yours at the end of the day, hopefully you have a group of family or friends that are going to support you through that process. You likely also have a school counselor at your school who would be a great person to consult and help you make that decision. Then you have your admissions counselor, someone like myself or one of the other counselors in our office here at Bucknell who would be happy to help you talk through your options or really make sense or clarify anything that you're wondering about. 

You don't want to make a decision if you still have unknowns, right? So make sure you get all your questions answered so that you have all the information you need to make a sound decision and to feel good about it. I think it's entirely possible to choose a school without visiting, to choose to enroll to school without visiting. We actually know it's happened before. We know students have chosen to attend Bucknell without visiting, but we think it's just a real balance of that logical and emotional decision-making and making sure that you've explored all the facts and then can make a decision that you feel good about and then you're excited about. This is a really important decision and it's a really big time and a really big transition in your life, and we're excited to support you through that, and to cheer you on through that, and to lend support wherever we can. 

[00:22:08] BT: Yeah. I like the fact that you talk about zooming out and really getting a full sense of what the experience of attending the school will be like. As much as trying to decide where you're going to major in in college or what you're going to do after can feel like, I guess, the core of your college experience. I mean, students, no matter where they go in most cases, are going to be there for a full four years at least. So, yeah, making sure you take all the opportunities to get a sense of, yeah, what the campus life is like, what the people are like that you're going to be studying with and taking classes from, and all those other opportunities. Yeah, it's really good advice, and I think everything that you shared here lends to giving students a great idea of how to make that decision for what's right for them. 

[00:22:47] BH: Thanks, Brooke. 

[00:22:48] BW: It really combines all the different factors really well that we have to consider —going through the official channels, contacting counselors, checking out the college website, virtual tours. But also the unofficial ways like finding people you can talk to to get their opinion about the university, reaching out to alumni. All those together kind of building a complete picture of which school to choose. So, yeah, we really appreciate your time today on College Admissions Insider and wish you, Becca, the best of luck going through all the applications in the upcoming season. I know that's got to be an exciting time for you, right?

[00:23:24] BH: Yeah. It's a lot of fun actually, especially now that we get into the fall. I mentioned the weather once already, but it starts to really feel like fall. I'm excited to read some applications, especially to read your essays and read your stories. Yeah, we look forward to it. It's a lot of fun. 

[00:23:37] BW: That's when it kind of shifts from the students getting to know the university to the university really getting to know the students. That shift there is this really interesting. Well, thanks again for joining us on College Admissions Insider, and we wish all of you listening the best of luck in your college search. See you next time. You can learn more about Bucknell at bucknell.edu, and go to bucknell.edu/apply to learn more about submitting your application, application requirements, and even tips for applying and getting into the university of your dreams. Thanks, everybody.