Tips for Choosing a College Without Visiting
April 15, 2020
More and more these days, students are committing to a college without visiting campus. Reasons for not being able to visit vary widely. Perhaps your calendar is too packed with activities, your family has financial constraints or, in times like the outbreak of the coronavirus (COVID-19), your top-choice schools have been forced to suspend campus visits.
So how can you get to know a college without visiting? Thirty years ago, you might've flipped through a college guide purchased at your local Borders bookstore or called the school to request a viewbook by mail.
Today, however, colleges are making it increasingly easy to get a sense for their campus culture without ever stepping foot on school grounds.
Choosing Bucknell Without Visiting Campus
The sounds of students laughing on the Quad, the feel of a warm spring breeze through the trees and the smell of freshly brewed coffee in the library.
It's hard to replicate the experience of exploring Bucknell's beautiful campus in person. But you don't have to visit Bucknell to get a sense of our unique, immersive approach to education.
Within each incoming class at Bucknell, there are dozens of students who commit to Bucknell without ever visiting Lewisburg, Pa. Their first time on campus was for New Student Orientation in August.
These students quickly become immersed in their new college home. They fall in love with our safe, walkable downtown, and they have no problems making new friends or discovering campus activities and resources.
Our faculty and staff make sure first-year students have a phenomenal experience, which explains why 92% of first-year students return to Bucknell for their sophomore year. That's well above the national average of 75%.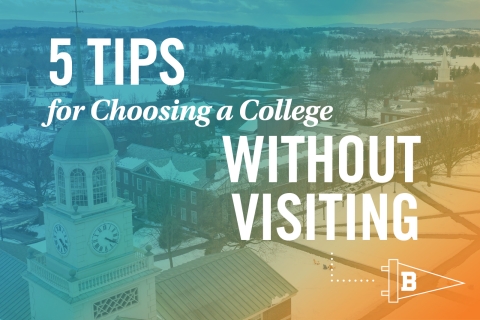 Five Tips for Choosing a College Without Visiting
So how do you become one of those successful students who select a college without visiting? Start with these suggestions:
Explore the official campus website.

Take a virtual tour.

Browse social media.

Seek out unbiased student perspectives.

Contact a recent alumnus.
Let's dive into each of these tips in greater detail.
1. Explore the Official Campus Website
A university website is like its admissions lobby — it's often the first place you stop when exploring the college. Colleges and universities use their homepage as a way to share what they believe is most relevant to visitors at that time. But if you like to dive deeper than what's on the surface, you'll want to spend some time clicking around.
Think of what questions you'd ask a student on a campus tour, and search for those answers on the school's site. Some questions you might consider include:
What are the admissions requirements?

Are application essays required?

How much does it cost to attend?

Does the college offer majors that interest me?

Are there student clubs I'd like to join?

What are my housing and dining options?

What kinds of jobs (and salaries) do graduates secure?
And don't forget to look beyond the words and numbers. Check out the photos and videos, too, which will give you a sense of the people and places that make that school special.
At Bucknell, our website's primary audience is prospective students, so you'll find plenty of content designed with you in mind. You can learn about the first-year experience, explore our majors and minors, and meet Bucknell students — all with a few clicks or taps.
2. Take a Virtual Tour
Until some brilliant scientist or engineer invents teleportation technology, virtual tours are the best way to explore a campus without actually being there.
Virtual tours show you not just what the buildings look like but how they are arranged. What's it like to move from one part of campus to the next? How far are the dining halls from the residence halls? What does the inside of the basketball arena look like? Some virtual tours let you go inside these buildings, exploring labs, learning spaces and recreation areas in high-resolution detail.
When taking a virtual tour, start by finding the biggest screen you have — tablet, laptop, TV — and begin looking around. Some schools have pre-selected routes, but it's also fun (and informative) to simply try to get lost. You never know what you might find.
Bucknell's virtual tour gives you a taste of our stunning, tree-lined campus where no two buildings are more than 10 minutes apart. Take a look around, and we think you'll see why our students love calling this place home.
3. Browse Social Media
Colleges and universities might only update their websites weekly or monthly. But they post to social media almost every day, giving you the freshest possible look at campus life.
Even better, they often post content you won't find on their main site — such as student success stories, quotes from alumni and recently taken photos of campus.
Hop into your favorite social media platform, find the schools that interest you, and take time to scroll through their timeline. By reviewing a few weeks' worth of posts from a particular college or university, you'll see what they value most — academically, socially and culturally.
The amount of effort that a school invests in its social media platforms will vary. Some colleges and universities choose just one channel, while others use many. At Bucknell, we share fresh content on Instagram, YouTube, Twitter and Facebook.
4. Seek Out Unbiased Student Perspectives
The first three suggestions have one thing in common: they all come straight from the college or university itself. To get a complete picture, you'll want to go beyond those official channels.
Reach out to a current student on social media or ask your high school's guidance counselor whether anyone from your hometown went to the schools that interest you.
Once you find a current student, ask them questions like:
What do you like and dislike about the school?

How did you make friends?

What are the classes like?

Do the professors know your name?

Does the school reserve its best opportunities for older students?
At Bucknell, we can answer that last question by sharing that first-year students get the full experience from day one.
But don't take our word for it. See what @iamraybucknell has to say. Each week, we turn this student-run Instagram account over to a different student. We don't tell them what to say. In fact, there's just one rule: Be yourself.
Once you've been admitted to Bucknell, you'll also have access to B2B: Bison to Bison, our admitted student network. This will make it even easier for you to contact current students, faculty and staff who can answer your questions and describe the campus culture.
Bison to Bison also allows admitted students to connect with Bucknell alumni. Speaking of…
5. Contact a Recent Alumnus
It's crucial to make sure that a college or university "feels" right. After all, you're not just earning a degree, you're spending four years of your life there.
But you also want to know that a meaningful, well-paying job awaits you after you graduate. Or that you'll have the best chance to get into a top law school, medical school or graduate school.
To help get you there, you'll want to contact a recent alumnus. Recent because those graduates will have the clearest picture of what the school offers, and how it prepared them for their future.
You can find these alumni on LinkedIn by searching the name of the college or university. You'll need an account to do this, but it's a good idea for you to have a LinkedIn presence by now anyway.
You can also reach out to the school's career center or alumni relations office — though keep in mind that they'll always direct you to someone who will speak positively about the school.
Bucknell In-person Visit Options
While it's possible to fall in love with Bucknell before you ever step foot on campus, we'd love to have you visit our campus when and if you're ready.
Our student-led tours are a popular way to get to know Bucknell in less than 90 minutes, and our fall open houses give you an even closer look at the Bucknell living and learning experience.
One thing remains true whether your exploration of Bucknell begins online or on campus: We're here to help by answering questions through each step of your college search.