Comparative & Digital Humanities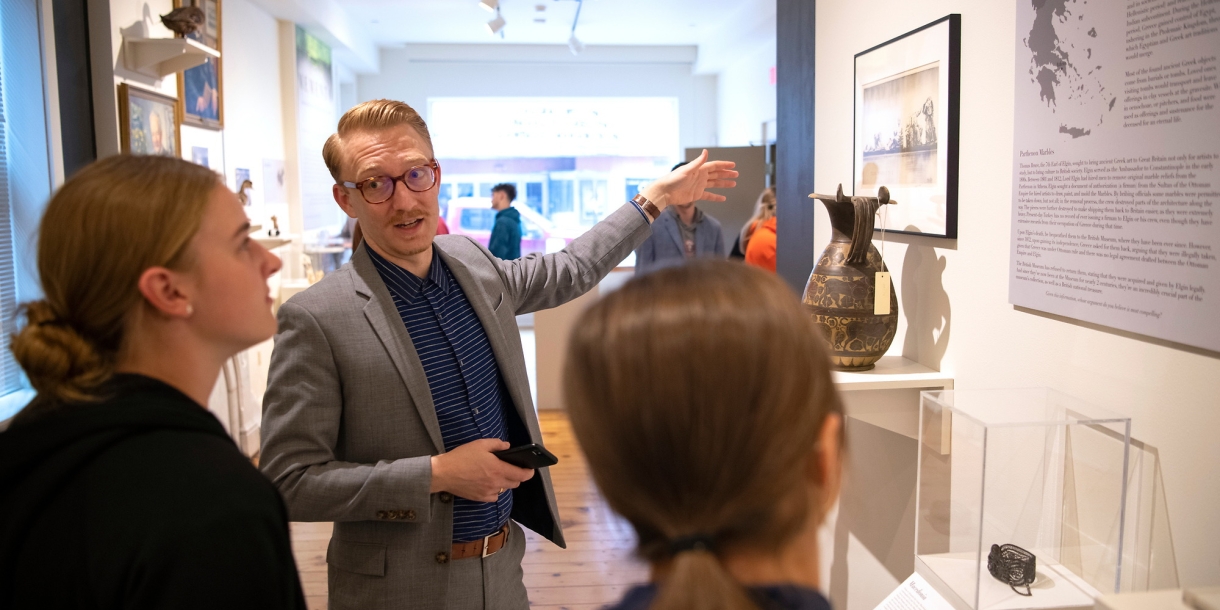 Why follow the same worn path when you can create your own? As a Bucknell comparative & digital humanities major, you'll become an iconoclast who charts an individualized path through the liberal arts.
Along the way, you'll be supported by deep, one-on-one relationships with faculty working at the forefront of their fields and a rich ecology for humanistic inquiry at Bucknell. Your journey culminates in the senior thesis, an original contribution to your chosen field of study.
Students of comparative & digital humanities are global citizens who translate diverse worldviews and conjugate digital and embodied realities. They are path-breakers and change-makers.
Through our rigorous and wide-ranging course offerings, you'll build skills in critical, relational and design thinking while honing your communication skills in writing, public speaking, data curation and digital design. You'll become a leader as you forge a path through disciplines and media, languages and cultures, times and places.
These skills won't just prepare you for a job. They'll equip you to be one step ahead of our ever-changing world and to understand your place in it so you can make an impact. Your independence and leadership mean you'll be able to translate these in-demand skills into any profession. Recent alumni have pursued careers in language research, investment analysis and consulting, as well as graduate study in literature, law, politics and urban planning.
Pathways Through Comparative & Digital Humanities

Outcomes

What do we do in Comparative & Digital Humanities? We pursue Ph.D.s, J.D.s, M.D.s, and master's degrees. We land awesome jobs in the education, business, legal, health and nonprofit sectors.

We also make data visualizations like this Sankey diagram showing the paths our majors have charted since 2010.

Theatre Advancing Social Justice

Recent Graduate

Mackenzie Gross '21 broke new ground in her junior year by staging a production of 12 Angry Men at a nearby prison with a cast that brought together "inside students" from the prison and "outside students" from Bucknell.

Mackenzie combined what she learned in her comparative & digital humanities and theatre majors to advance social justice through education and theatre.

The project laid the ground for her senior thesis, and the experience informs her intended career as a public defender. She is applying to law school while continuing to serve marginalized communities as a Teach for America Fellow in Boston.

Comparative & Digital Humanities at Work

ALUMNUS

Adem Ahmed '16, a commercial real estate analyst at M&T Bank in Boston, credits his time as a Bucknell comparative humanities major for developing the nimble cast of mind and deep interpersonal skills he relies on to succeed in his career.

When Adem first starting working in banking, "of a cohort of 15, I was the only one without a 'technical background.' And yet, over the years, I have performed just as well as anyone in my cohort, and honestly, my comparative humanities skills I believe are my greatest asset."
Comparative Humanities:
Bridging Worlds and Worldviews
Comparative humanities explodes traditional disciplinary boundaries through wide-ranging, rigorous study that attends to both the connections and missed encounters among peoples, languages, media, histories, beliefs and ideas.
In Comparative humanities, you will learn to think and live relationally: see the big picture beyond the frame; feel the presence of the past in current events; hear the echo of one language in another.
You'll question the way West sees East and East sees West. You'll map inequalities between the Global North and the Global South onto the history of colonialism and neocolonialism. You'll tangle with the art of living between languages and the practice of translation.
Digital Humanities:
Bridging the Digital and the Physical
The Digital Humanities are bringing tradition into the future by working at the intersection of humanistic inquiry and digital computing. You will use digital tools to answer questions that arise in the humanities, and ask humanistic questions of digital technologies. Digital Humanities approaches can be employed in any humanities discipline, from studies of social justice and world cultures to examinations of history, literatures and philosophy.
Digital Humanities Minor
Our digital humanities minor uses advanced technology to solve problems and explore new data within the humanities disciplines. The minor builds upon courses applying digital methods to subjects including comparative humanities, history, English and religious studies.
Take a closer look at the Humanities
Contact Details
Comparative & Digital Humanities