Geology & Environmental Geosciences
Bachelor of Arts in Geology
Bachelor of Arts in Environmental Geosciences
Bachelor of Science in Geology
Bachelor of Science in Environmental Geosciences
You never know where your major in geology or environmental geosciences at Bucknell will take you next.
You might trek across the Southwest on a spring break field trip or accompany your professor for field research in Alaska.
But you don't need to travel to gain hands-on field experiences that employers value — central Pennsylvania is a magnificent place to study geology.
Here, you'll build practical skills in diverse terrain, and prepare for a career as a geoscientist, mineral exploration geologist, geotechnical engineer or environmental consultant — all fields where our graduates are working.
Majors & Minors
The Department of Geology & Environmental Geosciences offers four different degree tracks to suit the academic and career interests of our students:
A bachelor of arts in geology
A bachelor of science in geology
A bachelor of arts in environmental geosciences
A bachelor of science in environmental geosciences
All four majors are united by a common core of foundational geology courses. We also offer minors in geology, engineering geology and environmental geology.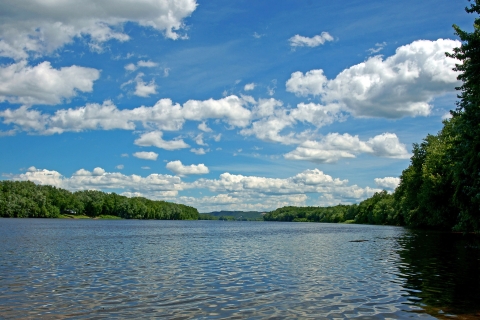 The Susquehanna Valley is Your Laboratory
Bucknell's location in central Pennsylvania is one of our most important educational assets. Research scientists from around the world come to this area to study the development of the Appalachian Mountain system and its classic valley-and-ridge landscape. Our students find the same opportunities to explore the Earth's genesis in our own backyard, deepening their academic study with frequent field trips, individual and group projects, and independent research experiences.
The diverse terrain surrounding Bucknell includes:
The Appalachian Mountains
Cultivated farmland
Karst landscapes
Old-growth forests
Wetlands
Coal regions
Quarries
The Susquehanna River
What is a Geoscientist?
Geoscientists are stewards of Earth's resources and environment. They work to understand natural processes on Earth and other planets by investigating the Earth, its soils, oceans and atmosphere; forecasting the weather; developing land-use plans; exploring other planets and the solar system; determining environmental impacts; and finding new sources of useful Earth materials. Geoscientists provide essential information for solving problems and establishing governmental policies for resource management; environmental protection; and public health, safety and welfare.

Fostering Environmental Collaborations
Bucknell Center for Sustainability & the Environment
The Bucknell Center for Sustainability & the Environment confronts the challenges facing our society and our planet by investigating our impact and exploring our connections to the environment around us. We put our passion for the environment into action by enabling collaborative scholarship from across the University and empowering our students to become innovators in service of the common good.
Contact Details
Geology & Environmental Geosciences
Location
231 O'Leary Science Center