Is a Gap Year a Good or Bad Idea?
June 11, 2020
After 12 years of school — equal to 2,160 school days in most states — some college-bound graduates find themselves at a fork in the road.
Do you pause your formal education for 12 months to take a gap year, or do you press forward, carrying your momentum from high school straight into college? The answer, as with so many decisions related to higher education, is extremely personal. There's no one-size-fits-all answer.
In this post, we'll take an in-depth look at gap years, including: 
What is a gap year?

What are the pros and cons of taking a gap year?

How can you make the most of a gap year?

What does it mean to have your college admission deferred?

How does Bucknell University handle requests for a gap year deferral?

How might your financial aid package change if you take a gap year?

How has the coronavirus affected gap years?
What Is a Gap Year?
A gap year, taken between the end of high school and the start of college, is a yearlong break from formal education. Students who take a gap year often choose to travel, find a job or internship, or complete volunteer/service work. 
Surveys have shown that between 3% and 5% of students take a gap year after high school. At Bucknell, about 1% of each incoming class elects to take a gap year. 
Many students feel they're academically and emotionally ready to start college right after high school graduation. They've built momentum and want to continue climbing toward their career aspirations. Others, however, see a gap year as a chance to learn more about themselves, grow and see the world. 
What Are the Pros and Cons of a Gap Year?
A gap year may seem like "only a year," but the decision of whether to take one can have ramifications — positive, negative or both — that stay with you through college and as you begin your career.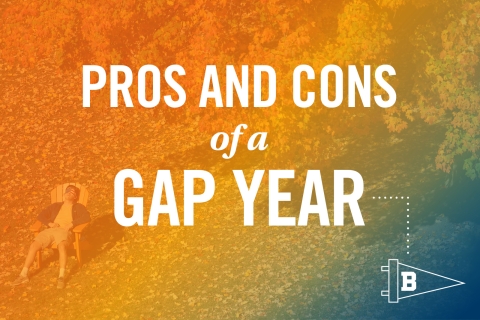 Why Gap Years Are Good
While some high schoolers are eager to take eye-opening college-level classes right after graduating, others feel a little burnt out. They see a gap year as a chance to recharge their batteries to prepare for college. Some students say they return from a gap year even more enthusiastic about starting their college journey. 
You'll get time to prep for college

: Some students benefit from an extra year to develop the maturity and independence required to succeed at top universities.

You can discover a new passion

: Learn a new language, try the guitar or take up gardening. A gap year gives you the time and freedom to pursue activities that could turn into lifelong passions. (At Bucknell, you can expand on those passions or even develop new ones through our more than 200 student clubs.)

You can travel abroad

: If your college lacks a robust study abroad program or limits study abroad opportunities for students in certain majors, a gap year might be your only chance to really immerse yourself in another culture. Once you begin your career, you may not have another chance to take more than a week or two off to travel at one time. (At Bucknell, we'll make sure a gap year isn't your only opportunity to immerse yourself in another culture. Half of all Bucknell students study abroad, with options spanning six continents. Students of any major can earn Bucknell credit while experiencing a different corner of the world.)

You can gain professional experience

: Enhance your résumé through a pre-college internship, job or volunteer experience. Employers want to see that you've had a diverse set of experiences. (At Bucknell, our Center for Career Advancement will help you find even more opportunities with Bucknell alumni and others eager to offer you internships, shorter job-shadowing "externships" and high-paying jobs.)
Why Gap Years Are Bad
You've been pretty much going at full speed since first grade — working hard, getting good grades and spending every waking moment doing something amazing. The chance to take a year off can seem tempting, but proceed carefully. Make sure you've considered the cons, too. 
You're ready now

: Why wait to start changing the world, taking college courses and meeting interesting new people? Many students refuse to delay their future aspirations by even a single year. 

You've built momentum

: Late-night study sessions, weekends devoted to extracurriculars, group projects that took twice as long as expected. You've worked hard to gain admission to your top schools, so why slow down? Some students report that when they return from a gap year, they've lost much of the drive that helped them get into a high-ranking school like Bucknell in the first place. It

'

s also worth keeping in mind that many math and science classes you'll take in college build directly on things you've learned in high school, and you may get rusty if you don't think about those concepts for a year.

You'll stay on the same schedule as your friends

: Even though you don't always do what's "popular" or "expected," there's a high probability your friends from high school are not taking a gap year. Many students choose to stay on the same schedule as their friends instead of falling a year behind. If you take a gap year, you'd begin your senior year of college as those friends start securing jobs or entering graduate school, law school or medical school.

You can still travel abroad

: It's not only possible to see the world in college; it's recommended. Experts say that travel experiences taken after a year or two of college are often more meaningful than those taken as a 17-year-old or 18-year-old high school grad. And because you'll both live and learn while abroad (earning course credit along the way), you'll bring home even more from the adventure. 

You don't have that kind of cash

: Taking a gap year can be expensive. While financial aid can cover your study abroad experiences in college, it won't pay for a pre-college backpacking trip across Europe. Students targeting financial success after college often calculate that it doesn't make financial sense to take a year off. 
How Do You Make the Most of a Gap Year?
Still set on a gap year? Go for it! Just keep this in mind:
Consider your motivation

. Know why you're taking a gap year. Are you looking to develop your sense of self? Help others in need? See the world? Boost your résumé? Keep this motivation front and center in planning what you'll do with your gap year.

Make a plan

. Take out your bullet journal or open a fresh Google Doc and plan out your year. List the new things you want to try, the experiences you want to have and the opportunities you want to pursue. Armed with this plan, you'll ensure you get the most from your gap year.

Treat it like a job

. If you're spending six months volunteering in an underprivileged community, don't hide that experience under "volunteer work" on your résumé. Put it under "employment history" where you can be proud of something that sets you apart.

Be ready to share why you took a gap year

. Be prepared to tell a future employer all about your gap year experience. That includes discussing the volunteer component, career exploration, paid work and any unexpected experiences. Tell how the gap year was an investment in yourself.

Be smart about social media

. If you're wanting to position your gap year as a transformative experience that's an asset — not a hole — on your résumé, make sure your Instagram feed reflects this. If every gap year picture depicts a party, you might not be putting your best foot forward. 
What Does It Mean to Have Your College Admission Deferred?
After you've been admitted to a college and confirmed you'll attend, usually by paying a nonrefundable deposit, your next step is to contact the school to learn about their deferral process. 
Every college handles its deferral process differently, but most have a committee that reviews deferral requests in the spring and shares their decisions between May and July. When applying for deferral, be sure to have a clear plan of what you'll do during the year off and how that will strengthen your potential as a future student at that university.
How Does Bucknell University Handle Requests for a Gap Year Deferral?
Bucknell handles requests for deferral on a case-by-case basis.
A student may elect to defer enrollment for one or two years after being admitted. Requests must be submitted in writing to buenroll@bucknell.edu any time between receipt of an offer of admission and the deferral deadline, which is usually June 1. (Because of the coronavirus outbreak in 2020, the deadline was extended to July 15, 2020, for the Class of 2024.)
A nonrefundable deposit is required to hold your space. Deferrals are typically granted to students who desire to engage in personal enrichment or community service activities. They are not permitted for students wanting to defer to attend a secondary school, college or university full time. 
How Might Your Financial Aid Package Change if You Take a Gap Year?
Check with your specific school. There's no guarantee that the same aid package will be available to you after your gap year. 
You might need to reapply, but chances are that if you qualified for aid the first time — and your family's financial circumstances haven't changed — you will qualify again.
How Has the Coronavirus (COVID-19) Affected Gap Years?
During the COVID-19 pandemic, many benefits of taking a gap year have evaporated. 
The U.S. State Department advises against international travel, which severely limits options for exploring other cultures. The pandemic has also led to a shortage of paid internships and job opportunities for high school graduates.
Do What's Right for You
Only you, perhaps in consultation with family members, friends and close advisers, can make the final decision. Once you've decided, have confidence that you've made the best choice for your future — then go forth and be great.