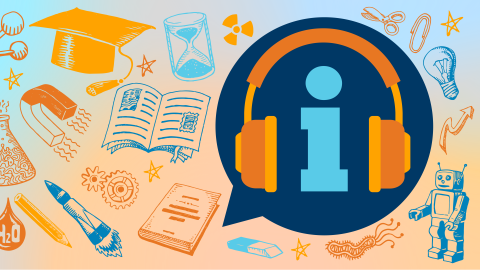 Episode 63: College Access & Success
March 20, 2023
---
Succeeding in college is about much more than what you accomplish in the classroom. Truly thriving as a student means growing through self-discovery, intellectual exploration, community relationships and more.
That kind of success requires an ecosystem of support that not only encourages a student throughout their journey but opens up doors for them along the way.
On this episode of College Admissions Insider, we're taking a look at how universities are increasing access and enhancing support for college-bound students. We'll discuss what access and success programs can look like on a college campus where prospective students can find support and why expanding access to college is so crucial.
Our guest is Lisa Keegan, Bucknell University's vice president for enrollment management.
If you have a question, comment or idea for a future episode, email podcast@bucknell.edu.
Episode 63
EPISODE 63

[INTRODUCTION]

[00:00:06] LK: Succeeding in college is about much more than what you accomplish in the classroom. Truly thriving as a student means growing through self-discovery, intellectual exploration, community relationships and more.

[00:00:17] BT: That kind of success requires an ecosystem of support that not only encourages a student throughout their journey but opens up doors for them along the way. I'm Brooke Thames from Bucknell University, and on this episode of College Admissions Insider, we're taking a look at how universities are increasing access and enhancing support for college-bound students.

[00:00:38] RHA: I'm Becca Haupt Aldridge, also from Bucknell. Today we'll discuss what access and success programs can look like on a college campus where prospective students can find support, and why expanding access to college is so crucial.

[INTERVIEW]

[00:00:51] BT: Joining us for this conversation is Lisa Keegan, Bucknell's vice president for enrollment management. Lisa has worked at Bucknell since 2020 and has been a guest on the podcast before. You might remember her from our episodes on demonstrated interest and financial aid and college affordability. Welcome back to the podcast.

[00:01:09] LK: Thank you so much. It's great to be with you, Brooke and Becca.

[00:01:12] BT: Before we jump in, can we hear just a little bit more about you and your work at Bucknell within enrollment management?

[00:01:19] LK: Sure, absolutely. So as you mentioned already, Brooke, I'm vice president for enrollment management, which means that my work really links financial aid and admissions. But I think about my work as it being connected to the institutional priorities of the University. So we have to think about who we're attracting to the university, but then what their experience looks like when they get here. A lot of my work is bridging what's happening in enrollment management with the other aspects of institutional life, both on the academic and student life sides.

[00:01:54] RHA: One of the inspirations for this episode is Bucknell's new Center for Access & Success, which is one of the ways the university is expanding students support and mentorship on campus. What's the vision for the center? And how will it work to enhance students experiences at Bucknell?

[00:02:09] LK: Thanks for the question, Becca. I'll mention, when I arrived at the University in 2020, I was so pleased to already see the myriad of ways that Bucknell was committed to student access.

So in the early 2000s, Bucknell University partnered with Posse, which is a national pathway program focused on student access to college. Over the decades, we've actually expanded our partnership. We bring in three cohorts annually from three different cities, 10 students in each cohort. And then also, in the early 2000s, we launched a program called The Bucknell Community College Scholars Program that was inspired by a grant the University received. As that program grew, we dedicated institutional dollars to continue to fund it because we saw such a value in that particular program.

It's really unique in that we partner with several different community colleges, and we invite students to campus between their first and second year of community college. They live in residence on Bucknell's campus for six weeks. They take classes. They return to their host institution, and then have the opportunity to apply for transfer admission to Bucknell.

It's an incredible program. I've spent time with the scholars, and it's rare, frankly, and thinking about four-year residential liberal arts, college experiences, right? To have this very intentional connection to a community college pathway.

So, I mentioned all of that just to say Bucknell has been in this space for a long time. Thinking about access to a Bucknell education is really aligned with the university mission. But the idea of for creating a Center for Access & Success is designed to both attract and support students who are traditionally underrepresented here at Bucknell, through a robust, cohesive, strategic cohort model. It's designed to lift up some of the work that we've already been doing, in particular with our partnership with the Posse program, our own Community College Scholars program, but it's going to expand our cohort programming for other scholarship programs that we have at the university, including two endowed programs — the Bauer Scholars and the Langone Scholars — and our newly formed Gateway Scholars, which is a program specifically for first-generation students who also demonstrate financial need.

What it will allow us to do is open more doors to students and ensure that when they get here, they are immediately connected to a cohort with high-touch mentoring. So it is taking, as I said, some of that really, really good work that we've already been doing and elevating it to the next level to benefit our students and ensure that they not only persist but graduate and really thrive at the University.

[00:05:07] BT: Yes, I've had the privilege of chatting with a couple of students from Posse and the Bucknell Community College Scholars Program in my own work in Bucknell's Communications Division, and hearing about the significance of those programs and their experience here. It's great that, like you said, that'll be kind of elevated to the next level moving forward.

So to get a deeper understanding of the impact of this work, I'd like to spend some time talking about access and success in the greater landscape of colleges and universities. I wonder if it's helpful to first explore what access means in this context? What are these kinds of student support services seeking to address?

[00:05:45] LK: Yes, Brooke. When I think about access, I really equate it to opportunity, right? So there's this really important concept that potential and promise and talent is distributed among students of all backgrounds, but that opportunity to go to college is not equal. So, that's really the intent in thinking about what college access means.

Let me give you a couple of examples. I opened the podcast talking about sort of how we came to this idea to create a Center for Access & Success and some of the partnerships we've had in place for a while. This year, we've launched a new program called the Gateway Scholars, and the Gateway Scholars seeks to enroll 20 students a year who are all first-generation college students. And through the generosity of a benefactor, those students will come to campus with some of the best financial aid packages, as the loan components of their financial aid packages are replaced with University grant dollars. That program, specifically, addresses two barriers that we typically see in college access. One is first-generation students seeking educational attainment. But the second is so critically important, is the socioeconomic barriers and thinking about how we can make higher education affordable to students. We want to be able to bring the very best students to campus despite their ability to pay.

So, when we think about access, it really is equating it with that opportunity — and opportunity, particularly, to selective private universities. There's this notion out there of "best fit" in college, right? What is your "best fit" institution? Where should you go? What are the attributes? We know from research that students who are traditionally underrepresented in selective college campuses, and those that may face socioeconomic barriers, are less likely to apply to college and are certainly less likely to apply to selective colleges and universities. We want to change that notion of "fit" and expand that for students. We want to open doors and let students know that we want you here, you belong here and there's a pathway for you to be here.

[00:08:17] RHA: So, the idea isn't that students need these services because they're lacking in any way. The goal is for colleges and universities to be more prepared to help students from a wide variety of backgrounds succeed once they get here, right?

[00:08:30] LK: That's exactly right, Becca. This is really about colleges and universities being asset focused, ensuring that we have a wide variety of voices and perspectives in our classrooms. At the end of the day, we are to be creating educational experiences that are going to send students out into an incredibly diverse world and workforce to solve problems and challenges that we don't even know exist. If we don't think about having diversity in all forms in our classrooms, we're really failing at that mission.

What's really important is that we're setting ourselves up in higher education to be nimble, to know that there are unbelievable generational differences and rapidly evolving student populations. So some of the systems that we think about that have been in place for years, and years, and years don't meet student's needs today. I think that's what's really important and thinking about this.

There's an important conversation happening nationally about what it means for colleges and universities to be student ready, rather than expecting students to be college ready. In our profession, in college admissions, I think for years and years and probably decades and decades, we had this idea of what it meant for students to be college ready. In fact, high school curriculums would often feed into that — that if you're going to college, here's the very specific path that you need to take to prepare yourself. That path was unbelievably disrupted by the pandemic. That path looks different as we think about disparities in K-12 education in different communities and states and cities.

So, yes, Becca, to your point, what this is about is not expecting that every student has the exact same preparation for the experience that we offer in our particular college and universities, but rather that the University is looking at our policies, our practices and what we really do to make sure that we are being nimble enough to meet student's needs today and in the future.

[00:10:46] BT: Digging in a little bit more into that student experience and student success while they're here, how do we define that? How do we define student success? I'm guessing it's a lot more than academic performance, like we mentioned at the top of the episode.

[00:11:00] LK: Yeah, absolutely. Success can't be defined in one way or just thinking about some of the very traditional quantitative ways that we measure student success, which is sometimes with first-to-second-year retention or our graduation rates. We want to make sure that students feel a sense of belonging, that their needs are being met and that they're really thriving on our college campuses.

It is both quantitative and qualitative as we think about what that means. I think the most important piece is the student's voice. What is their feedback? Are students being connected to opportunities in the same way? Are students accessing much of what we have in place — thinking about things like career services, for instance?

As we think about connecting access and success, a significant component of that is thinking about equity of opportunity when students are here, not just that we're opening the door and admitting them to the University, but that they're taking advantage of opportunities both in and out of the classroom in ways that are truly, truly equitable. So, for instance, we want to make sure that if students have an opportunity to study abroad at our colleges and universities, that, for instance, there aren't financial barriers to that. If we want students to participate in undergraduate, mentored experiences, we want to make sure that there aren't barriers to that. And so there are several different ways that we can measure that participation, and how we really quantify what success looks like for each of our students.

I think the most significant part, though, in all of that is this concept of sense of belonging — that when students set foot on our campus, they feel a sense of belonging. They know that they should be there, that people are watching out for them and that their mentors are going to make sure that they have the very best experience possible while they're on our college campus.

[00:13:09] RHA: From our conversation so far, it sounds like this is work that Bucknell has been doing for a while, or at least something that's part of our strategic plan and part of who we are. So my question is, how common are these centers for access and students access type services on college campuses nationally?

[00:13:26] LK: They're definitely expanding. There are a number of colleges and universities who have some type of access and success initiative. It does look different, depending on the campus and what makes sense for that university. But it really is about this concept of holistic education, that learning doesn't stop outside the classroom. Again, that students are connected in various ways on their college campus. I think that words really important its connection.

So one commonality that I tend to see in centers for access and success is that they really are a student hub for particular pathways and cohorts of students, but it's bridging them to opportunities and resources across college campuses. So most institutions that participate with the Posse program, in particular, likely have some type of Center for Access & Success. First generation programs can often be housed in centers for access and success. And then signature university pathway programs might be housed there as well. Like for us here at Bucknell, the Gateway Scholars — that's unique to our particular institution, and we wanted to make sure that they were included in our Center for Access & Success.

I think the important part is just to note that not all centers will be focused on very, very particular cohorts, but might serve students in a variety of ways. They might have responsibility to serve students broadly from particular identities or backgrounds. Often, centers for access and success might have different names across different college campuses. But some of the other programming that they might coordinate could be things like intercultural education, summer bridge programs. Some might have first-year orientation programming. Certainly, first-generation programming. Mentoring, advising, coaching. So those types of programs and offices, again, could live in a variety of places on a college campus, but are most often likely found in some type of office of access and success.

[00:15:44] BT: We've mentioned and outlined that Bucknell's Center for Access and Success will serve students who are participating in a number of our scholarship programs, Gateway Scholars, Posse, some of the things we've mentioned so far. I've heard you say before that, Bucknell's strategy of linking access and success to what scholarships is somewhat unique. Can you explain in what ways?

[00:16:09] LK: Yes, absolutely. A number of institutions are really moving in the space of college affordability, and thinking about affordability initiatives and expanding financial aid, which is critically important. We're doing that here at Bucknell. It's one of our primary objectives and goals as we look ahead for the University. But what's different about how we're thinking about our scholarship students that will be housed in our Center for Access & Success, is that they're not just going to get an offer of admission and a scholarship package, but they're really getting immediately connected and linked to campus through high-touch mentoring programs. So it allows students when they get that offer of admission to know that it's not just that we want you here, but here are other opportunities you're going to have if you accept our offer.

Colleges and universities tend to have a lot of resources living in a variety of spaces, but students sometimes have to go find those. They have to hunt them down, and dig for them, and ask a lot of questions. By having our students all under one umbrella in the Center for Access & Success, it's, again, a kind of providing that immediate connection and built-in mentorship. They don't have to go seek that out.

We know that mentorship is so critical to what we think about for students' success. We know that as college graduates think about their own experience and reflect back on it post-graduation, mentorship often plays a critical role in how they think, and talk, and communicate, and just generally feel about their college experience. So for the Center for Access & Success, we're providing that extra layer. Every student at Bucknell has access to mentors, whether they are peer mentors or alumni, and this is providing that extra layer.

I have to tell you, Brooke, in my own college experience, when I think back on the most transformative moments, it was conversation with faculty, right? Or sitting down in a staff member's office and saying, "I have no idea what I want to do with my life and my future," and having people invest their time in me. I think those moments are what really set, particularly, smaller colleges apart because we have more opportunities for that, but more importantly can really create an unbelievable college experience for a student.

I think sometimes we all feel limitations, like we can't do something or we shouldn't pursue something. Sometimes we just need somebody looking in our eyes and saying, "You can do this. I know you can do this," or, "You should do this." Or, "You're really, really good at this particular major or undergraduate research project. Have you thought about taking it to the next level?" Again, it's that tap-on-the-shoulder moment, that's just so, so critically important. Again, what we're doing through this program is to say to students, "You are unbelievably talented. You have absolutely earned your way into Bucknell. And we want to make sure that you are going to thrive and all the ways when you're here, and that we're providing the financial support for you to do that."

[00:19:37] RHA: For high school students who might be listening and hearing what you're describing — high-touch mentoring, the financial opportunity — and they might be thinking, "I want to go to a school that offers those types of things." How should a student go about finding out what schools on their list are going to meet those needs? And what types of questions should they be asking, and who should they be asking to seek that out?

[00:19:59] LK: Oh, such a good question, Becca. There's so much information out there. But I think as students start to really hone in on what it is they want to get out of their college experience, it'll help to frame what kinds of questions they might start asking.

If students have access to high school counselors through their college or guidance counseling office, that's often a really good place to start. We know that not all students have equal access to that particular resource, so another really important person to talk to are the admissions counselors at the colleges and universities that you might be considering.

I'll even say, maybe before that, if a student doesn't even have their college list yet, they might just go visit a college that they can relatively easily go visit — maybe one in their backyard that's not even on their college list — and just sit down and have a conversation with somebody in admissions to learn about what kind of opportunities exist. I often find that students going through the college search, once they go visit one or two schools — and now you can do that either virtually or in person — it does start to help inform the attributes of a college of what it is that you're really looking for. So I would say those are people and resources that you can really tap into.

But if you do identify from a particular background, for instance, you're a first-generation college student…I'll be honest, sometimes high school students don't even think about the fact that they might be a first-generation college student until they actually arrive at campus. But if you are, and you haven't had a parent or guardian previously navigate a four-year college experience, you might ask an institution, "Hey, do you have any extra programming for first-generation students?" You can certainly ask colleges and universities and financial aid offices about their affordability initiatives and scholarships. And then you can certainly ask colleges and universities about, "How do you onboard students? What do you do to make sure students are going to be successful? What kinds of orientation programs do you have? Do you have summer bridge programs for my particular academic interest or my background? Or do you just have other ways that I can meet incoming classmates?" I think it's a really important question to ask if there are built-in mentoring opportunities or ways that students can seek those out. So those are just a couple of questions that students can start to ask as they're embarking on that college search process.

Hopefully, on the flip side, we and University Life are doing as good of job as we can and helping prospective students, and families, and their communities of support understand what it is that we offer for students walking in the door.

[00:22:52] BT: Yeah, it sounds like there's so many resources and touchpoints students can access as they start on that college journey to figure out what schools on their list are going to best champion them. But these kinds of resources that we're talking about, don't just exist within colleges and universities, right? What other places can prospective students look for support in their journey to college?

[00:23:17] LK: It's a great question. There are so many amazing programs that have existed for years and years, and so many that are popping up nationally, which is incredible to see. So I think for prospective students and families, a great place to start is within the high school, asking within your high school if there are any particular programs focused on college and college access in general. Some high schools or communities might have extra college counseling or summer bridge programming between certain years in high school.

But then beyond that, look within your own community. There are a number of college partnership programs that are national. We've talked about a few on this podcast already. But more and more I'm seeing are popping up locally. So it could be connected to a particular city. For instance, Chicago is one that has a number of organizations all focused on the same primary goal of closing the degree gap for underrepresented students in colleges and universities. So just looking at your local community.

On the college side, we often will partner with charter networks — entire networks of schools that are all focused on college access.

The last one I'll mention is just, once you sort of hone in on what your college list might be, you can look on their own websites to see what kinds of partnerships they have out there. So many institutions will list all of the programs that they have formal partnerships with, meaning that they might do a specific admission program for those students — like a college fair, or a college information session. Or, in the instance for us here at Bucknell, that we might have specific designated scholarships for students that are coming to us from particular partnerships.

Again, there are dozens, and dozens, and dozens, if not hundreds and hundreds, that are out there right now all doing the really good work of connecting high school students to colleges and universities.

[00:25:34] RHA: It sounds like there's no shortage of support and resources. It's just a matter of connecting students to what exists in their area, and then also being savvy on websites and asking great questions. Thanks for all of those tips for our listeners.

We know that our nation is rapidly developing and changing but sometimes systems and institutions can struggle to change along with it. The creation of access and success services on college campuses seems to signal a shift. What does that say about the future of where higher education is headed?

[00:26:04] LK: I think what's happening is that colleges and universities are aligning their work with their missions, goals and priorities, and recognizing that they have the ability to partner with K-12 systems, right? So we know how many K-12 systems are either under resourced, overpopulated or demonstrating statistics of lower populations going on to college. So this whole idea of access and success on college campuses, how can we link to that work? We are all on the same page with what we want to do in helping students with educational attainment.

To your point, Becca, it is changing really, really rapidly. And you also made a really important note: Sometimes, colleges and universities can be slow to adapt on our own practices, our own procedures, our own way of doing things. With this national conversation around student success, colleges and universities are catching up and realizing that they need to assess what they're doing on a regular basis. That we have to meet the needs of today's students, and we need to understand what that means. That we need to be able to think about how we can do that really, really quickly in the future. And that we need to recognize that some of what we have set up was meant for students 50, 60, 70, 80 years ago and may not make sense today.

I think about that sometimes just in terminology that we have on college campuses that students wouldn't otherwise see in any other place in their life. So, for instance — and I'm not picking on my colleagues in the office — but, for instance, the word "bursar." Every college campus has a bursar, and that's usually where you go pay your bill, or look at your student billing, or if you have any refunds on your accounts. But what other aspects of your life do you encounter at bursar? So there are some pieces like that that are just sort of historical and built into our culture that we can think about changing, as it just makes a lot more sense for today's students in the future generations coming to our college campuses.

There's also really important work happening nationally — and some colleges and universities are just doing this exceptionally well — thinking about this idea of "one stop shops" for students. Every college and university has a number of offices, right? We've got our registrar's office, our bursar's office, career services, financial aid, and it made sense decades ago that students could walk from office to office and get done what they needed to get done — whatever their university business was, or their question was. Well, students today are really used to hopping on their phone at any hour of the day and getting their questions answered, and institutions are playing catch up in that. So how do we make some of what students have to navigate on a college campus a lot easier?

All of what I'm talking about is connected to student success. Removing barriers during their two or four-year experience, so that they can be as successful as possible and do all of the things that they want to do, both in and out of the classroom.

[00:29:23] BT: Yeah, one of my biggest takeaways from this episode, is that notion of colleges and universities being student ready versus students being college ready, like you had talked about a little bit earlier, Lisa. It sounds like access and success services and programming is just one in a long list of goals that higher education is working toward.

[00:29:44] LK: Yes, I think that's a really important point, and it's an important point to call out here on this particular episode as well. Bucknell's Center for Access & Success is not the answer for all ideas of what student success means. It's one piece of it. It plays one critical role and connects students to, again, those opportunities and resources that we have available for students of all populations. So I think that's just a really important point.

I think as colleges and universities think about this work, they'll think about what they need to build out, what they need to lift up, what they need to expand that makes sense for their student populations that are currently there, but also the ones that they're trying to attract.

[00:30:28] BT: Well, thanks for joining us here on the podcast, Lisa, to talk a little bit about how colleges and universities are adapting, and changing, and responding to the needs of today's students and the needs of students in the future.

[00:30:41] LK: Thanks so much for having me, Becca and Brooke. Great to be with you both.

[OUTRO]

[00:30:45] RHA: We also want to thank everyone out there listening. If you're a fan of the podcast, please take a moment to rate, subscribe and share this episode with the students in your life.

[00:30:52] BT: College Admissions Insider will be back with another episode in a few weeks. In the meantime, send your questions, comments and episode ideas to podcast@bucknell.edu.

[00:31:04] RHA: Finally, you're invited to follow Bucknell on your favorite social media apps. Look for @BucknellU on Instagram, Facebook, Twitter, YouTube and TikTok. You can also follow our student run Instagram account which is @iamraybucknell.

[00:31:19] BT: Until next time, keep reaching for your dreams and your dream school.

[END]

Contact Details
Office of Admissions
Hours
Monday – Friday:
08:30 a.m. - 04:30 p.m.