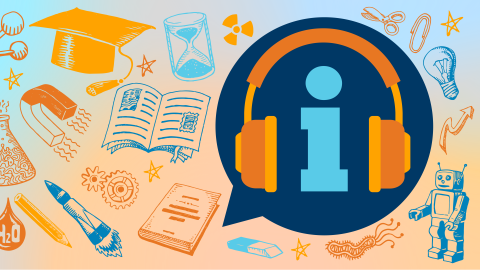 Episode 67: Community Engagement in College
May 29, 2023
---
Maybe you've spent years volunteering with Habitat for Humanity, helped establish a community garden in a food desert or raised a significant amount of money for a medical organization close to your heart. These kinds of passions can follow you to college, where you can continue to get involved and even receive funding to do it.
In this episode of College Admissions Insider, we are talking about how you can translate your passion for service into amazing college experiences. We'll cover the different types of engagement opportunities you might find at college, how to best present your past service activities on your application and how you can even receive scholarships to continue your engagement work as a college student.
Our guests are two Bucknell staff members: Lynn Pierson, director of Bucknell's Office of Civic Engagement; and assistant director of admissions Carrine Phillips.
If you have a question, comment or idea for a future episode, email podcast@bucknell.edu.
Episode 67
[00:00:07] BT: Maybe you've spent years volunteering with Habitat for Humanity, helped establish a community garden in a food desert or raised a significant amount of money for a medical organization close to your heart. These kinds of passions can follow you to college, where you can continue to get involved and even receive funding to do it.

[00:00:23] BHA: Perhaps you've never had a chance to participate in community service but would love to start after high school. At a college with rich civic and community engagement opportunities, the options are endless.

I'm Becca Haupt Aldrege from Bucknell University.

[00:00:35] BT: And I'm Brooke Thames, also from Bucknell. In this episode of College Admissions Insider, we are talking about how you can translate your passion for service into amazing college experiences. We'll cover the different types of engagement opportunities you might find at college, how to best present your past service activities on your application, and how you can even receive scholarships to continue your engagement work as a college student.

[00:00:56] BHA: Here to break it all down are two Bucknell staff members: Lynn Pierson and Carrine Phillips. Lynn directs Bucknell's Office of Civic Engagement, while Carrine serves as an assistant director of admissions, serving prospective students in Connecticut and New York.

Welcome to the podcast.

[00:01:11] LP: Thanks for having us.

[00:01:11] CP: Yeah, excited to be here.

[00:01:12] BHA: To start, let's hear a little more about your role at Bucknell. Lynn, can you fill us in first?

[00:01:18] LP: Yeah, absolutely. I currently am the director of the Office of Civic Engagement, as was mentioned before. I've been in this office for almost 13 years in a variety of different positions working with food programs, other outreach opportunities, community service, federal work-study program.

In addition to being the director, I'm still overseeing our Shepherd Poverty Internship Program that takes place each summer. And also, still overseeing our Community Engaged Scholars Program as well.

[00:01:44] BT: Carrine, how about you? What does your work entail?

[00:01:46] CP: Absolutely. I work in our Office of Admissions as an assistant director. I oversee the territories of all pretty much of Upstate New York as well as the entire state of Connecticut. I am also on the on-campus recruitment team, and what that translates to is helping to assist our daily operations, overseeing our ambassadors. I am also the director of our summer camp program that we have the last week of June every year called the Bucknell Academy Summer Experience, or BASE for short.

[00:02:13] BHA: We love definitions here on this podcast. When we're talking about civic engagement and/or community service, what do those terms mean and how are they the same or different?

[00:02:23] LP: Yeah. I mean, a lot of the folks listening to this are probably very used to the words "community service." It's something that is still very much in our vocabulary. The field is going a little bit away from saying things like "community service." They're moving to more language about engagement opportunities or community engagement.

Community service denotes more of a kind of a one-way charity model. So you're doing for. And what we like to do is engage our community partners. So when we say community engagement, we're doing with them. We're listening to them, and they are partners, and they are co-educators.

And so, we really like to make sure we're always engaging with them and talking to our students about, "Talk to these folks. They're the local leaders that really know the priorities in the area. Take this opportunity to engage with them."

[00:03:08] BT: What are some common ways that high schoolers can participate in community engagement?

[00:03:13] CP: I believe that there are tons of ways for prospective students to engage in community service, community engagement, in any element either in their school or in their local community. We see students engaged in academic-based programming, whether that's National Honor Society, Future Business Leaders of America, Model UN. There are tons of more academic based programs for students to not only obtain the knowledge that the organization is focusing on but then also, potentially, dedicate time to their community doing different service projects, enhancing different areas — whatever that group decides they want to do for that year for their long-term program.

We also see students who are engaged in more community service, more community-oriented programming such as Boy Scouts, Girl Scouts, volunteering through local nursing homes, hospitals, their local VFWs, Veterans of Foreign Warfare organizations, Rotary clubs. National Charity League is fairly popular, something that I see in my territories that students are participating in. Service League of Boys in Upstate New York. Key Club. There are tons of ways kind of both in those elements of academic and community-based that I do find are common ways for students to engage.

[00:04:25] BHA: And in what way are these types of activities valuable for a high school student?

[00:04:29] LP: These activities, they're often referred to as "high-impact activities." Really helps students do a lot of hands-on learning about their local area. But that's also very applicable to kind of the larger national and world platform as well. It broadens their perspectives just overall outside of what they might be experiencing day-to-day.

We often hear students talk about how their community engagement helped them develop skills like leadership skills, a sense of belonging, empathy, time management — things like that. Or they learn some very tactile skills like cooking. Or they learn how to garden. I think it's much broader than a lot of folks typically think.

[00:05:04] BT: I think we're all really familiar with this kind of caricature of a high school student who plans to go to college and is really packing all of their free time and their resume with all of these different community activities to kind of help them give them what they think is maybe a boost. But is being so involved with all of these different community engagement opportunities, is that required for students who are applying to college? Are students who don't have this kind of experience at any kind of disadvantage compared to others who do?

[00:05:29] CP: Absolutely not. No student is required to engage in community engagement or to have a smorgasbord of things that they're involved in. We recognize that students have different levels of engagement, right? Whether that's in their school, in their sports, in their local community. Within their home, their family life. Maybe they're caretakers for elderly members of their family. Maybe they are taking care of younger siblings while their parents are gone. Or other things are happening, and that prohibits them from being involved in these civic engagement opportunities. Although, I would argue that having those familial responsibilities is still giving you similar benefits to what you would experience in civic engagement work. Maybe they have a part-time job as well.

We recognize that every student is coming from a different walk of life, and they will not be at a disadvantage if they do not have volunteering or Model UN on their extracurricular lists when they're applying to colleges. All we really want to know is what are they doing? How are they spending their time? What are things that they're passionate about? That's really what we want to see. We don't have a certain criteria that we are examining to make sure that something is there as we're reviewing applications.

[00:06:37] BHA: And so, Carrine, you mentioned a slew of different organizations and types of community engagement that students might do throughout high school. And then Brooke echoed this idea that students might rack up on service hours because they think it'll give their application a boost. From the admissions side, is there a secret formula or a secret recipe? What's enough? What's typical? How much are you seeing? And what distinguishes a good applicant in this area from maybe a not so great one?

[00:07:07] CP: Absolutely. We get this question often in admissions of should I have more? Should I have less? And truly, there is no secret recipe. There's no secret formula of how many opportunities, involvement you should have in order to equal a positive decision to a college.

As I mentioned before, we're really interested in seeing students who are engaged in things that they're passionate about. The thought of "quality over quantity." Maybe a student is involved in a multitude of activities because they really have diverse interests, and they want to be able to explore that while they're in high school. Perhaps that's beginning their 9th-grade year, their 10th-grade year, and those two years are exploratory. By the time their junior and senior year come around, maybe they're narrowing their interests down because they've found something they're passionate about. Or maybe it's still a larger amount because they do have varied interests.

Other individuals might have their niche and they might have the idea of what they're passionate from the very beginning. And so, perhaps, their list is a little smaller. But they're dedicating years and years to that respective organization, that respective experience. There's truly not one that's better than the other.

However, seeing students who are engaged in it for a period of time — not just two months, maybe one hour a week and they can cross it off and say that, "I did that." We want to see students who are coming back to those respective groups, organizations, experiences, and reflecting on it and sharing some things that they might have learned — whether that's in their essay or other parts of their application.

At the end of the day, truthfully, colleges and universities want to bring students onto their campuses that are going to get involved in what they're passionate about and involved in what that university institution offers. I promise you that college students don't just go to class, eat, sleep, repeat. They're all also involved in other things. And I could attest, Bucknellians are similar in that regard, that they're all involved in other elements across our campus. And truly, that's what admissions wants to be able to do, is bring in diverse, talented, unique individuals that will not only enhance the academics but also our social community and culture that we have.

I will say that in the similar vein to the previous question, those popular engagement activities…Again, not necessarily saying that these are the end-all be-all, but most often we do see students who have those familial responsibilities, part-time jobs, involved in boys or girl scouts, school clubs, organizations. They're involved in sports teams. Maybe they're coaching and they're volunteering there. There's truly a lot of elements that students can engage in with their time. And I promise, one is not better than the other.

[00:09:41] BT: That evaluation process you described there, Carrine, really sounds on par with the holistic application review process that schools like Bucknell go through. It really is about the quality of what you do in high school and the ways that you're able to communicate why that matters to you.

Shifting our focus to past the application process, a student who is really passionate about community engagement has gotten into the school of their choice. What might some opportunities look like for them to continue that in college?


[00:10:05] LP: I think, specifically in our area, with our office, we really try to focus on local community-identified priorities. Talking with our community leaders, seeing what are the themes or the issues that are popping up.

We work specifically in three counties — Snyder, Union and Northumberland — with those particular leaders. And there's probably about 120 agencies in our area. But also knowing there are some schools that are in much more of an urban area, so they may have access to a lot more agencies than we will in our particular area.

But the variety of opportunities is pretty amazing. We do have the tutoring, the mentoring, of course. We also have one of the few furniture donation banks in the country; that is in Northumberland County that you can work with. We also have students that work with poverty alleviation, some environmental work and a lot of community organizing, which is really great to see students take on those leadership opportunities.

[00:10:56] BHA: And what about for the students who want to take it one step further? Are there ways for a student to combine their academic interests — whether it might be environmental studies, or sociology or political science — with service or an engagement opportunity, or some type of project?

[00:11:12] LP: Yeah, absolutely. Bucknell is rich in research opportunities, especially summer research opportunities too. We have a grant and research program through our office where students can work with a faculty member on something that's a priority. Lately, we've been seeing a lot of environmental opportunities come up through research, specifically in our area.

We also offer 20 or 30 classes a year called CEL and CBL. Those are community-engaged learning are community-based learning courses. And that's a course that incorporates community-engaged work as part of the curriculum. There will be some classroom pieces of that, certainly, but then they will go meet and work with community leaders on a project or something of that nature. So they really have the opportunity to get immersed.

Some students that have community service federal work-study in their financial aid package can use that to work off campus at our nonprofits. And then we also have several non-profits that work with students to take on leadership roles, to be kind of the coordinator for volunteers, or donations, or things of that nature. There's some different opportunities out there if they want to be a little bit deeper in their experience.

[00:12:21] BT: Lynn, you mentioned there quickly work-study that might be a part of a student's financial aid package. And I'd love to talk a little bit more about the financial opportunities that might come with a student who is really civically engaged. You oversee Bucknell's Community-Engaged Scholars Program, which awards $20,000 annually to students who are public service leaders in their communities. And they, as a cohort, kind of engage in projects while at Bucknell.

[00:12:44] LP: Yeah, absolutely. It's hard to believe we are welcoming our fifth cohort this fall. It seems like we just started it not very long ago. But we're also graduating our first class, which has really been great to see.

Those scholars are welcomed into the campus. And we have regular meetings and trainings with the cohorts, or the scholars in general, about community-engaged work. That's also a time where we have them interact with a lot of the community leaders talking about the opportunities or why those community leaders got into civic engagement as well. So they can see kind of the breadth and the depth of some of our leaders and their work.

Some of the past projects that the scholars have either done as a group or individually, we had virtual GED tutoring program with a secure adolescent treatment unit not long ago, which was very successful. And the students learned quite a bit. And they also learned a lot working with the staff at that treatment unit as well.

We have done some community organizing around climate change, voting, voter education, food distribution programs, farming, gardening. Also, some environmental causes. It's really been great to see them find something that has a spark in them, and then really just kind of go with it. And they have the opportunity for four years to kind of really dive deep into those themes. It's really exciting to see them grow. And they also see their projects grow as well.

[00:14:04] BT: Yeah, I had the privilege to actually talk to a student who was involved in that GED tutoring program. Yeah, and the way that he described it was so great for those students there at that treatment unit. That's one example of a scholarship program that might offer tuition help for students coming into a school, but are there other scholarships or kind of tuition supplements that students can find either maybe at the state or national level?

[00:14:27] LP: I think some of the national orgs like Rotary, or Qantas, or something like that may offer some scholarships on their end, which is great to see, especially if the student has been deeply involved with that. I think like maybe National Honor Society or some of those also have some financial support as well.

[00:14:43] BHA: I'm so glad you asked that Brooke because I think that's a great reminder to our listeners to make sure that they're exploring merit scholarship opportunities not only at the institutions that they're applying for. And making sure they're going through that process to be considered for merit but also exploring outside funding options too, because there are a lot of dollars out there that are available to students, especially ones who are particularly civically-minded.

And so, Lynn, you got into the Community Engaged Scholars Program. Tell us a little bit more about that. You mentioned some summer research opportunities and grants that help fund that. And so, those are some examples of how students can be funded for this work. What other ways can students translate their experience into college opportunities? Are there things we haven't touched upon yet?

[00:15:25] LP: It's really great to see them kind of also work on their soft skills as well because those are really great lifelong skills that will help them post Bucknell or post college. They really get to understand more of the why. Why do we have hunger? Why do we have poverty? And they get to see that from a variety of different ways with the different classes they can take or the different research opportunities there might be out there. It's really great to see those as well. Or having regular contact with some of our community leaders and just engaging with them in conversation is really great as well.

[00:16:02] CP: To tag on what Lynn just shared, I think students who may be looking to have a global and broader perspective than just what they experience on campus are also able to take those civic engagement experiences and the soft skills that they've been able to develop and take that with them when they think about studying abroad and impacting whatever community they may be entering across the world, across the globe, across the nation. Whether that's involving immersing themselves in food banks and where they're entering, or they're, perhaps, focusing on environmental climate change as they go to different places.

I think students are also being able to translate the things that they've learned through civic engagement to future careers, future abroad experiences, other clubs, organizations that they may be involved with on campus, research opportunities as well as just their friend groups, sharing the information that they learn. As we know, peer-to-peer relations and peer-to-peer knowledge is very strong across institutional campuses. And I firmly believe that many of our students are sharing the things that they learn and how they're growing with one another.

[00:17:21] BT: Yeah, I love that you both mentioned that kind of study abroad aspect and that experience of getting engaged in a community that is maybe different from your own. And I think that's true of students who are just maybe moving to a different state to attend college. A lot of students will end up going to a college in a place they've never lived before, never experienced before. And so in what ways can service and community engagement help them become more embedded?

[00:17:44] LP: I think they get to know folks that have…Like we say, we really want students to learn local. And that is talking and engaging folks that have lived here forever. Or their families have been here for multigenerations. And understanding kind of the history and the context of our particular area.

We're a river town. We also had a lot of big industry. Some of those interesting factors. There's a lot of farm country in our area, for example. It really kind of I think takes them out of what they may have learned and kind of expands that and broaden that horizon, seeing things that they have may have only seen on TV or read about in books. It kind of brings that learning alive a little bit.

[00:18:25] CP: Yeah. I would add on that I think that it can be a springboard for a feeling a sentiment of community-based living and learning, not only in their first year but as they continue throughout their remaining years when they're on campus. Getting involved in community engagement on our campus, in our local area, in local areas to our institution, students are exposed to other students with similar passions. Maybe different passions and interests. People they might not have met on campus otherwise as well as meeting people that they might not have ever thought about interacting with.

I know we have a very dominant incarceration program with our sociology department as well as civic engagement. Those are potentially individuals that our students may have never met before in their entire lives but they're gaining a new perspective interacting with that respective program. I think it's a great way for our students, students in general, to meet new people, foster friendships, build roots in the local community and be able to explore in different ventures that they're interested in.

[00:19:24] LP: Yeah. And I think that's a really interesting point you made about kind of our inside-out or incarcerated programs. Even the folks on the inside, it helps them build some skills as well as far as empathy and relationship building, sense of belonging. Folks that they feel like they're always going to be judged, but that stigma isn't always there. It's kind of learning some other ones. Also, we have some prison gardens that are being created as well, which is super cool.

[00:19:50] BHA: So for students who might like to bring their passion for service to college, or maybe for those who have never engaged in this type of work but would like to, what piece of advice do you have for them to get started?

[00:20:02] LP: I think, for me, a lot of it is, certainly, if there's something you want to continue, great. We do have a very large number of student clubs and orgs already. It could be a possibility where you could bring that and continue to work with a student org or start a new one, certainly, as well.

We also have a new platform called Engaged Bucknell on our website. The platform has a listing of all of our community partners and about the work they do. So it's something you can look at prior to coming to Bucknell. Are there themes or agencies that do work that you're interested in? And you can also, once you become a Bucknellian, sign up for those opportunities there as well. It kind of gives you a little bit of an idea what there's offered and what the possibilities are.

[00:20:43] CP: To add on to Lynn's point I think it's very important to keep an open mind and to not shy away from something that might be new or completely outside of your comfort zone. College is a great place to explore new and exciting things, whether that's, again, your academic, social experiences, as well as civic engagement. To those who have never had the opportunity or the experience before, try something new that sounds interesting to you. Or try something that will push you outside of your comfort zone and offer a challenge. For those of you that have been involved, maybe it's something similar from that experience. Or, again, maybe it's something brand new because you've never had the opportunity to dive into that. I would say, welcome new opportunities. Try things out. See what you like. See what you don't like. And keep doing whatever makes you happy and whatever you're passionate about.

[00:21:31] BT: Thank you both for chatting with us today and exploring the world of civic engagement on college campuses and helping our listeners — students and their families — figure out how they can connect these dots between their high school experience and their college experience.

[00:21:45] LP: Yeah. Excited to be on here. Thanks for inviting me.

[00:21:48] CP: Absolutely. It's been a pleasure. And we're always welcome to have individuals reach out to us with any questions.

[00:21:54] BT: We also want to thank everyone out there for listening. If you're a fan of the podcast, please take a moment to rate, subscribe and share this episode with the students in your life.

[00:22:02] BHA: College Admissions Insider will be back with another new episode in just a few weeks. In the meantime, send your questions, comments and episode ideas to podcast@bucknell.edu. We read every note you send.

[00:22:15] BT: And finally, you're invited to follow Bucknell on your favorite social media apps. Just look for @BucknellU on Instagram, Facebook, Twitter, YouTube and TikTok. You can also follow our student-run Instagram account and see what really cool civic and community engagement opportunities our students are exploring here at Bucknell @iamraybucknell.

[00:22:33] BHA: Until next time, keep reaching for your dreams and your dream school.

[END]

Contact Details
Office of Admissions
Location
Hours
Monday – Friday:
8:30 a.m. – 4:30 p.m.