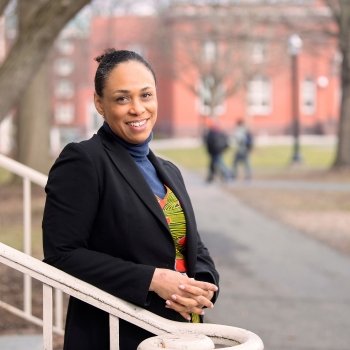 Cymone Fourshey
Professor of History, International Relations
Affiliated Faculty in Critical Black Studies, Director Bucknell Griot Institute for the Study of Black Lives and Cultures
About Cymone Fourshey
Professor Fourshey teaches in the Department of History and the Department of International Relations. She is the Director of the Griot Institute.
Educational Background
Ph.D., University of California, Los Angeles
M.A., University of California, Los Angeles
B.A., University of California, Los Angeles
Selected Publications
PROJECTS IN PROGRESS
Books
Book Manuscript (single authored) Identities in the Shadows: Hospitality among Strangers, Immigrants, & the Established in southwestern Tanzania 500 BCE-1800 CE (In progress expected completion 2018).
Book Manuscript (co-authored) A History of Family and Belonging in Eastern and Central Africa 1000-1800 CE(In progress expected completion 2020).
Articles & Book Chapters
Article "'Woe is me that I have no relations': Poverty & Wealth in Pre-Colonial Southwestern Tanzania among the Nyakyusa & Safwa (In progress/revising).
Book Chapter "Welcome Home?: Hospitality & Hostility, Transnational & Diasporic Experiences among 'Bantu Somali'1800-2015" in Sub-Saharan African Migrations: Challenges, Failures, & Coping Strategies. Yvonne Captain, Papa Sow, & Elina Marmer eds. (Submitted to editors).
Encyclopedia Entry "Women in The Gambia," Oxford Research Encyclopedia of African History (in progress) submitting January 2018
PROJECTS COMPLETED
Books
Book Manuscript (co-authored) Bantu Africa Oxford University Press complete edited manuscript submitted December 2015. (Released October 2017).
Articles
Article "Lifting the Loincloth: History of Anthropological Spectacles" for Critique of Anthropology (September 2016): 302-338.
Book Chapter "Dismantling Notions of African Women's Perpetual Subjugation," in Discoursing Gender, Culture, & Knowledge in Africa & the African Diaspora Toyin Falola, ed. (forthcoming 2017 Routledge).
"Set Alight to Her Husband's House": Teaching as Scholarship & Activism in the Gambian Archives Article co-authored with student Holly Belkot, Ufahamu: A Journal of African Studies, 38, 3 (2015): 35-62.
"Karibu Stranger, Come Heal Thy Host: Hospitality in Southwestern Tanzania 1000-1900" African Historical Review 44, 2 (2012): 18-54.
Further Information