Bucknell's multidisciplinary international relations major prepares you to make a difference on a global scale. Along with learning about the interconnected world, our students secure internships with organizations such as the French foreign ministry, the Macedonian Red Cross and Women for Women in Rwanda, and earn prestigious fellowships that lead to careers in public service and the private sector. Students complement their on-campus study with off-campus experience and collaborate on faculty research. With in-depth, hands-on knowledge of our globalized world, you will graduate prepared for jobs that empower you to effect change.
Launch a Global Career
Nearly all of our international relations majors study abroad, preparing them to make a difference in our globalized world.
Our alumni excel in diverse fields, including:
Law
International business
Banking and finance
NGOs
Journalism
Think tanks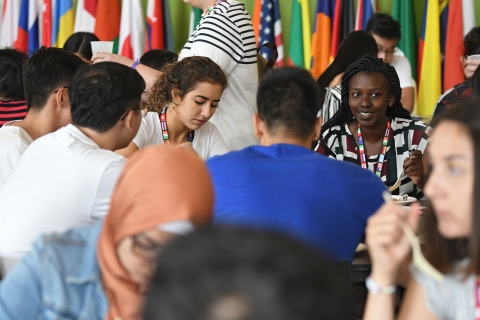 Live Your Passion for Global Issues
Bucknell's Global Residential College offers students the chance to live and learn with others who share their keen interest in issues impacting societies, economies and political structures around the world. Global College students share a residential space and together take a provocative, challenging course; go on trips; serve the community; and forge lasting friendships.
Degree Programs
Bucknell offers a major and minor in international relations.
Majors can choose from five areas of concentration:
Africa
Asia
Europe, Eurasia and Russia
Latin America and the Caribbean
The Middle East
They can also pursue one of four thematic tracks:
Foreign policy and diplomacy
Sustainability and development
Global governance and conflict resolution
Culture and identity
News from the Social Sciences
Contact Details
International Relations