Saturday, March 11, 1 p.m.
Weis Center Concert Hall
Suggested for all ages.
Run time: 75 minutes, no intermission
Free pre-performance kids' activities sponsored by the Bloomsburg Children's Museum from 12–12:45 p.m.
Divinity "Divi" Roxx is a multi-hyphenated award-winning musician, recording artist and composer who is celebrated for her inspirational lyrics and infectious grooves.
Her career as a bass-player skyrocketed after attending a bass camp led by the legendary Victor Wooten where she was invited to tour with the five-time Grammy Award-winning virtuoso three months after attending the camp.
After touring with Wooten for five years, she toured and performed with Beyoncé as her bassist and musical director. Roxx was a featured soloist and also composed original music for Beyoncé's I… Am Sasha Fierce tour and DVD. She has appeared on countless television shows including the Grammy Awards, Saturday Night Live, Good Morning America, Ellen and more, with personal highlights a special performance at The White House with President Barack Obama and an appearance on the hit TV show Soul Man.
Despite her appearances with so many legendary and iconic figures, it is in Roxx's solo performance that she shines brightest. She combines virtuosic bass playing with an eclectic mash-up of hip-hop, rock and funk that she calls "alternative soul." Her passion for composition combined with her lyrical prowess and electrifying stage presence has earned her the moniker "mood elevator." Her 2016 release, ImPossible, received critical acclaim and earned her an Independent Music Award for Best Spoken Word Album.
Roxx is furthering her mission to inspire and empower others through her newly formed production company, Divi Roxx Kids. She released her debut, full-length family music album, Ready Set Go!, in 2021. It received critical acclaim and Scholastic Inc. published two of the songs as picture books.
Roxx lives in New Jersey with her family. She will join the Berklee Online teaching staff in the fall as she continues to produce multiple projects. She is composing music for a new theatre production The Boy Who Kissed The Sky, in association with The Alliance Theater (Atlanta) and Seattle Children's Theater. She is developing a one-woman stage show, The Ballad of Debbie Walker, with Crossroads Theater (New Jersey), touring with her band and developing a new series of children's books.
Ticket Information
Adults: $10
Youth 18 and under: $5
No discounts may be applied
FREE Bucknell students (limit 2)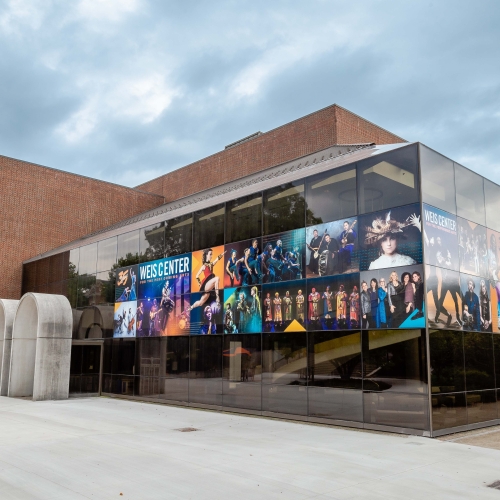 Bucknell students: FREE!
In order to encourage student engagement, tickets to performances on the Weis Center's Spring 2023 Season will be free of charge. By presenting their BU ID at the Weis Center Campus Box Office counter, students can receive one free ticket to the performance.
The box office is open from Monday – Friday, 10 a.m. – 4 p.m. and one hour prior to performances.
Sponsored, in part, by the