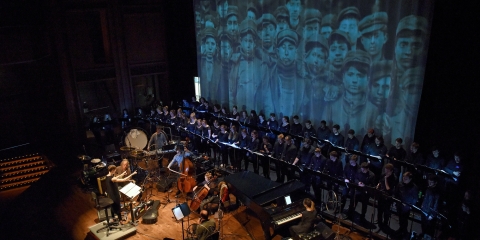 Weis Center for the Performing Arts
Arts & Performances
For more than 30 years, the Weis Center has presented world-class artists to Bucknell University and Central Pennsylvania audiences.
In our programming and within our community, our goal is always to inspire:
Artists to do their best work and to share it with the University.
Audiences to recognize the spiritual power of art and its capacity to change lives.
Our communities to become active participants, rather than passive spectators, through the deep integration of arts activities between our campus and region.
Through this inspiration, we believe we can transform the nature of the world in which we live. Our hope is that when you attend a Weis Center performance, you share in an experience and moment in time with hundreds of others. When that happens, you'll leave inspired, moved and energized.
Great Performances and Beyond
While on campus, visiting artists participate in a variety of residency activities, including master classes, lecture demonstrations, pre-performance talks and post-performance receptions. Together, these moments increase involvement in and knowledge of the arts within the University, local community and the region.
Weis Center Streams, Sessions & Snaps
Streams

Virtual 2021 Season Upcoming Performances

The 2021 performances include; The Snail and the Whale, Stono/Step Afrika, This is Me: Letters From the Front Lines created by DIAVOLO, and Chamber Music Society of Lincoln Center Front Row National.

Sessions

Each week, we release a performance video that features a member of the Bucknell University community. Weis Center Sessions are recorded at and produced by the Weis Center for the Performing Arts at Bucknell University.

Snaps

A series that features Bucknell faculty and staff displaying a passion for their craft with 3-5 minute snap talks, professionally produced by the Weis Center from the beautiful Weis Center stage.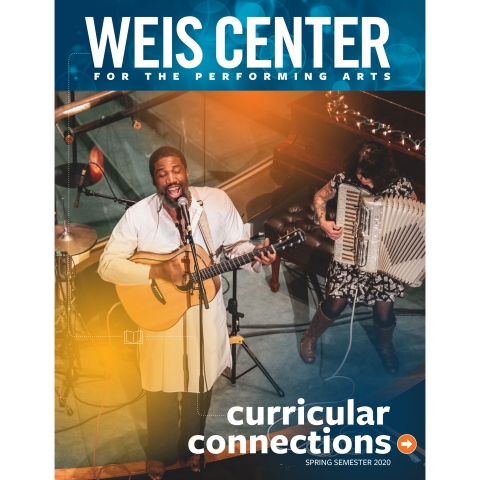 Building Curricular Connections
Many of the performances presented at the Weis Center for the Performing Arts feature additional programming where Bucknell's faculty and students can connect with visiting artists through masterclasses, pre-show talks, class visits, and community meals. These active-learning opportunities support the core values of a liberal arts curriculum as they engage students with real-world problems and ideas, challenge students to think critically and increase cultural intelligence. Curricular Connections with artists are designed to enrich the educational experience at Bucknell by expanding the walls of the classroom.
Weis Center for the Performing Arts Blog
Apr 30, 2021 2:32 p.m.

Weis Center Sessions #47: Andrew Ciotola reads "Try to Praise the Mutilated World" by Adam Zagajewski

Welcome to our 47th installment of Weis Center Sessions. We end National Poetry Month with a reading by Andrew Ciotola, program manager at the Stadler Center for Poetry & Literary Arts. Andrew is also the managing/book review editor for West Branch, Bucknell's professional literary journal. Andrew has served on panels devoted to literary editing and arts administration for the Association for Writers & Writing Programs and the Community of Literary Magazines & Presses, and on grant panels for the Pennsylvania and New Jersey state arts agencies. He recently completed a three-year term as co-chair of the Bucknell Arts Council. Andrew […]

Apr 23, 2021 1:02 p.m.

Weis Center Sessions #46: Joselyn Busato '24, "Thaw" (Poetry)

Welcome to our 46th installment of Weis Center Sessions. Since April is National Poetry Month, we will be featuring poetry readings for the next few weeks. Today, we highlight Bucknell first-year student Joselyn Busato '24 and her original poem, "Thaw." Joselyn plans to double major in creative writing and biology. She is an Arts Merit Scholar, a Presidential Fellow, a member of the Creative Writing Club and a participant in several theatre activities. She says, "This poem, entitled Thaw, is representative of the shift one experiences when going from a toxic relationship with a friend or partner to a healthy […]

Apr 16, 2021 1:06 p.m.

Weis Center Sessions #45: J.A. Holm '22, "City Streets" (Poetry)

Welcome to our 45th installment of Weis Center Sessions. Since April is National Poetry Month, we will be featuring poetry readings for the next few weeks. Today, we highlight Bucknell student J.A. Holm '22 and his poem "City Streets." In the coming weeks, we will highlight Joselyn Busato and Andy Ciotola. J.A. Holm is a Junior who recently switched majors from Psychology to Creative Writing to pursue a career writing poetry or working in related industries. Only in the last few years has he begun to take poetry seriously and has since been published in Toho Journal Vol. 2, No. 1. He […]