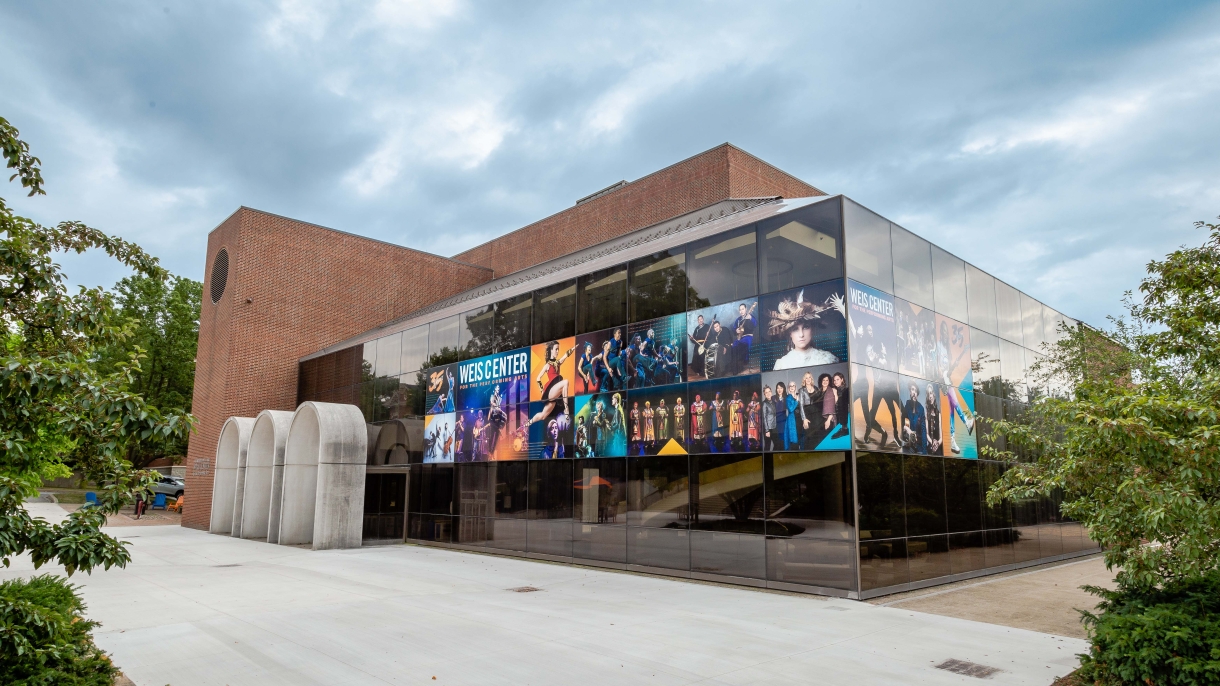 Weis Center for the Performing Arts
Arts & Performances
The Weis Center's 2023-24 Season has been announced! The season includes 25 live performances, including world music and dance, modern dance, classical, jazz, soul, Americana/roots, family-friendly performances and so much more. Hope to see you at the Weis Center soon!
Fall 2023 Weis Center Performances
Bringing the World to Central Pennsylvania
For more than 35 years, the Weis Center has presented world-class artists to Bucknell University and Central Pennsylvania audiences.
In our programming and within our community, our goal is always to inspire:
Artists to do their best work and to share it with the University.
Audiences to recognize the spiritual power of art and its capacity to change lives.
Our communities to become active participants, rather than passive spectators, through the deep integration of arts activities between our campus and region.
Through this inspiration, we believe we can transform the nature of the world in which we live. Our hope is that when you attend a Weis Center performance, you share in an experience and moment in time with hundreds of others. When that happens, you'll leave inspired, moved and energized.
Great Performances and Beyond
While on campus, visiting artists participate in a variety of residency activities, including master classes, lecture demonstrations, pre-performance talks and post-performance receptions. Together, these moments increase involvement in and knowledge of the arts within the University, local community and the region.
Fall 2023 Artists
Spotify Playlist
Spring 2024 Artists
Spotify Playlist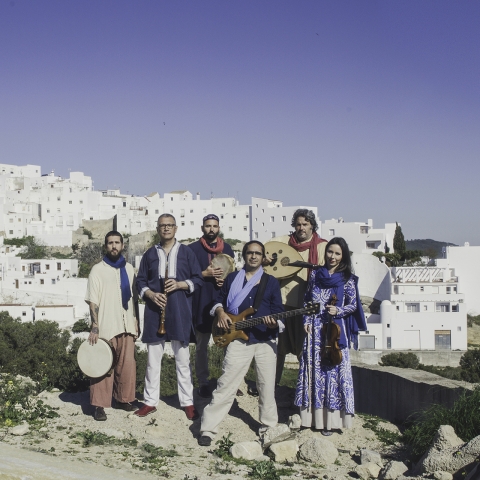 Performances
The Weis Center's 2023-24 Season will include 25 live performances, including world music and dance, modern dance, classical, jazz, Americana/roots, family discovery performances and so much more.
Weis Center 2023-24 Season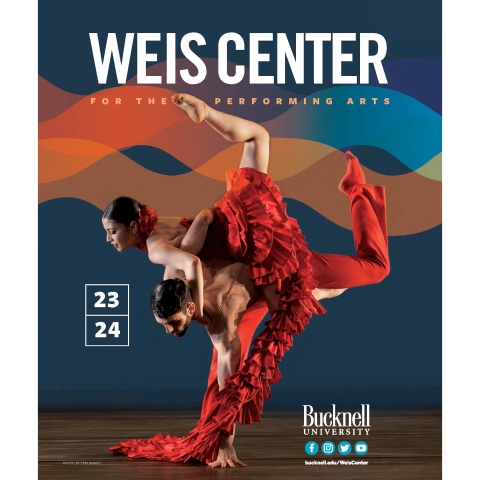 2023-24 Season
The 2023-24 line-up includes a diverse schedule of nearly 25 live performances designed to inspire your mind, energize your body and restore your heart.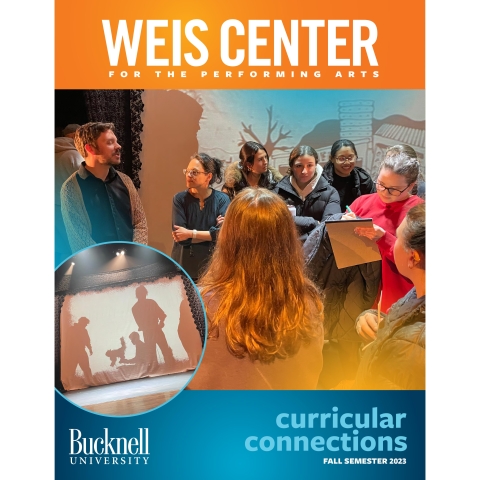 Building Curricular Connections
Many of the performances presented at the Weis Center for the Performing Arts feature additional programming where Bucknell's faculty and students can connect with visiting artists through masterclasses, pre-show talks, class visits, and community meals. These active-learning opportunities support the core values of a liberal arts curriculum as they engage students with real-world problems and ideas, challenge students to think critically and increase cultural intelligence. Curricular Connections with artists are designed to enrich the educational experience at Bucknell by expanding the walls of the classroom.
We're happy to help forge future Curricular Connections to help achieve the learning goals of your courses. Please contact us if you see a curricular connection we may pursue together. E-mail Rachel Martine at rm053@bucknell.edu to organize your class connection.
Weis Center for the Performing Arts Blog
Sep 11, 2023 5:45 p.m.

Bluegrass Grammy-Award Winner Comes to the Weis Center, Tuttle Nominated for Seven Awards at the 2023 IBMA Bluegrass Music Awards

The Weis Center for the Performing Arts will welcome bluegrass/roots band Molly Tuttle & Golden Highway on Friday, Sept. 29 at 7:30 p.m. at the Weis Center. The performance is sponsored, in part, by the Columbia Montour Visitors Bureau and the Williamsport Sun Gazette.   UPDATE AS OF 9/26:Millheim-based duo, The Wicked Chicken, will open the performance at 7:30 pm. The Wicked Chicken plays a mix of driving rock-and-roll, old-time fiddle, and blues. Armed with exciting new material, powerful groove, and a unique sound, the Wicked Chicken will surprise and captivate audiences of all varieties. The foundation of the band […]

Aug 30, 2023 2:21 p.m.

Contemporary Dance Ensemble to Grace Weis Center Stage With Three Distinct Pieces

The Weis Center for the Performing Arts will welcome renowned Martha Graham Dance Company (MGDC) on Thursday, September 14 at 7:30 p.m. at the Weis Center. MGDC has been a leader in the evolving art form of modern dance since its founding in 1926.  Patrons are encouraged to arrive early, as there will be a free pre-performance talk from 6:45-7:15 p.m. in the Weis Center Atrium with MGDC Artistic Director Janet Eilber. The talk will be facilitated by Bucknell Professor Kelly Knox. The performance is sponsored, in part, by Gary and Sandy Sojka. The Company is both the oldest dance […]

Aug 9, 2023 2:41 p.m.

Weis Center Kicks Off 36th Season with Concert and Hoops with Bucknell Basketball Teams (Note: Event Will Take Place Indoors)

NOTE AS OF 9/6:Due to predicted thunderstorms and excessive heat, the Weis Center's FREE season kick-off concert with DuPont Brass and pre-concert activities on Thursday, Sept. 7 will take place inside the comfort of the air conditioned Weis Center. All of the activities remain the same. At 5 p.m. inside the Atrium, patrons are invited to shoot hoops with the men's and women's basketball teams and have autographs signed, meet Bucky the Bison, meet the Bison Girls Dance team and Bucknell cheerleaders, play cornhole and enter a raffle to win a kiddie hoop signed by both Bucknell basketball teams!  The […]