Weis Center for the Performing Arts
Arts & Performances
This fall, the Weis Center curtains will rise again, and you're invited to experience it live. We look forward to welcoming you back with a diverse schedule of live performances designed to inspire your mind, energize your body and restore your heart.
We've missed you and look forward to presenting the live experiences you crave alongside the safety precautions you expect.
We've spent the past months preparing our space and taking every precaution to ensure that you are safe and comfortable while attending live performances at the Weis Center. When you visit, all you'll have to do is relax, sit back and enjoy the show.
Our safety measures meet or exceed all CDC recommendations, including masking requirements, increased sanitation measures and socially distanced seating. We'll share details about these measures soon so that you'll be fully prepared for your visit.
Whether it's your first time visiting our performing arts center or you're a seasoned patron, our team continues to work hard for you, making sure our guests and artists have the high-quality experience that has become the Weis Center standard.
Check back this summer for the performance schedule, as well as ticketing and registration information. In the meantime, please follow us on Facebook, Instagram and Twitter to receive the latest updates.
See you soon!
Bringing the World to Central Pennsylvania
For more than 30 years, the Weis Center has presented world-class artists to Bucknell University and Central Pennsylvania audiences.
In our programming and within our community, our goal is always to inspire:
Artists to do their best work and to share it with the University.
Audiences to recognize the spiritual power of art and its capacity to change lives.
Our communities to become active participants, rather than passive spectators, through the deep integration of arts activities between our campus and region.
Through this inspiration, we believe we can transform the nature of the world in which we live. Our hope is that when you attend a Weis Center performance, you share in an experience and moment in time with hundreds of others. When that happens, you'll leave inspired, moved and energized.
Great Performances and Beyond
While on campus, visiting artists participate in a variety of residency activities, including master classes, lecture demonstrations, pre-performance talks and post-performance receptions. Together, these moments increase involvement in and knowledge of the arts within the University, local community and the region.
Weis Center Streams, Sessions & Snaps
Streams

Virtual 2021 Season Upcoming Performances

The 2021 performances include; The Snail and the Whale, Stono/Step Afrika, This is Me: Letters From the Front Lines created by DIAVOLO, and Chamber Music Society of Lincoln Center Front Row National.

Sessions

Each week, we release a performance video that features a member of the Bucknell University community. Weis Center Sessions are recorded at and produced by the Weis Center for the Performing Arts at Bucknell University.

Snaps

A series that features Bucknell faculty and staff displaying a passion for their craft with 3-5 minute snap talks, professionally produced by the Weis Center from the beautiful Weis Center stage.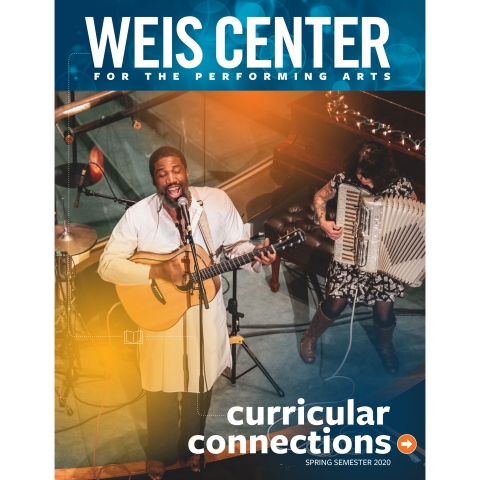 Building Curricular Connections
Many of the performances presented at the Weis Center for the Performing Arts feature additional programming where Bucknell's faculty and students can connect with visiting artists through masterclasses, pre-show talks, class visits, and community meals. These active-learning opportunities support the core values of a liberal arts curriculum as they engage students with real-world problems and ideas, challenge students to think critically and increase cultural intelligence. Curricular Connections with artists are designed to enrich the educational experience at Bucknell by expanding the walls of the classroom.
Weis Center for the Performing Arts Blog
Jul 13, 2021 4:31 p.m.

Weis Center Will Host Live Performances this fall, Season Kicks-off on Friday, August 27 with Free, Outdoor Concert

This fall, the Weis Center curtains will rise again, and the Central PA community is invited to experience it live. The 2021-22 line-up includes a diverse schedule of 30 live performances designed to inspire your mind, energize your body and restore your heart. Performances will include music from Bali, Scotland, Venezuela, West Africa, Mexico, and Colombia, plus classical music, Americana and roots music, modern dance from three acclaimed companies, jazz, and family-friendly performances. Seven performances are free. The season will kick-off on Friday, August 27 at 6 p.m. with a free alt-rock and roots concert by Amythyst Kiah as she […]

Jun 12, 2021 12:48 a.m.

Weis Center Sessions #53: Juliana Brafa (Juliana Zafa), "Song for Egypt"

One year. 53 Sessions. Thanks for coming along for the ride! From poetry readings and ballet dance pieces to original songs and soul-gripping covers, we have highlighted so much talent within the Bucknell community. Thank you students, faculty, staff and alums! We hope the videos gave you a source of inspiration and hope throughout the pandemic. View the full YouTube playlist here. This week's Session will be our last one and it's a wonderful way to end the series. Please enjoy Lewisburg-based Juliana Brafa and her original piece, "Song for Egypt." Juliana Brafa is a 2005 Bucknell alum whose passion […]

Jun 4, 2021 11:55 a.m.

Weis Center Sessions #52: Nine Degrees of Syncopation, "For Sephora"

We've reached one year of Weis Center Sessions! We hope you have enjoyed the performances each week. Next week will be our last Session, as our staff begins to focus fully on our NEW SEASON OF IN-PERSON PERFORMANCES! Yay! This Session features Lewisburg-area jazz trio Nine Degrees of Syncopation and the piece, "For Sephora." The ensemble includes: Joe DeCristopher on guitar, a 1970 Bucknell alum, Bill Flack on electric fretless bass, currently chair of the Psychology Department and Carl Kirby on guitar, professor in the Geology and Environmental Geosciences Department. The band name is a play on words, but for […]