Affinity Housing
Living-learning communities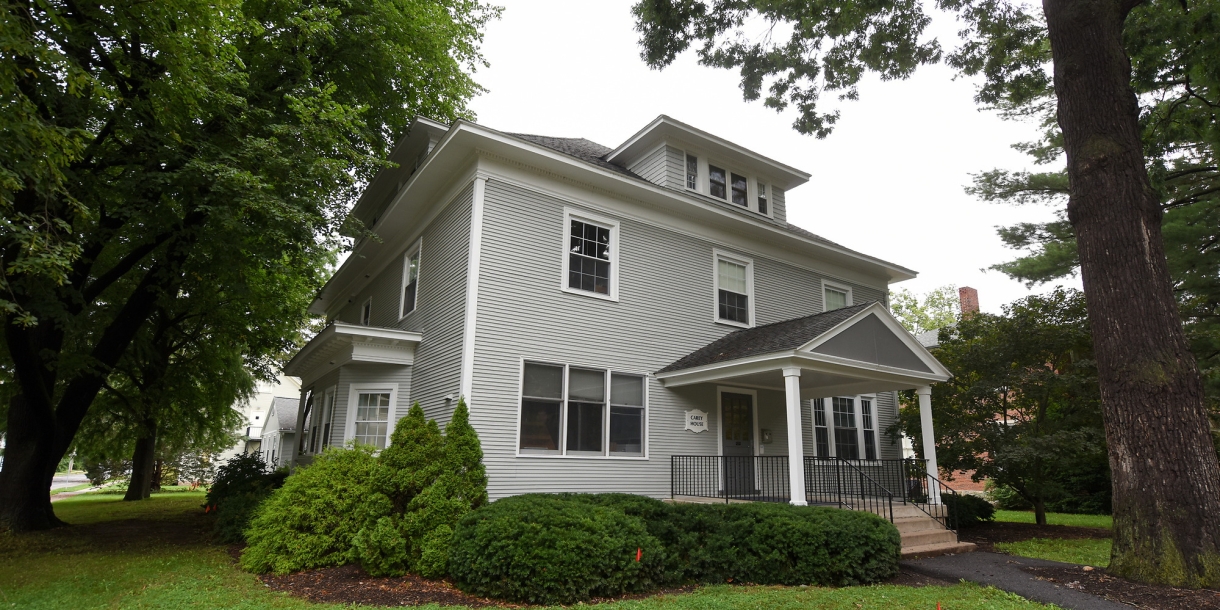 Bucknell's Affinity Houses are where like minds grow together. Explore a common interest day and night as you live with others who share your passion. Set in residential houses around campus, each of these 12 living-learning communities shares a common theme.
Don't see an Affinity House that meets your interests? Start your own! Students who share a similar interest can apply to live together in one of Bucknell's small houses. Whatever you're intrigued by, we'll help you explore it where you live, because we know your curiosity doesn't stop when class ends.
Please Note: NCAA institutions are not permitted to have athletic housing or dormitories, meaning no more than 49% of a particular house, dorm, floor or block can be made up of student-athletes. As you build your group list, please be mindful of individuals who are student-athletes. Group lists will be verified to make sure we comply with NCAA rules.
2020-21 Affinity Houses
7th Street House: Umoja
7th Street House focuses on highlighting the importance of Umoja, or "unity," which is highlighted through Kwanzaa events. Our mission is to bring people together as a family and create an environment where everyone feels welcomed and comfortable.
---
23 University Ave.: Sustainability
The Sustainability Affinity House is a community of individuals who are mindful of their consumption and motivated to adapt to a more sustainable lifestyle through innovation and action. We engage with partners on and off campus (including the Bucknell Farm and the Lewisburg Community Garden) to educate and encourage sustainable practices on campus and in our lives at the house. We'll learn through experience why a sustainable lifestyle is essential and explore the various ways to incorporate it into our daily lives.
---
64 University Ave.: The Outhouse
At the Outhouse, we promote outdoor recreational activities and explore our shared love for the outdoors. Our goal is to promote environmental awareness and help the larger University community appreciate the outdoors. This community offers a great support system for its members who are often involved in a variety of activities all over campus. Our community will foster leaders within the Bucknell community to promote experiential education and personal growth. Individuals within the house do not have to be members of Bucknell's Outdoor Education & Leadership Program to join this affinity house.
---
400 St. George St.: Entrepreneurship & Innovation
The mission of the Entrepreneurship & Innovation Affinity House is to foster intellectual growth, collaboration and creative thinking. We strive to establish the mindset that we can positively impact the world around us through entrepreneurship and innovation. Our goal is to encourage curiosity, offer support and push each individual to innovate in their academics and extracurriculars.
---
Carey House: Bohemia
The mission of the Bohemia Affinity House is to foster a diverse and interdisciplinary artistic community by establishing a residential space in which students can collaborate. Our house merges diverse artistic perspectives in ways that energize and rejuvenate the arts scene, the academic scene and the social scene at Bucknell.
---
Corner House: International
The International Affinity House promotes the international community on campus by engaging the wider Bucknell community in global and cultural activities. We strive to create an inclusive space that celebrates culture and diversity on campus.
---
Galloway House: Cap & Dagger
The Cap & Dagger Affinity House promotes the growth of the arts at Bucknell and provides ongoing support to the Department of Theatre & Dance. We uphold the University's commitment to a liberal arts education by integrating living, learning, service and art all within a safe, empowering and dynamic environment. Students of all class years live and work side by side to foster and reinforce a community within the arts, provide a safe space for students and offer an alternate social environment.
---
Hulley House: C.A.L.V.I.N. & H.O.B.B.E.S
C.A.L.V.I.N. & H.O.B.B.E.S is a strictly substance-free house dedicated to providing a fun, safe environment for students to live and socialize. We partner with the club on campus with the same name, which has promoted substance-free fun for more than 25 years.
---
Leiser House: Sunnyside
Sunnyside fosters a community of leadership, support, and empowerment among motivated and high-achieving women on Bucknell's campus. We aim to provide an inclusive hub for positively charged innovation and collaboration to enhance the college experience for all students on campus.
---
Martin House: RISE
The mission of the RISE Affinity House is to grow and foster a community of students who will explore passions in civic engagement. RISE will connect students through experiences and hall events to the on and off-campus service-learning activities, such as Bucknell Buddies, Community Harvest, immersion trips, and much more! Students will also be exposed to leadership opportunities, an opportunity for them to promote the common good.
---
Taylor Street House: TRANSFERmation
The TRANSFERmation affinity house provides a supportive community for the diverse population of transfer students during their first year at Bucknell. The house sponsors events that encourage its residents to explore the campus, make friends, discover their passions and find a sense of belonging.
---
Tower House: Fran's House
Fran's House, named after the late director of the LGBT Office Fran McDaniel, provides Bucknell University with LGBTQ+-friendly, gender-neutral housing. The house serves as a safe place for LGBTQ+ individuals and allies at all times and as a sponsor of events to enrich the lives of LGBTQ+ individuals and allies on campus.
Housing Services
Hours
8:30 a.m. – 4:30 p.m.,
Monday – Friday