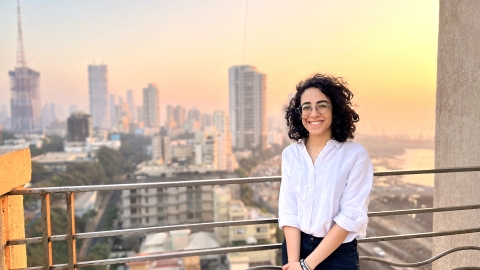 Anushka Mehrotra '16, English – Creative Writing
February 10, 2023
Anushka Mehrotra '16 transferred to Bucknell in her junior year because she "wanted to be more challenged and learn how to write well." Now, she's the award-winning lead screenwriter of a powerful Indian web series.
Described by critics as "gripping," "poignant" and "sensitive," Amazon Prime's Mumbai Diaries 26/11 depicts the November 26, 2008, terrorist attack on India's largest city, in which nearly 200 people were killed. Led by the Pakistani group Lashkar-e-Taiba, the three-day event consisted of a horrific series of attacks on multiple targets, including the city's railway station, prominent hotels, a popular outdoor café, a movie theatre and a Jewish community center. The show dramatizes the event and its aftermath in a fictionalized hospital — with Mehrotra's writing propelling the award-winning performances.
Nominated for numerous accolades, the series itself has secured the titles of Best Series at the Indian Film Festival of Melbourne and Best Original Programme at the prestigious Asian Academy Creative Awards. Mehrotra's pen earned her the 2022 Screenwriters Association Award for Best Original Screenplay and the coveted Filmfare OTT Award 2022 for Best Adapted Screenplay — major accomplishments for a writer under 30.
As a child growing up in Mumbai, Mehrotra filled notebooks with stories. When it came time for college, she intentionally chose to pursue her schooling in the States. "It's hard to pursue creative writing in India, as most colleges here don't offer that as an option," she says. "The more general English major is better suited for those hoping to become teachers." But she didn't want to become a teacher — she wanted to study writing.
"The first college I attended just expected me to be technically good, creatively different and to stand out from my peers," she says. "But I hadn't been taught the rules yet. I wasn't sure how to think outside of the box, because I didn't know where or what the box was. Bucknell helped me learn the actual mechanics of writing and how to bring ideas to life."
Under the guidance of her advisor, Professor Robert Rosenberg, English, and through a surprising dose of culture shock, Mehrotra began uncovering a new side of her voice. "I grew up with a lot of Western influences — reading Enid Blyton and Roald Dahl, watching Nickelodeon and the Disney Channel. I was giving my characters Western names and writing about snowy days, which I had never experienced. I wasn't writing about my culture, and I only realized it when I got to America."
She started her professional career at Scholastic in New York City, where her exposure to young adult authors further galvanized her vision for her own work and made her rethink the role of culture in storytelling. "Those books for young adults were pushing a lot of boundaries. It opened my eyes to the way you can bring diversity into plots," she says. "You can have a queer relationship happening very matter-of-factly along with a plot about, you know, fighting a dragon. So we can recognize the impact of culture not as the focal point, but as a contributing factor in the way that decisions are made," she says. "I want to use that in my writing — combine a bit of the fantastical with the grounded reality of my culture."
With the end of her work visa, Mehrotra returned to India, where she transitioned to magazine writing before making a connection with a woman who owned a film production house. Her networking skills landed her an invitation to sit in on the writing room. While there, one of the directors asked her to provide feedback on a screenplay. Her notes ended up landing her a job as his writing assistant.
"They had a lot of concepts, but they needed someone to come in and develop them," she says. "He asked me to create some characters for Mumbai Diaries, so I took on a lot of responsibility for the project." The production house continued pursuing other writers, but "it just didn't pan out with any of them, and by that point I'd already written a lot of the show." They ultimately decided to bring in a second writer to assist Mehrotra, and offered her the official screenwriter role. She answered with an obvious, "yes, of course."
That yes sparked a four-year journey to create Mumbai Diaries 26/11. Mehrotra, along with directors Nikkhil Advani and Nikhil Gonsalves, spent months conducting interviews and research so the show could be as authentic as possible. "Everyone in Mumbai has a story," Mehrotra says. "Even if they weren't involved in the attacks, they know of someone who was."
As the show's development gained momentum, the team gained permission to speak with heads of government hospitals and visit and tour the facilities that treated victims of the attacks. In addition, Mehrotra consulted with a doctor — one who had first-hand experience of the event.
The writing team has been lauded for their ability to navigate the details of the events and present a nuanced, unbiased perspective. "It was such a difficult time for so many people," Mehrotra says. "We worked hard to ensure that it came across sensitively and didn't villainize any religion."
With the success of the awards season run, Mehrotra is moving forward with new projects while maintaining her focus on creating honest work that conveys the real-life experience of her culture. "I'm fortunate to have such a successful show under my belt before I'm 30," she says. "As for future projects I want to pursue, I don't have a specific genre. I'll put in my all and hope for the best."