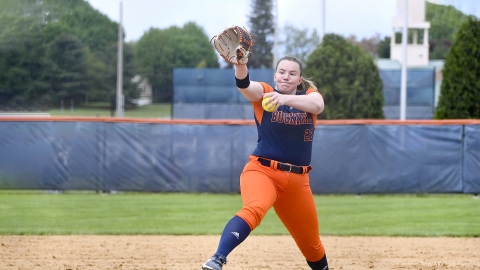 Kelly Toomey '23, Finance
July 9, 2021
I knew I couldn't pass up the opportunity to attend Bucknell if the stars aligned for me here.
At 5 years old, Kelly Toomey '23 was "that kid on the T-ball team who always tried to run all the bases even though we were supposed to stop at first." 
By age 16, the highly motivated athlete had taken control of the mound as a high school softball pitcher and began spending her free hours contacting college coaches in hopes of playing at the Division I level.
"When I discover something that I'm passionate about, I put my all into running with it," says the finance major from Cedar Grove, N.J.
That dedication paid off, landing Toomey a pitching spot at a D-I university in Philadelphia — until the school announced the softball team would be one of eight cut from its athletics programs.
Determined to not give up on the game she loves, Toomey set her sights on transferring to Bucknell. Here, she's found a new supportive network of teammates, coaches and cheerleaders both on the field and across campus.
"It's a unique situation being a transfer player at Bucknell, so it was easy to be nervous. But I could tell immediately that I would love the girls, the coaches and the campus culture," says Toomey, who joined the Bison softball team in spring 2021.
From bonding over delicious dinners with teammates to getting precise advice on how to improve from her coaches, Toomey says she felt "welcomed like family as soon as I got here."
But athletics isn't the only place where she's found belonging. One of Toomey's major motivations for becoming a Bucknellian was the chance to continue studying finance through the Freeman College of Management. While the curriculum often presents fresh and diverse challenges for Toomey, professors are always there to provide the guidance and encouragement she needs to excel.
"It was a bit of a shock coming in that they're so invested in us," she says. "I've never had professors that care so much to carve out time and push me to learn — and send really nice 'good luck on your game' emails on top of that!"
Always striving to shrink the gap between better and best, Toomey never misses an opportunity to apply the same detailed attention to her studies that she brings to her sports training, making hers a familiar face during office hours.
When she was named Bison Athlete of the Week in April following a one-hitter win, Toomey's professors were among the first to congratulate her alongside the strong community of friends and classmates she's built over her first semester.
"It's been great to make so many connections in the little time I've been on campus," she says. "Going forward, I just want to be the best I can be and get the most out of my Bucknell experience."