Macy Albaitis '22, Animal Behavior
December 2, 2019
There's a purpose to everything an animal does. There's so much going on in their heads — so much more than we understand. If you look deeper, you figure out that there are hidden complexities under simple things.
You could say it began in the third grade when Macy Albaitis '22 dressed up as the legendary scientist Jane Goodall for a school presentation.
"I've always loved animals," she says. "I knew that whatever I would do as a career would involve animals."
From that early age, the native of Grand Rapids, Mich., understood that animals are more complex than people realize. She was especially fascinated by the way they think, evolve and interact with each other. 
Albaitis chose Bucknell because of its animal behavior program and unrivaled primate lab with four different species: hamadryas baboons, lion-tailed macaques, squirrel monkeys and capuchins. 
Those monkeys have become her research partners as Albaitis transforms her natural curiosity about animals into noninvasive research projects that advance our understanding of the natural world.
"If you're interested in something, you can just do it," Albaitis says. "Like, oh, I want to know why animals do this. You can set up an experiment to figure out why."
Immersive research opportunities — with an opportunity to publish what she discovers — are exactly why Albaitis chose a college 600 miles from home. 
In high school, her college search officially launched when several schools tried to recruit her to join their rowing teams. Coaches were impressed with Albaitis' talents both on the water (she led her team to the national rowing championships) and off (she was an Academic All-State selection in high school).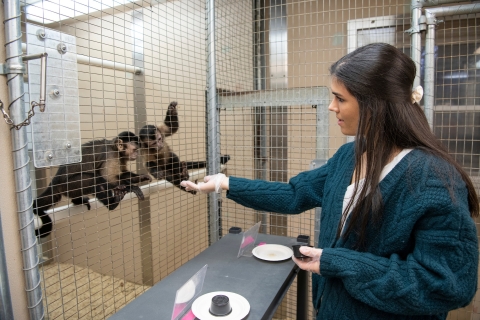 As she toured these schools and browsed their websites, Albaitis encountered the word "research" quite a bit. That word carried little significance to her at the time — "research what?" she remembers thinking.
But on the tour of Bucknell, another word stood out: "published."
"At Bucknell, they were like, 'you have the opportunity to get published. You can work with a professor to publish your work.' And I'm like, 'Oh, wow, that's cool,'" she says. "That's something special that I haven't heard at other schools."
Albaitis knew that completing published research would help her goal of getting into a top veterinary school after graduation. But beyond advancing her career aspirations, she welcomed the chance to complete research that will move forward how we understand animals.
"You can directly contribute to the field at an undergraduate level, which is crazy," Albaitis says. "I just never thought I would have that type of experience."
A research project begins with a brainstorming session, where Albaitis and her fellow student researchers toss around ideas of subjects that interest them.
"It always starts with a question," Albaitis says.
Can a monkey use an iPad? Does a more-dominant animal hinder a less-dominant animal's ability to learn? Do male and female toy preferences in monkeys mirror those seen in humans?
For that last one, Albaitis and her team found two soccer balls that look similar but feel totally different. One is soft; the other is firm.
"Will females go to more huggable toys and male animals go toward more hard, tactile toys that can be thrown?" Albaitis asks. "Or is there no difference at all?"
Throughout her undergraduate research, Albaitis has been supported by a team of professors who prioritize the student experience.
"Bucknell does a really great job with hiring professors that want to teach and want to enhance their field," Albaitis says. "They're very passionate about their work, they know their stuff and they're connected within their field."