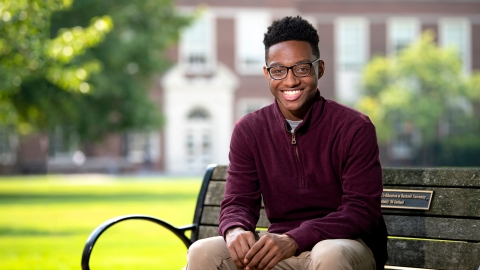 Quentin Andrews '24, Economics and English
November 1, 2021
Despite all his academic success in high school, Quentin Andrews '24 says the only award he ever earned at the School Without Walls in Washington, D.C., was in an improv class. He was named the "best improvisation comedian."
"I really liked the class because it allowed for my spontaneous creativity," he says. "And so when I came to Bucknell and saw acting was a choice, I was like, 'I guess that's a natural progression.' "
His hunch was correct. In his first year at Bucknell, the economics and English double-major took an acting class that he says he "would not miss for the world." His professor was phenomenal, Andrews says, and so were his fellow students.
"There are some classes, like calculus or physics, where you're there to take the class," he says. "But when you're taking an acting class, you're there for the other people around you. I got really close to the people in my class."
He also found a new appreciation for the power of theatre to encapsulate a moment in time, inspire people to reconsider long-held viewpoints and even spark actual change.
"Plays are visual. They are stories that play out in your head," Andrews says. "You have a landscape of different individuals, and you get to see their values. You get to see how those values play out in the storyline, the conflict — that's all great for understanding an issue."
Issues like the ongoing fight for racial justice in the United States. For his latest project, Andrews worked under the guidance of Professor Meenakshi Ponnuswami, English, to create journals of prose and poems in response to the trove of plays, documentaries and texts that emerged from the Black Arts Movement of the '60s and '70s.
That movement showcased the Black experience by giving voice to a new wave of Black artists — a significant step toward progress in an arts landscape dominated by white creators.
"These plays represent the tensions of the time period," Andrews says. "In many ways, Black people are making these plays so white people can step into their shoes — to see what Black life is like."
One of those plays is A Raisin in the Sun, the first play written by a Black woman to be produced on Broadway. Lorraine Hansberry's 1959 piece tells the story of a Black family in Chicago's South Side.
The play's message — and its critical and commercial success — demonstrate the need for Black creators to have a voice and a stage on which to share it.
Through his analysis of A Raisin in the Sun and other works from a half-century ago, Andrews wonders whether it's time for another Black Arts Movement.
"Do we need to do something similar, again? Do we need to create plays like this again — plays that represent what Black people feel?" Andrews says. "I say yes. We need to continue to create art like that, continue to show the Black struggle, and continue to keep our culture alive."
This time, though, Andrews plans to go beyond studying other people's plays and start creating his own original work. He hopes to use what he's learned to write his own play and complete it by graduation in 2024.
"I know I can play a role," he says. "That play would be my way to give back in the name of the Black Arts Movement."