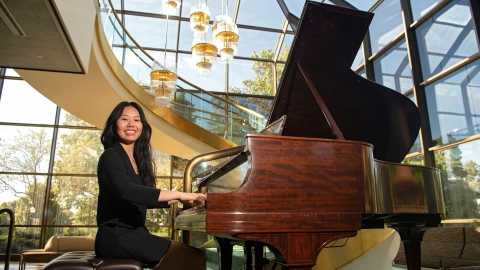 Vivian Kuang '25, Management
November 29, 2022
That's the advice Vivian Kuang '25 gives to future students with a genuine and enthusiastic smile. She keeps track of her many to-dos on a very organized Google calendar — one that's chock-full from morning until late at night.
Hailing from Lakewood Ranch, Fla., the management major knew from the start she wanted to have new experiences and learn different ways to express herself during her time at Bucknell. She began seeking those opportunities in the summer ahead of her first year by pursuing the University message board.
One particular posting caught her eye: "Pianist needed for church." Having played for most of her life, Kuang's "I can do that" response led her to connect with catholic campus ministry, and she secured her first extracurricular activity before even moving into her dorm.
Ever since, she has jumped into Bucknell's student life scene with both feet. "I just started leaning into everything, including the multicultural clubs and relationships available to me at Bucknell. It's really allowed me to explore all the parts of who I am," she says. "I'm acutely aware that by exposing myself to new experiences here — even becoming OK with being uncomfortable — I will discover the best version of who I can be."
Origins and Opportunities
When she arrived at Bucknell, Kuang, who grew up in a Chinese American home, began exploring self-identity in a way she never had before. She built a community and sense of belonging through her participation in campus government, athletics and clubs. Through the Asian Pacific Islander Desi American (APIDA) Student Association and the Students for Asian Awareness at Bucknell (SAAB), she found a connection to her culture that she had shied away from in the past. "I started to see how unique my own perspectives are," she says. "It's so easy to assimilate to a different culture — APIDA and SAAB have given me a new appreciation for my heritage I'm really glad to have found."
Another of Kuang's early influential experiences at Bucknell occurred during her first spring break when she traveled to Baltimore with classmates to serve underprivileged families. The group volunteered at multiple food pantries including Bread for the World, Our Daily Bread and the Maryland Food Bank, and learned about food insecurity and apartheid.
But it's been through Bucknell's music programs that she has found both purpose and passion. In spring 2021, Kuang performed an original composition at Bucknell's Diversity Symposium — an ode to her heritage, growth and direction. "Through that piece, I truly owned my identity as a Chinese American for the first time in my life," she says.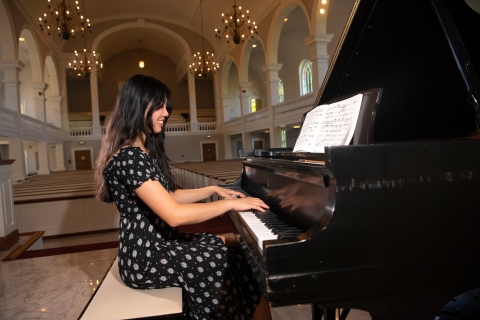 Doing it All
You can find Kuang playing piano in all corners of campus and singing with the Rooke Chapel choir. And you can find her at Student Government meetings, chairing membership for the Alpha Lambda Delta honor society, serving as a student member on the Bucknell University Alumni Association Board of Directors, and on the national launch committee of The Women's Network, Bucknell's chapter of the collegiate networking organization.
She has shown her room during prospective student tours as a Bucknell Admissions Ambassador and currently works as a student broadcaster for VBU, Bucknell's student-run streaming network. In addition, she volunteers as the marketing design specialist and executive planner for CORE Club at the CAP Center, is the President of the Samek Museum Art Club, acted in the play Lost Girls, performed in the Fall Dance Showcase and was a puppet in the musical Little Shops of Horrors.
And that's not an exhaustive list of her involvement.
Exploring all sides of interest and identity doesn't take Kuang from her studies. Overloading her classes each semester since her first, she has maintained academic excellence against the rigor of Bucknell's curriculum. Her secret? "I don't procrastinate," she says. "Just do your homework."
With more than half of her Bucknell experience left, Kuang looks forward to all the ways she will continue to refine her identity. She anticipates internships, research and study abroad opportunities in the future.
"College is so fun and full of possibilities," she says. "I don't know exactly what I want to do in the future, but I want to figure it out. And that's what I'm doing. It's why I love school and why I love Bucknell."