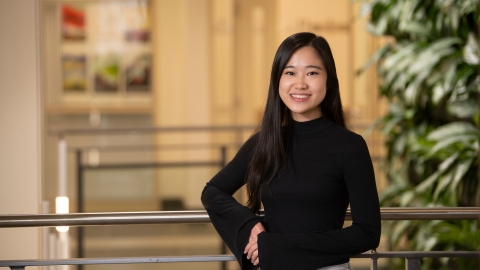 Wutt Kyi '22, Biomedical Engineering
April 8, 2021
I wanted to find a school with a welcoming environment where I could get to know everyone and pursue my interest in biomedical engineering to the fullest. Bucknell was a great match for both.
Growing up as the child of physicians in Myanmar, Wutt Kyi '22 got a deeply humanized look at the health care issues affecting developing nations through the daily patients who filed into her father's in-home clinic.
"I got to hear their stories and struggles with the system, and I began to question from a young age why access to high-quality care was lacking," she says. "Studying abroad during primary and secondary school in more advanced countries like Singapore and China made it even more clear that there's a huge disparity."
Inspired to shape her future around closing that gap, Kyi chose to major in biomedical engineering at Bucknell, where she'd get day-one access to experiences that would prepare her to tackle real-world health care challenges. Partnering with Professor Karlo Malaga, biomedical engineering, allowed Kyi to jump into the program's medical computational modeling lab and start researching deep brain stimulation. Using a medical device called a neurostimulator, deep brain stimulation sends electrical impulses to specific targets in the brain as a treatment for movement disorders, including Parkinson's disease and essential tremor.
"Being able to have a close professional relationship with professors on this research is really amazing," Kyi says. "One of the main things that keeps me motivated and in love with biomedical engineering is that tight-knit environment that we have here."
Close Connections
As an international student, Kyi wanted to find and foster connections with faculty and fellow students throughout her college journey. From playing on the recreational badminton team to 3-D printing prosthetic limbs as part of Bucknell's chapter of e-NABLE, she's sought out diverse opportunities for building strong relationships across campus.
In fall 2019, Kyi helped cultivate a community for engineering students of Asian heritage through Bucknell's newly established Society of Asian Scientists and Engineers (SASE) chapter. Hosted within the College of Engineering, SASE supports professional and interpersonal growth through national conferences, career fairs and fun activities like dinners and movie nights.
"Although STEM students have great support through a variety of offices and programs, we felt like we really needed a space for those of Asian heritage to come together and lift each other up," says Kyi, who served as the organization's co-president until spring 2021. "SASE gave me a lot of room to grow as a leader and teammate by leveraging resources in planning activities and events."
Advocacy in Action
It's also an experience that unexpectedly laid the groundwork for organizing Kyi has done in response to recent political developments in her home country. When Myanmar's military forcibly seized government control in February 2021 following a democratic election — sparking civil unrest and violent clashes between peaceful protestors and the armed forces — Kyi transformed a Facebook group she co-created into a means for Burmese people around the globe to coordinate advocacy efforts. As a moderator, Kyi has mobilized many of the group's 2,000 members to raise legal funds for arrested protestors and craft petitions calling for action from world governments, including the U.S. Congress.
"What's important for everyone to realize is that this isn't merely a political issue — people are being jailed and even killed for making their voices heard," says Kyi, who witnessed the power of protest firsthand during Myanmar's 2007 Saffron Revolution, a civil resistance movement triggered by extreme government-sanctioned increases in fuel prices.
"What's occurring is directly affecting people I know — my parents, loved ones and friends — who are on the streets risking so much to restore democracy," she says. "I admire their courage and am passionate about supporting today's movement in any way possible."
While doing all she can to raise awareness, from sharing journalism coverage on social media to collaborating with her high school's alumni on fundraising, Kyi looks to her online Burmese community for encouragement and hope. When she needs extra support, the connections Kyi has formed at Bucknell are never far away.
"The resources I've accessed through the counseling center and the empathy from professors and peers have made a big impact," she says. "That kind of affirming environment is exactly what I was looking for, and I definitely feel like I found it here."