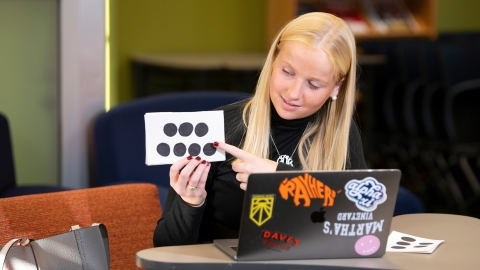 Beyond Mentorship: Bucknell Tutors Offer K–12 Students a Lifeline in a Chaotic Time
November 23, 2020
When Bucknell transitioned to remote learning amid the escalating COVID-19 pandemic last spring, Kendall Jansen '21 knew that her classmates weren't the only students she would miss. For two years, Jansen mentored K-12 students in Lewisburg-area affordable housing communities through the University's Bucknell Buddies program. She built relationships and trust to help these students succeed in the classroom and throughout their lives. Departing Lewisburg meant leaving them and all they'd accomplished behind.
But Jansen didn't dwell on the separation for long; she got to work.
This fall, as classes resumed in person on Bucknell's campus and through a mix of methods in area schools, Bucknell students again put their knowledge and desire to uplift others to work in service of area youth, thanks to a reimagined and more focused initiative conceived by Jansen.
Launched this fall in partnership with the Greater Susquehanna Valley United Way, the United We Learn program pairs Bucknell undergraduate students with K–12 students from a wide area around Bucknell, including Snyder, Union and Northumberland counties, for online tutoring and academic mentorship.
As she reimagined how a mentoring program could continue safely amid the pandemic, Jansen sought to create a more valuable learning experience for the K–12 students and real-world professional experience for their Bucknell tutors. Working closely with Ellen Amarante, field experience coordinator and director of professional education for Bucknell's Department of Education, Jansen pivoted the program's focus to go beyond mentorship and homework help to understanding students' needs and crafting customized plans to meet their educational goals.
"Shifting the focus to academics allows Bucknell students to flex their teaching muscles and provide lessons for kids that help them develop a better understanding of the material that they're working on," she says. "I don't think taking it online was a negative in the end. It allowed us to reconfigure the program to really home in on the educational aspects."
Going Beyond the Classroom
The program offers an alternative field experience for Bucknell students seeking state teaching certification, something that's especially valuable as school districts have become more reluctant to allow visitors — even future teachers — into their buildings during the pandemic. Cara O'Neill '22, an education and sociology double major from Westchester County, N.Y., says tutoring with United We Learn has helped her grow as an educator, despite having already completed several student-teaching placements in central Pennsylvania classrooms through Bucknell.
"My last placement was in a classroom helping lots of students; this is one on one," she says. "Whether I'm helping them with homework or setting goals, there's more of an individual relationship — I'm not just another figure in the classroom."
Building those relationships has helped her see her profession and her students in a new light, especially in relation to the ways the outside world and classroom intersect, says O'Neill, who's considering Teach for America after graduation. The two elementary school students she's tutoring are homeschooling during the fall due to safety concerns, and while "they're handling it well, I think it's hard because kids need to interact with other kids," O'Neill says. Understanding the issues students cope with after they close their textbooks positions her to better help the next generation succeed.
Those same intersections between school and the wider world are particularly interesting for Nicole Reddig '22, who after graduation wants to craft education policy and legislation to improve experiences and outcomes for students and teachers. The education and political science major from Brownstown, Pa., says her tutoring experience is helping her bridge the gap between the legislative chamber and the classroom "to see what policy impacts look like for students," giving her a more holistic view of the policies she'll soon be writing and fighting for.
The high school student Reddig tutors, she explains, spends more than an hour per week studying for the annual Keystone Exams, a series of state-mandated end-of-course assessments, on top of his regular classwork.
"By working with him, I can see the amount of stress that this test puts on both students and teachers," Reddig says. "It puts context to the legislation. It's not just a box to check; it's something that he's spending an hour-plus a week working on to pass."
And while she's not currently tutoring to focus on administrative duties for the program, Jansen says her role also offers a perfect opportunity to gain real-world experience for her education major, where she's concentrating in support services for children and adolescents.
"My end goal is to be an occupational therapist who works with people with disabilities," she says. "That's what brought me to education and then to specializing in support services — to work in support of achievements in the classroom and the desires of classroom teachers, and to help students do better in that environment."
A Foundation for the Future
For now, though, Jansen is laser focused on giving the program a solid foundation on which to grow, work she'll continue next semester as her senior capstone project.
"I think what we've created here will go on even if we can go back to peer mentoring in person," she says. "I think that online tutoring is going to stay, because we're able to reach more families more frequently and cater to what our families want."
In fact, she already sees great opportunity for growth. While only nine Bucknell students could be matched with students this semester, more than 40 indicated interest, and Jansen plans to expand the program further next semester, advancing United Way's goal of offering additional academic support for families during the pandemic. That will include reaching out to mentors beyond the education department, since Bucknell helps students from a range of majors obtain certification to teach in Pennsylvania. It may even help extend the program's reach beyond Bucknell, as nearby Susquehanna University is also working on its own online tutoring program with United Way.
"I think it really shows the strength of the Bucknell community — that there are resources and people who can recognize a need in the community and who want to help address it," she says. "It's not necessarily an easy job, but it's one that right now is super important, and when you have the opportunity to step up to help, that's what you're encouraged to do here."