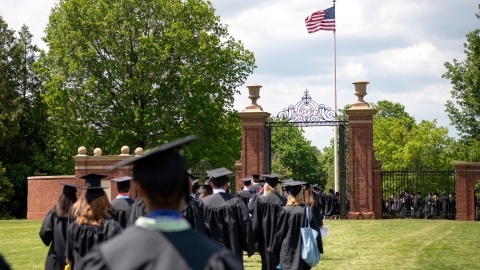 Bucknell Beats Pandemic Odds, Completes On-campus Academic Year
June 10, 2021
There truly was reason to celebrate when the final degree candidates passed through Christy Mathewson-Memorial Gateway following Commencement on May 23. The annual tradition not only marked the passage of students from campus to the outside world as graduates, it also represented a symbolic victory for the University over the COVID-19 pandemic as students made it through the entire academic year on campus.
That was considered a most improbable feat when students returned in August while the pandemic raged on, causing many institutions to make the painful decision to keep students home and shift to fully remote education. But while Bucknell saw periods when positive cases spiked to uncomfortable levels, students remained thanks to a campuswide adherence to behavioral public safety measures, a rigorous testing regimen, strong protocols for isolation and quarantine, academic flexibility, and other preventive actions.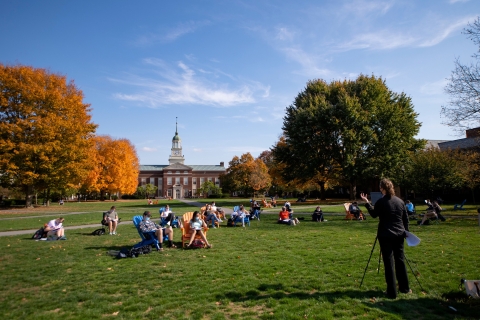 "What we have accomplished together at Bucknell is nothing short of miraculous, and I would never have believed that we would be able pull this off a year or so ago," says Provost Elisabeth Mermann-Jozwiak. "When I talk to colleagues at other universities, who have had so much more turmoil, both pandemic-related and financial, I am proud to be part of an institution that has weathered the storm so well. I deeply appreciate all that everyone did to make that possible."
"This has been a remarkable thing that we all have accomplished this year," adds President John Bravman. "Imagine where we were one year ago. Imagine the fears and concerns, and those have continued during this year, but we've done our best together and what we have accomplished is really quite remarkable and special. And I believe that in the annals of Bucknell 20, 50 and 100 years from now, they'll be writing about what we all have done to make it through the year."
The Student Mandate
Much like how the understanding of COVID-19 evolved throughout the pandemic, the Bucknell plan remained dynamic, too. But one thing remained constant: the students' desire to be on campus and have the best residential experience possible, given the unprecedented circumstances.
"We were very thoughtful about the health and safety of the community while centering our students and their needs in the process," says Dean of Students Amy Badal. "We knew that our policies and protocols were going to be a challenge for some of our students because it was new for them but ultimately, they rose to the occasion in ways that we never imagined. We heard from our students a resounding 'We want to be in-person,' therefore our goal was to remain open and do whatever it took to provide them with an in-person experience. This involved coordinating an exorbitant number of details, holding many conversations with key constituents including students and parents and working together as a University to make it happen."
The students took note and were appreciative.
"I am glad and honored to say that Bucknell was able to complete an on-campus academic year despite the concerns of the pandemic," says Madison Scopano '22, Bucknell Student Government president. "We are very fortunate to have had this capacity, and it wouldn't have been possible without the staff in Student Health, the Counseling & Student Development Center, COVID testing, facilities and dining workers, COVID transporters, the administration, and many others. Personally, I know many of these individuals didn't take a single day off. They did this to prioritize the students, our health and education, to give us the best year they could."
In order to remain vigilant against the virus, student testing protocol became more aggressive over the year — from a COVID test every 10 to 14 days initially in the fall, to a weekly regimen during positive spikes and the entire spring semester. The University also announced a travel policy in September where students who traveled beyond a 30-mile radius were required to notify the Dean of Students' office and then undergo a re-entry plan prior to returning to their campus housing and classes.
The changing knowledge about COVID-19 kept Bucknell Student Health constantly on alert for the best ways to combat it. They also learned from their own experiences with contact tracing and isolation housing.
"I think the more experience our contact tracing team had, as well as the more experience Student Health had with housing and recognizing how different housing areas may interact with each other, we got a better sense of what our weaknesses were in the fall and so we were able to get more aggressive with our contact tracing," says Dr. Catherine O'Neil, medical director, Bucknell Student Health.
The University's partnership with its testing vendor, GENETWORx, ultimately played a big role in medical success.
"GENETWORx really stepped up and became our COVID lab," O'Neil says. 'Any situation that we had at Bucknell Student Health that required additional testing, they reacted to immediately. Any questions that we had about test results, I was able to connect with the lab director and get a response in less than an hour. Because their testing sensitivity and specificity were so high, it really helped us to identify students early in the process and prevent the spread of disease on campus in a way that we wouldn't have been able to accomplish with lesser labs."
Academic Adjustments
Getting students back to campus and keeping them healthy and safe was one thing. Getting them the education they desired during a pandemic was another. In order to do that, the faculty first had to implement different educational modalities amid changing pandemic conditions.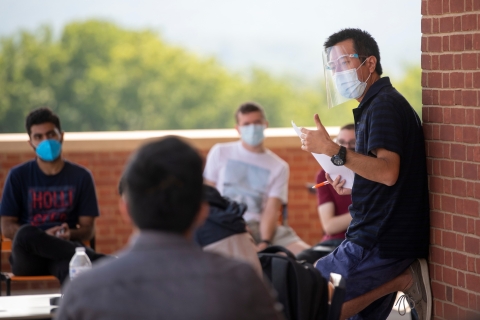 It wasn't just the delivery model that had to be adapted but the classrooms themselves. Spaces adapted for teaching included outdoor tents set up around campus, the 1,200-seat Weis Center for the Performing Arts and the Christy Mathewson-Memorial Stadium, among others. Indoors, seating was rearranged for maximum distance between occupants, and cleaning supplies were provided for students and faculty to wipe down spaces after classes adjourned.
What made the academic adjustments most challenging, according to Mermann-Jozwiak, is that Bucknell is first and foremost a residential university — so the pandemic required flexibility within its daily educational model. The planning process started in May 2020, with the first step being to build up the information technology infrastructure.
"The biggest areas to which we had to adapt were remote teaching and learning," she says. "We made a lot of investments in classroom infrastructure and classroom technology upgrades to also accommodate remote students, since we had students on campus and students Zooming in at the same time. We enhanced our outdoor WiFi for classes and purchased new technology for our faculty."
Ultimately, Mermann-Jozwiak sees the advancements in educational delivery benefitting the University long after the pandemic.
"Our faculty have become a lot more tech-savvy and are able to integrate technology into their teaching," she says. "Technology in teaching shouldn't be used, I believe, for its own sake, but to enhance teaching and offer additional ways of learning for students."
Responding to Changing Needs
The real key to Bucknell's victory over the virus may have been continuously changing policies as conditions warranted.
"This has been a 14-month process; it's not as though we created one policy at the beginning of the pandemic and moved forward," Badal says. "We were revisiting our policies on a daily basis to ensure that they were keeping the campus community as safe as possible, which is why at certain points we pivoted to adapt to the changing needs of the pandemic and the changing concerns of our students, all while keeping the health and safety of the campus community at the forefront."
That required greater campus collaboration and coordination as Bucknellians came together like never before to do their part.
It wasn't the traditional campus experience that Bucknell students had come to know and expect, but students still appreciated it nonetheless.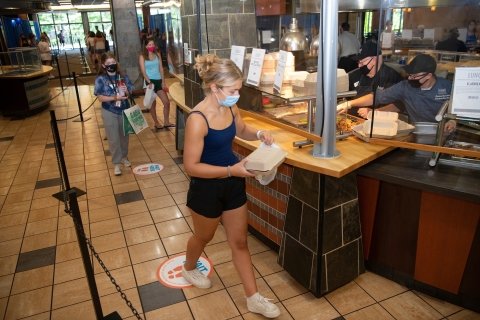 "It's truly a feat that we all got to the end of the spring semester and I, among many others, am so blessed," Scopano says. "This journey, and this year, for many of us was strenuous and challenging, so I'd also like to take time to congratulate all those for getting through this time amid this pandemic. It's been a season of growth, personally and academically, and I'm so proud of the whole community for what you all have accomplished during this difficult time."
Bucknell marked its 175th anniversary on Feb. 5 at the start of the second semester. It's safe to say that this academic year will now be remembered for more than that anniversary.
But if all goes well, the Bucknell experience may return to more normal this fall, with a few "new normal" twists.
"What the pandemic afforded us is an opportunity to reset and re-create the Bucknell experience; and that I find incredibly exciting," Badal says. "We are ready to embrace the fall and provide students with programs, events and services to engage and connect them with the University for the best experience inside and outside the classroom."