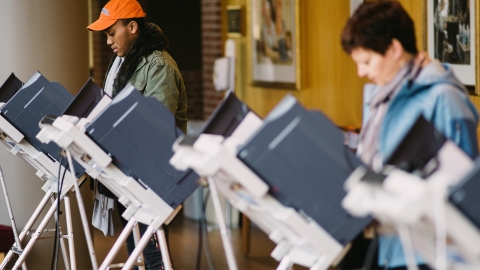 Bucknell Fellows Help Peers Navigate Pivotal Election Amid Global Pandemic
October 14, 2020
No one could've predicted that a global pandemic would make voting more high-stakes, high-risk and highly complicated than ever before — least of all the three Bucknell student fellows encouraging their peers to vote in the 2020 presidential election this fall.
"This election cycle has truly been like no other and will probably change what American politics looks like going forward," says Maya McKeever '21, a political science major from Sylmar, Calif. "So it's really important to talk now about what the future might hold and encourage students to vote, especially when COVID-19 is making it even more difficult for people to get their voices heard."
As a participant in the Bucknell-Mauch Fellowship Program, McKeever — alongside Annie Maley '21 and Jerra Holdip '23 — is leading in-depth discussion forums on crucial issues in this year's election. Co-sponsored by the University's political science department and the Lewisburg chapter of the League of Women Voters, the fellowship empowers politically engaged Bucknellians to enhance young voter knowledge and increase student participation in national elections. This year marks the program's third series of forums after launching in 2016.
It's an effort that's taken an entirely new form amid COVID-19. Rather than hosting in-person gatherings on campus, the fellows — two of whom are studying remotely — are using Zoom to moderate hourlong, nonpartisan conversations about topics ranging from mail-in ballots and health care to the Supreme Court vacancy.
"Our goal is to create a space where people from across the spectrum can come together and have urgent but respectful conversations on some of these hot-button issues," says Holdip, who's double majoring in political science and Africana studies. "College-age people make up a large, persuasive chunk of the voting population that goes untapped in a lot of elections. So we want to inspire our peers to really think about their political impact here."
A Complex Landscape
The first discussion, held in early September, explored the pandemic's impact on the voting process for Bucknell students and Americans at large.
Will an emphasis on mail-in ballots discourage voting at the polls? Do students feel more secure voting in person at the University's on-campus polling sites or sending ballots by mail? And how significant is the government response to COVID-19 when considering who and what to vote for?
"The pandemic shined a light on a plethora of societal issues, not the least of which is voter disenfranchisement," says Maley, a political science and environmental studies double major. "For a lot of college students, this will be the first time registering and voting, either here in Pennsylvania or in their home state if they're studying remotely. It's critical that those who don't feel comfortable voting in person understand the process."
Because voting and election laws vary by state, learning how to register can be daunting for first-time voters. And when it comes to voting by mail, even the tiniest misstep could render a ballot invalid. To help students navigate this complex landscape, the fellows created a digital guide that provides deadlines and resources for voter registration, requesting an absentee ballot and mailing a ballot in, as well as links to institutional research on concerns such as voter fraud and voting machine security.
'Your Vote Is Your Voice'
While the choice of which bubbles to mark on the ballot is highly personal, the process of forming political opinions and perspectives is far from solitary. For Maley, hearing diverse opinions from students of various majors and affiliations — from Greek life members to cultural club leaders — has broadened her sense of perspective beyond political science classes.
"I've learned a lot regarding the current political climate just by listening to others who are far more progressive or conservative than I am," says Maley, who is from Pittsburgh. "That's the benefit of going to a liberal arts school like Bucknell, where we're encouraged to engage with new and different ideas."
And as students gear up to cast their ballots, either by mail or in person, "we want them to know how much power their thoughts and views have," says Holdip. "The names and measures on the ballot are going to directly affect your life going forward. Your vote is your voice, and there's no greater way to make your voice heard and influence your future than to vote this November."