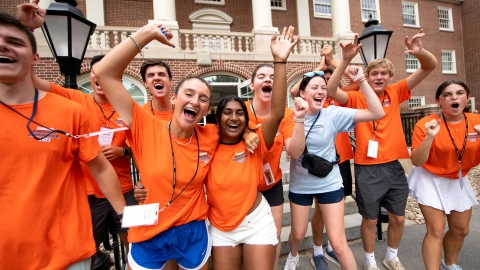 Bucknell to Open 2022-23 with Another Record Incoming Class and Enrollment
August 19, 2022
They are academically brilliant, bursting with talent and driven to invent a brighter future for us all. Now, they're Bucknellians.
For the second consecutive year, Bucknell University will welcome its largest incoming class in history, with 1,039 new students in the Class of 2026. They were selected from a record-setting applicant pool of 11,708, come from 37 states, the District of Columbia and 24 countries and administrative regions, and carry an impressive average high school GPA of 3.63.
But it isn't merely their exceptional grades or scholarly accolades that made this group of students stand above the rest. It's in the personal stories of adventure, perseverance, service, passion and more through which each member of the class embodies what it means to be a Bucknellian.
Brilliance Beyond the Numbers
In their applications — each read by a Bucknell admissions counselor — members of the Class of 2026 wrote about their unique interests and experiences, and the real-world lessons that couldn't be learned inside the four walls of a classroom.
One student created a water purification device, while another did vascular research at Brigham & Women's Hospital. Three have investigated the mysteries of degenerative brain conditions, such as Alzheimer's disease and chronic traumatic encephalopathy.
Some pushed their minds and bodies to incredible limits as competitive athletes. One member of the class is ranked No. 1 in Greece for under 18 men's tennis, while another competed internationally in synchronized figure skating. Another student is a two-time national ballroom dance champion.
Some poured themselves into bettering their communities by launching a grocery delivery company, designing Braille signs for a rail trail and founding a nonprofit that has donated 825,000 books to countries around the world.
Among the class is also an award-winning birdwatcher, a working model and a race car driver, as well as one student who climbed Machu Picchu and another who competed on the show MasterChef Junior on FOX.
The Class of 2026 Moves In
Perhaps most impressive is the fact that Bucknell's newest class has managed to do all of this and more through high school years marked by uncertainty and unrest.
"The Class of 2026 demonstrated incredible resilience throughout their high school years," says Assistant Vice President & Dean of Admissions Kevin Mathes '07. "While COVID impacted their experience for two years, they continued to excel academically and within their communities. As they transition to Bucknell, we are excited to have their curiosity, innovative spirit and compassion join our campus."
A Warm Welcome
The induction of the Class of 2026 into Bucknell pushes opening enrollment to a record 3,854 students (3,803 undergraduates, 51 graduate students as of Aug. 17) for the start of classes in the University's 177th academic year on Monday, Aug. 22.
Last year, Bucknell set the previous record for the largest incoming class and opening enrollment, welcoming 1,031 new students in the Class of 2025 for an opening enrollment record 3,810 students.
Pre-Orientation Highlights
The incoming class includes 21.7% who are students of color (up from 20.6% last year), 4.1% international students and 13.5% who are first-generation students. More than half of applicants for the Class of 2026 applied test-optional, meaning they chose not to include SAT or ACT scores with their application — a percentage is also up slightly from last year. There are also 20 transfer students, five of whom are Bucknell Community College Scholars.
Serving as the official kickoff to their Bucknell journey, Convocation & Candlelighting ceremonies will begin at 7:30 p.m. on Sunday, Aug. 21, in the Weis Center for the Performing Arts. President John Bravman will deliver the Convocation Address, officially opening the new academic year. Both ceremonies will be livestreamed on Bucknell's Facebook page.