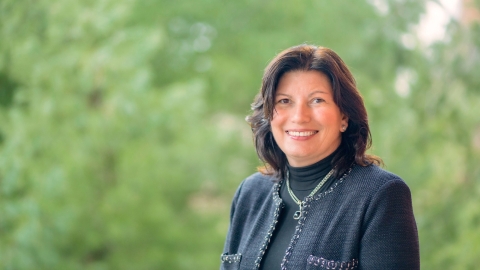 Bucknell Welcomes New Vice President for Finance & Administration Eileen E. Petula
February 28, 2020
Following a nationwide search, Bucknell President John Bravman announced Feb. 28 that the University has hired Eileen E. Petula as its new vice president for finance & administration (VPFA). Petula will join Bucknell on May 1.
Petula brings 26 years of progressive higher education finance and administrative experience to her role at Bucknell, most recently serving as executive vice president for finance, administration and infrastructure and as executive vice president and chief operating officer at Allegheny College in Meadville, Pa., since September 2016.
"I'm thrilled to be joining such a highly regarded institution as Bucknell, which has built a solid foundation for the future through responsible investment and growth," Petula says. "I look forward to quickly becoming an active member of the Bucknell and Lewisburg communities and plan to focus the efforts of the VPFA team on continuing to build upon the strong tradition of prioritizing and enhancing the student experience."
Prior to Allegheny, Petula served for more than 10 years (November 2005-September 2016) at Swarthmore College in various roles, including as the associate vice president for finance and treasurer.  She began her career in higher education at Lafayette College where she gained progressive management experience over 11 years (September 1994-November 2005). Prior to Lafayette, Petula worked as a business manager with Community Action Southwest in Washington, Pa., and in the accounting industry with KPMG Peat Marwick in Pittsburgh.
Her hiring follows a national search led by a team of Bucknell faculty and senior administrators in collaboration with search firm Storbeck/Pimentel & Associates. Bravman says Petula distinguished herself as the top choice among a strong pool of candidates through her proven track record of financial and administrative leadership at private, selective institutions similar to Bucknell.
"Eileen demonstrated a strong understanding of the Bucknell culture," Bravman says. "Her previous experience will serve the University well in the implementation of strategic priorities found in The Plan for Bucknell 2025."
Petula holds a master's degree in business administration from Villanova University and a bachelor's degree in business administration from Indiana University of Pennsylvania, and is a certified public accountant. She serves as a member of the Redevelopment Authority for the City of Meadville, is a member of the physician services board for the Meadville Medical Center and is on the board of corporators for the Meadville Economic Progress Alliance and the Meadville Medical Center. 
At Bucknell, Petula will serve as the chief financial officer for the University and will manage the University's $300 million operating budget and $865 million endowment. She will oversee the implementation of the campus master plan and play a key role in advancing strategic priorities and managing related finances.
Petula will succeed Dave Surgala, who is retiring at the end of the current academic year.