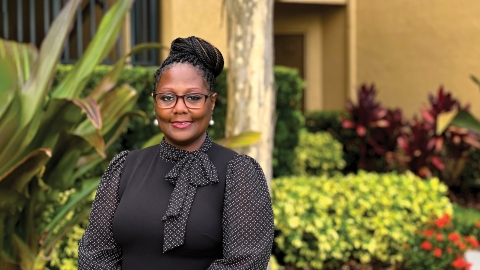 Bucknell Welcomes New Vice President for Human Resources Nicole Whitehead
July 12, 2022
Following a nationwide search, Bucknell University has hired veteran human resources and diversity, equity and inclusion (DEI) leader Nicole Whitehead as its new vice president of human resources. Her first day on campus will be Aug. 8.
"I am honored to be joining Bucknell and its commitment to providing students the foundation to live their dreams and positively impact communities," Whitehead says. "I look forward to being a strategic partner with the campus community to build the best possible workplace in a rapidly changing employment landscape."
Whitehead currently is chief human resources officer at Joliet Junior College in Joliet, Ill., where she also serves as the school's Title IX appeals officer and executive sponsor of goal one of the institution's DEI strategic plan. She brings to Bucknell experience working with a wide range of educational institutions, each with their own constituencies, goals and challenges. In addition to junior and community colleges, she has worked for a public four-year university and a private women's college.
Her hiring follows a national search led by a team of Bucknell faculty and staff in collaboration with search firm Storbeck Search. Bucknell President John Bravman says Whitehead distinguished herself among a strong pool of candidates as a strategic human resources and DEI leader.
"We welcome Dr. Whitehead's experience as a human resources visionary as we emerge from the pandemic and navigate today's evolving workplace," Bravman says. "Her experience as a proven DEI leader will also help guide our community as we seek to achieve key University diversity initiatives outlined in The Plan for Bucknell 2025."
In addition to Joliet Junior College, Whitehead has served as chief human resources officer at Auburn University at Montgomery, where she also was deputy Title IX coordinator, co-chair of the University DEI committee and Americans with Disabilities Act (ADA) 504 officer.
One of her noted career achievements came as director of human resources and community engagement at Sweet Briar College, a private women's college in Sweet Briar, Va. She provided human resources strategy and vision as part of the leadership team that joined with alumni to successfully reinvent and reimagine the college, which had announced plans to close, but was saved to continue operations just prior to her arrival.
Whitehead also was a full-time faculty member before transitioning to a human resources training and organizational development officer role at Catawba Valley Community College in Hickory, N.C. She made the transition to higher education after 10 years in leadership roles of increasing senior operations responsibility at the Fiserv Corporation — an American multinational Fortune 500 company that provides financial technology services to clients across the financial services sector.
Whitehead earned both her bachelor's of science in business and her master's of business administration degrees from Lewis University in Romeoville, Ill., in 2005 and 2010, respectively. She went on to earn a doctorate in education degree in higher education and organizational change from Benedictine University in Lisle, Ill., in 2018. She also earned the certified diversity executive designation from the Institute for Diversity Certification, senior certified professional designation from the Society for Human Resource Management, and senior professional human resources certification from the Human Resources Certification Institute.
Whitehead will succeed Pierre Joanis, who started a position as vice president of human resources at Johns Hopkins University in March. Judith Dorsey has served as the University's interim vice president for human resources since March.