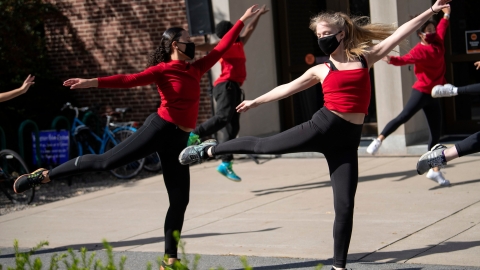 At Bucknell's Outdoor Dance Festival, All the Campus Is a Stage
October 15, 2020
Bucknell's latest pandemic pivots were performed with showstopping choreography, elegant grace and perfect synchronization — all while wearing sneakers and face coverings and staying at least 6 feet apart.
With indoor dance showcases off the docket because of the virus, the students and faculty in Bucknell's theatre & dance department devised a first-of-its-kind Outdoor Dance Festival with performances at 11 locations across campus.
Instead of the vinyl marley floors of the Harvey M. Powers Theatre, the dancers performed on the concrete steps outside the Gateway Residence Center, the stone benches on Malesardi Quad and the leaf-strewn grass of the Grove.
After seven months without in-person performances, the students saw the festival as a welcome chance to dance for a live audience.
"Performing online is great if that's the only option," says McKayla Charney '21, a biology and Spanish double-major from Phoenix, Md. "But if there's a way to dance in person with other people, there's just a connection that's difficult to describe. You feed off of each other's energy and creativity."
As the show's student director, Charney worked with Professor Er-Dong Hu, dance, to hold auditions, find and reserve spaces across campus, and figure out logistical details like how to power the speakers for music at each venue.
Charney even choreographed one of the pieces, "Alone With Nature," in the Grove. With dancers unable to make physical contact with each other, the Grove's trees became more than just a backdrop — they became part of the piece.
"I wanted something solid and sturdy that my dancers could play off of," she says. "Each space on campus has certain elements that contribute to a choreographer's vision."
Along for the Journey
Dance is an art form whose medium is movement. But at the Outdoor Dance Festival, the performers weren't the only ones in motion. Between each piece, the audience was invited to travel with the dancers from one venue to the next.
"A lot of people were calling it a 'dance Coachella,' " says Rachel Anello '22, an animal behavior major from Staten Island, N.Y. "You're just moving from place to place — going on this journey."
The festival began at noon at Malesardi Quad with a performance by first-year students. After that, the traveling show stopped at Rooke Chapel, the Bucknell Farm, the lawn outside Sojka Pavilion and other scenic spots across campus.
Adrianna Rakauskas '24, a psychology major from Bloomsburg, Pa., says she wasn't sure how many people would show up, even on a fall Saturday with gorgeous weather.
"I was thinking it would be a fun performance for me and my friends but wouldn't really feel like a performance," she says. "But it was the opposite. Everybody was spread out, but when you really looked at it, you were like, wow there's actually a lot of people here."
For dancers accustomed to performing in front of bright lights that render audiences invisible, the festival offered a unique chance to observe the crowd's reactions in real time.
Even better, says Jeniah Martin '22, a creative writing and theatre double-major from Brooklyn, N.Y., was the opportunity to talk to audience members as everyone traveled between venues.
"I loved how much the audience was an active member of the performance," she says. "It's not just, we come out, we give you something, then we leave. You're moving on to the next performance with that same audience, and you're talking about it. It was just a really super cool and interesting dynamic."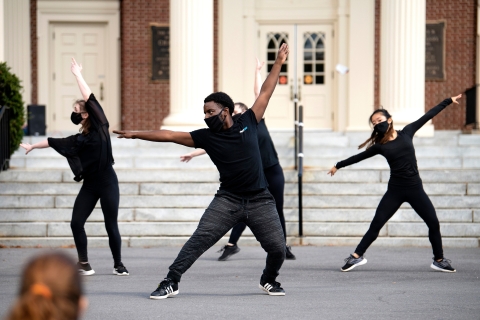 New Places, New Faces
Before the pandemic, viewing dance performances at Bucknell was a very intentional act. Smartly dressed guests arrived at the theatre to watch a show, which started promptly at 7:30 p.m.
But the Outdoor Dance Festival's public setting encouraged even casual passers-by to stop and watch. Even some of the outdoor rehearsals drew a crowd of curious onlookers.
For Isabelle Levesque-Du Bose '23, an animal behavior major from Hollywood, Fla., and the festival's publicity lead, the setting presented a unique opportunity to invite more people to experience dance.
"It's a very selective audience usually," she says. "Now anybody could be walking by, and they'll see something going on and might stop and look and say, 'Oh, I never knew that we had such amazing performers and dancers.' And maybe that'll inspire them to not only come to future shows, but maybe to get involved in dance themselves."
Trey Gaither '21, an education and anthropology double-major from Baltimore, got involved in dance through his church. A minister's child, Gaither watched his sister perform liturgical dances every Sunday.
"I always admired the idea of dancing for someone other than yourself," he says. "The idea that something takes over you when dancing. You're succumbing to something that's higher than you."
Gaither incorporated that feeling into the piece he choreographed, called "He Wants It All," staged outside Rooke Chapel. That performance — and the Bucknell dance program as a whole — is all about connection, Gaither says.
The performance challenged viewers to "have a connection to the music, to the dance, to whatever entity they believe in," Gaither says. And Bucknell's dance program, he says, unites students of every stripe.
"I think the dance program here connects all majors and all types of people — whether you're a mechanical engineering major or an accounting major," Gaither says. "People think that they can't dance until they start to dance. It brings that camaraderie and that spirit of togetherness."