Chief Anthony Morgan Continues to Build New Community Public Safety Model
August 29, 2023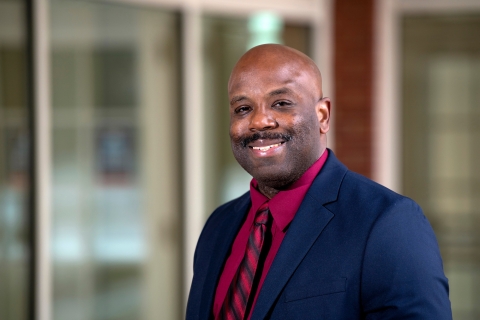 It's taken him just a year-and-a-half on campus, but Bucknell University Chief of Public Safety Anthony Morgan is seeing his vision for creating a new model for community-building in campus law enforcement come to reality.
Morgan instituted several new Public Safety initiatives designed to enhance community relationships and improve safety before the 2022-23 academic year. He has initiated these changes toward that goal in the new academic year:
A Public Safety therapy dog, Digger, a Bernese mountain dog.
Launch of the BSAFE app, which can be downloaded from Apple Store or Google Play by students, faculty and staff.
Hiring two community-service officers, Bonnie Rake and Romale Brown, who are unarmed and can respond to less threatening Public Safety calls.
Purchasing a virtual-reality training system to more effectively train Public Safety officers and campus community partners.
Offering active shooter, situational awareness, de-escalation and CPR training to the campus community.
Conducting a full-scale active shooter drill with local first responders on June 7.
Hosting both a summer campus sexual assault symposium and crisis intervention team training with area law enforcement.
Moving Card Services to Public Safety.
"We made it a stated goal to continue to strengthen community relationships and public trust while striving for public safety excellence on campus, and these changes continue to strengthen that commitment," Morgan says. "Many of these changes came from our dialogue with the campus community, which further reinforces our partnership when it comes to campus safety."
Digger the Public Safety Dog
The idea for a Public Safety therapy dog first came from students, along with Digger's owner, Kelly Pastuszek, a financial aid assistant. Morgan thought it was a great way to increase student engagement opportunities. Digger, who was introduced to new students this year during a Public Safety orientation session, will eventually be housed in the Office of Public Safety daily and ride along with officers on shifts.
The BSAFE app can allow users' phones to act as a mobile blue light if they choose to enable the location feature. By tapping the blue light function button, they can request Public Safety to respond immediately to their location. The app's other functions allow users to:
Report a tip to Public Safety and add photos or video to aid in our response and investigation.
Request a "friend walk," which allows them to share their location and have a friend or family member virtually follow them to their destination. They can also trigger a call to emergency services if needed.
Use a "social escape" feature to provide assistance in getting to a safe location if they need to leave an uncomfortable or awkward situation.
Public Safety can also send emergency alerts through the app.
A New Public Safety Approach
With a staff of sworn police officers and unarmed community-service officers, Public Safety has implemented a tiered response model. For less-threatening calls such as vehicle lockouts, room unlocks, vehicle jumpstarts, safe escorts and certain noise complaints, an unarmed community service officer can respond. For criminal matters and alarms, a Public Safety officer will respond.
Morgan hopes to hire two more community officers, who will also be tasked with building community through campus initiatives.
The virtual-reality training unit will allow officers to conduct training under more realistic virtual conditions, better preparing them for response to safety-related situations. The full-scale active shooter drill with local first responders in June enhanced that training with a realistic drill.
Building community with local law enforcement is also part of Morgan's plan. Jamie Grobes, assistant director of Public Safety, community engagement and partnerships, organized the summer campus sexual assault symposium and crisis intervention team training with area law enforcement. Both events were well-attended, with the sexual assault symposium having 40 attendees, including representatives from multiple surrounding police departments, both chiefs and officers, as well as a local district judge.
Overseeing Card Services provides Public Safety better control over who has access to campus buildings.
"Being involved with access control simply makes sense because of the unique security challenges and risks from who's coming in and out of particular buildings and what permissions they are given," Morgan says.
Morgan says Public Safety will continue the dialogue with its campus community partners on future initiatives designed to enhance campus safety.