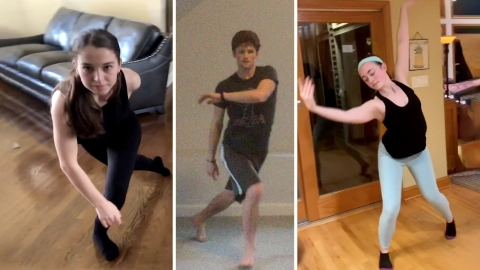 Moving Online: Final Assignment Brings Dance Classes Closer Together
May 8, 2020
Eva Munshower '20 never expected to have to compete for space on the stage with her dog, a Bouvier des Flandres named Argos.
But then again, nobody in Munshower's Modern Dance Technique II class planned to turn their living rooms, childhood bedrooms and backyards into performance venues.
Rather than letting the coronavirus outbreak and subsequent shift to remote learning stifle their creative spirit, Professor Kelly Knox and her students improvised. The theatre & dance professor challenged her dancers to channel their emotions through one of humanity's purest art forms — and to do so from home.
For their final assignment, each student developed a routine blending choreography learned in class with their own creative movements. They could incorporate props, furniture and family members and even move from room to room.
Taking inspiration from the Mitchell Rose film Exquisite Corps, each routine began with a starting pose chosen by the student. In Munshower's video, the cell biology/biochemistry major from Schnecksville, Pa., extends her left arm ahead, holds her right arm high and points her right toe toward the ground.
Each starting pose was identical to another student's ending pose. The idea was to create what looked like one seamless routine using a dozen different dancers in as many locations.
As Knox spliced the performances together to create a single video, the moves flowed like a steady stream even as the locations changed.
"I have been blown away by the students and their creativity," Knox says. "There was something very human in the footage. I had no idea how rewarding it would be to see them dancing in the makeshift studios of their living rooms and backyards."
Breaking Free From Boundaries
With this assignment, dancers more accustomed to performing on a blank stage were forced to innovate. It was, in a way, a metaphor for the entire Bucknell experience, where students devise solutions to tricky situations others might avoid.
After Argos the dog forces her to start over a few times, Munshower nails her routine. In the video, the dancer glides through double doors to another room, presses her foot against a column and twirls gracefully along the arm of a leather couch. She then holds eye contact with the camera, spinning on her feet as the camera revolves around her.
These maneuvers — all but impossible in a more traditional dance performance — required some smooth moves from the videographer, Munshower's younger sister.
"As much as I gave myself choreography, I gave her video choreography, as well," Munshower says.
Munshower says seeing her classmates in the final video offered a heartwarming end to her last semester at Bucknell. Next, she's off to medical school at the Lewis Katz School of Medicine at Temple University. Munshower says her time at Bucknell, especially research into infectious diseases that she completed during her sophomore year, has prepared her to enter the medical field at a critical time.
"When I was applying, my ultimate goal was to go to medical school," Munshower says. "I wanted a school that had a strong pre-med program and a strong science program, but dance was such a big part of my life. I really wanted a school where I could do both."
Connections That Move You
Munshower's story sounds familiar to Caylee Jumbelic '23, a biology major from Yardley, Pa. Jumbelic has danced her whole life, even entering competitions beginning in fifth grade.
Jumbelic wanted to study biology but wasn't ready to give up dancing. She auditioned for the Bucknell Dance Company her first semester, which gave her an opportunity to perform in the fall showcase alongside students from all three colleges: Arts & Sciences, Engineering and the Freeman College of Management.
Jumbelic says she'll never forget the positive experience of working with Knox during her first semester — even though she wasn't yet Knox's student.
"Entering college, it was so impressive that she knew my name within the first week of meeting me," Jumbelic says. "I really like the small community and how they emphasize the professor-student relationship."
That support continued even after Modern II moved online. The students said it was refreshing to see familiar faces — and to simply get up and move. Every Monday and Wednesday via Zoom, Knox led the group through warm-ups and choreographed moves.
"It was definitely a nice break," Jumbelic says. "I always looked forward to it, because my other classes were up in my room, sitting at my desk."
Taking a Chance
"No dancing experience required."
That part of the course description for Modern Dance Techniques I caught the eye of Tom Lanphier '20, a mechanical engineering major from Winnetka, Ill.
The chance to take a dance class — a course that other schools might deem off-limits to engineers, or at least to those who want to graduate on time — enticed Lanphier.
"I had an opportunity to take a class that I wanted and not worry about, 'What requirement is this filling?'" he says. "I can just take a class for my own interest."
Lanphier, a member of the Bucknell crew team, heard from a teammate that dancing was a great way to stay in peak physical condition for rowing. But he got far more than a good workout.
"I was very pleasantly surprised with how welcoming everyone was," he says. "Kelly [Knox] did an amazing job of establishing a welcoming community. That very quickly made any concerns of, 'Oh no, I'm not as good of a dancer as X, Y or Z,' fly out the window."
Like in Modern II, Knox stitched together every Modern I routine into a semester-ending video.
"It was moving to see people in all kinds of situations, in all kinds of spaces," Lanphier says. "This is something I'm going to have forever as a great memory. I don't know if we would've had that from the spring showcase if we had just danced on the stage."