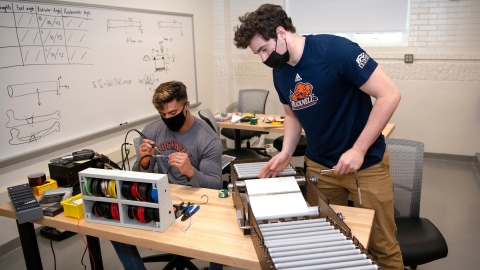 A Safer Sushi Roll: Engineers Aid Companies and Entrepreneurs
May 11, 2021
The pandemic has made us aware of our health and safety in places we never thought about it before, from restaurants to trains to theatres. As a restaurateur in America's most populous city, Kevin Takarada '02 understands this phenomenon all too well.
"The challenge the restaurant industry is facing is an invisible virus that sows doubt and fear into the public's mind," says Takarada, who operates a pair of fast casual sushi restaurants in Central Park South and Grand Central Station, New York City. "This has altered the psychology of the consumer market so much that traditional restaurants are viewed as a liability for potentially contracting the virus."
As he anticipates an upswing in business with the return of office workers and tourists to Manhattan this summer, Takarada will soon possess an innovative way to put his customers' minds at ease, thanks to a yearlong partnership with a team of Bucknell undergraduate engineering students. 
Takarada's business, MakiMaki Sushi, is one of more than 20 companies and organizations that sponsored senior design projects with Bucknell's College of Engineering this academic year. The culminating experience for engineering majors, senior design pairs student teams with external companies to solve authentic industrial problems, from devising a waste-reduction process for an international corporation involved in COVID vaccine distributions to a creating new tool for sealing incisions during surgeries to developing a novel way of protecting soldiers from hidden explosive devices. 
In all, senior engineering majors this year collaborated on more than 40 projects that make real-world impacts on industries large and small, global and local. They partnered with a range of companies and organizations, from industry leaders like Keurig Dr Pepper, ExxonMobil and Johnson & Johnson's Ethicon subsidiary to the regional Geisinger health system to local food and beverage manufacturers. This week, graduating seniors are showing off what they created during an online virtual expo.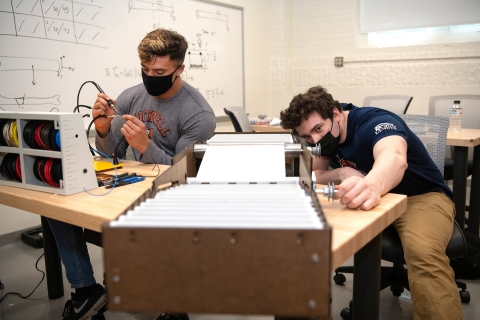 A Safer Sushi Roll
The MakiMaki project challenged mechanical engineering majors Nate Romanowski '21, Michael Bortolot '21 and Charlie Martin '21 to create a device that would sanitize meals after preparation, ensuring contagions like COVID could not be passed on to customers through the food. 
The prototype device they devised in the Dana Engineering Building, which will be installed in one of Takarada's restaurants this summer, uses sanitizing light technology to zap fish, rice and other ingredients, safely killing any trace of viruses. After assembling sushi rolls and placing them in a to-go container, workers send the container through the machine with the lid off, then place the lid on when it comes out the other side, ensuring the food is never touched after it's been sanitized. 
All three students involved say they were drawn to the project for the opportunity to offer help in one of the places it was most needed. When they began work, indoor dining was banned in New York, and more than 1,000 NYC restaurants had closed due to the pandemic.
"When I read the problem description and it talked about COVID, I was just drawn to it," Romanowski says. "And I like sushi, so it was a natural fit." 
Drafting Their Own Blueprint
Taking on such a novel and grand challenge, however, meant there was little playbook to follow. While sanitation processes are used industrially at some fruit and vegetable packaging plants, the team could find no instance of such a process in a retail setting. 
"There wasn't much out there in terms of what we were looking for," Romanowski says. "Throughout the project we've had to look to different areas of different industries for similar things we could use. It's required a lot of creativity and just working through the design process."
Working with a real client also meant meeting the client's needs and constraints. Where a textbook design project might start with a blank slate, the Bucknell engineering team started with a sushi counter. 
"It's interesting, with client-given specifications or requirements there are always certain ones that are critical, but then there are other things that can be a little bit subjective," Martin says. "For example, how wide it can be or how high over the counter it can rise — maybe we can extend it a little further, or maybe there's a hard barrier we can't go past. So it's been really critical for us to communicate with our client throughout the process."
Over emails and Zoom meetings, the group teased out those hard stops and more flexible areas, and in doing so drew not only on their technical skills but on the communication and organizational prowess they gained both in their engineering classes and in courses from across Bucknell's three colleges. 
Takarada, himself a Bucknell mechanical engineering graduate, had one requirement he wouldn't bend on, however: the process could not affect the flavor of the fish, which led the team to quickly scrap plans for a chemical-based solution. The students also added one of their own self-imposed constraints. 
"A major aspect we've been looking at is automation," says Bortolot. "We want the device to pretty much work on its own without employees having to interact with the device much or pay attention to what's going on, because they'll be busy with putting together the rolls and attending to other restaurant operations."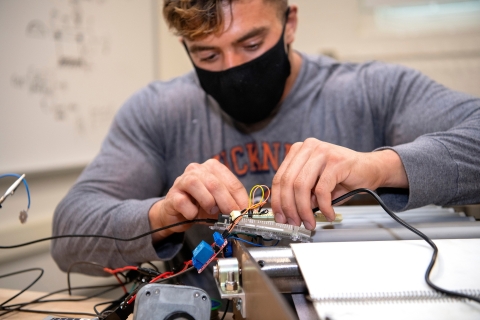 Making It Real
With the project's scope defined, the team moved on developing its prototype, first with computer-aided-design software, then in cardboard, then finally in plastic, glass and steel they cut and assembled in the college's Product Development Lab. As they built, tested and refined each step, the students found themselves drawing on more experiences they've had in their project-based engineering classes, especially the ability to teach themselves and find the answers they'd need — an essential skill when you're creating something that's never existed before. 
"Dealing with the lighting has been an area where we've really had to teach ourselves, because modeling radiation can be quite difficult," Romanowski says. "I helped Michael [Bortolot] 
make MATLAB scripts to model the process and create a heatmap of where all the lights are hitting the sushi surface. We ended up with a really great, polished product, but that's not something we've ever been taught for a class. 
"We had to think about it on our own about how to solve that problem, and I think Bucknell has definitely been helpful in setting us up with those skills."
As they look ahead to beginning their careers as professional engineers, the students are excited to see a product they've designed already out there in the world, making a difference for a business that needs it. 
"It's amazing just to have something palpable to show for the year's worth of work we've done," Martin says. "I think we've all gained a ton from the whole experience — learning to work with a group, working with a client — but I think we're all looking forward to just kind of having our work come to fruition."