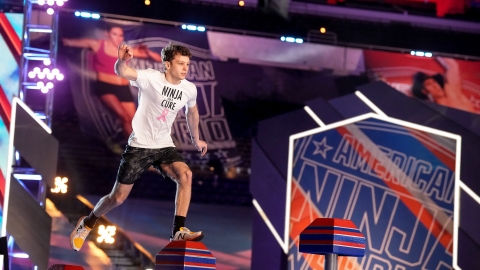 Tyler Behrle '23: American Ninja Warrior
June 11, 2022
Update: Behrle completed the first four obstacles of the course before falling on the Piston Plunge. His performance placed him in the top 30 finishers, enabling him to move on to the semifinals, which will air later this summer. Congratulations, Tyler!
Some kids want to be basketball players when they grow up. Others dream of Super Bowls or Olympic gold medal glory. For as long as he can remember, Tyler Behrle '23 has wanted to be a ninja.
This spring, he got his shot.
On Monday, June 13, Behrle will make his American Ninja Warrior debut, on an episode of the show recorded in March in San Antonio, Texas. Behrle is sworn to secrecy about how he did, but viewers can find out when the episode premieres at 8 p.m. Monday on NBC.
Behrle's appearance on the reality competition show, in which contestants try to conquer a punishing obstacle course that tests strength and balance in equal measure, feels long overdue to the sociology and economics double-major from North Caldwell, N.J. He was selected to appear on the show last season but had to cancel those plans due to COVID-related travel restrictions — but Behrle has been getting ready for a lot longer than that.
Suburban Shinobi
It started on a backyard jungle gym, where a 12-year-old Behrle would run up the slide, pretending to scale the program's signature 14-foot Warped Wall, and traverse the swing chains in imitation of obstacles like Cliffhanger and the Unstable Bridges.
By the summer before high school, Behrle had torn down the swingset and with his father was building a proper obstacle course in the yard, one that would eventually include an actual Warped Wall, along with homemade versions of obstacles like the Salmon Ladder and Quintuple Steps.
In the suburbs of northern New Jersey, a ninja had begun his training.
"I would come home from high school, and if it was a nice day, I'd spend three to four hours on the ninja course, and then I would do my homework," Behrle recalls.
Besides the backyard, Behrle began working out in so-called "ninja gyms," gymnastics centers with their own versions of American Ninja Warrior obstacles, often with wrestling mats and foam pits for safety in place of the TV show's swimming pools.
"It turns out northern New Jersey is a hotspot for ninja gyms," Behrle says. "In my first year of high school I couldn't get up the Warped Wall because I was only like 5'1". I would do really well in the competitions until the Warped Wall, and that's when all the adults would pass me. But I knew I was gonna get taller."
As Behrle grew, so did his success.
"I competed in a teen ninja competition. There are stages to ninja events; I got to stage three and I fell, but no one else finished stage one," he says. It was an epiphany: "It was like, oh, the obstacles I built in my backyard are actually helping me, and I'm actually pretty good at this."
He only got better from there. He began competing with, and now works for, the National Ninja League, an organization that hosts amateur ninja contests for athletes of a variety of ages and skill levels. In 2017, he won the league's national youth division championship.
At age 14, he also hosted his own backyard ninja competition fundraiser for Ninja for a Cure, a nonprofit founded by three-time American Ninja Warrior contestant Henry Ferrarin that raises money for the Breast Cancer Research Foundation. Behrle has since raised more than $15,000 over four total Ninja for a Cure events.
The Ninja Comes to Lewisburg
When it came time to choose a college, Behrle says he made his decision "without any thoughts of ninja in mind." Like many Bucknellians, he was first drawn to Bucknell's academic reputation, then fell in love with the campus upon visiting.
Today, Behrle still balances homework and ninja training. As he prepared for the show, he alternated weeknights devoted to school work and workouts, with much of his physical prep happening on the climbing wall in Gerhard Fieldhouse, where he has a part-time job. As his classmates and professors learned about what he was doing, Behrle found a supportive community to cheer him on.
"When I got the call, one of the first things I did was email my professors to let them know I'd be doing this this semester and that I might have to miss some class or be a little behind on work sometimes," Behrle says. "They were like, 'Oh, you're missing class for that? That's really cool!' "
Many in the Bucknell community will be watching as Behrle makes his American Ninja Warrior debut. If he completes the San Antonio qualifier course, up next will come the semifinals, filmed in Los Angeles in April, then the Las Vegas final. And after that?
"I've been thinking about that a lot," Behrle says. "I definitely am super satisfied that I've been on the show once. If I had done this my whole life and like not gotten on the show, I would have been pretty frustrated with it. As far as doing it again, I am very open to it.
"I do not think I will be applying again next year because I don't want to spend my last semester of my senior year focusing on getting my weight right or how many pull-ups I can do. But after that? If I get a job near a ninja gym, I still love the sport and I will totally be going to that ninja gym twice a week or more. And I would definitely consider doing this again in the future."