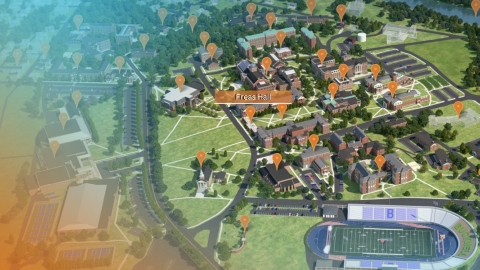 Virtual Campus Tour Empowers Students to Explore Bucknell Anytime, From Anywhere
October 9, 2020
When exploring colleges from home, students expect more than monochromatic maps filled with two-dimensional squares and rectangles. They want to picture themselves on campus, interact with their virtual surroundings and zoom in close to get a better look.
Bucknell University's all-new virtual campus tour lets students do all that — and more. The interactive experience puts students in control as they explore the University through a carefully detailed three-dimensional rendering of campus.
With the pandemic preventing families from visiting every college on their list, the virtual tour is an ideal way to explore the Bucknell campus anytime, from anywhere.
Zoom in to see the green roof atop Academic East, check the time on the Bertrand Library clock tower, or picture yourself in the orange and blue Adirondack-style chairs on the Malesardi Quad. Eagle-eyed visitors can search for hidden details like the Flying Bison, Bucknell's nomadic food truck that serves up wildly popular late-night eats.
Once students have a feel for campus — what the buildings look like and how they're arranged — they're invited to go inside these living and learning spaces. The map includes dozens of orange markers, each indicating a key point of interest on campus. When students click or tap a marker, they'll learn more about that location through helpful text, stunning photos and informative videos.
There's no recommended order — no rigid route that presumes to know what students want when they arrive. The virtual campus tour was designed for students who are curious about Bucknell and want the freedom to look around for themselves.
"We want to provide students and their families with an opportunity to take in the expanse of our beautiful campus while also allowing them to explore areas that intrigue them," says Kevin Mathes '07, Bucknell's dean of admissions. "Our new virtual tour gives them a sense for which areas of campus are dedicated to their academics, extracurricular activities and living options."
Some students might scroll and zoom, find a building that looks interesting and tap the orange marker to learn more. Others might start with the orange menu button on the right and jump to points of interest in categories like academics, athletics, campus life, residential life, or student support and safety.
"I love that students can click on a building to see what it looks like, watch a video highlighting what our students are doing or zoom in to see where we have Adirondack chairs on campus," Mathes says. "There's so much to discover."
Here are a few of our favorite ways to experience the virtual tour:
Look left and right: Bucknell's campus isn't massive — you're never more than a 10-minute walk from where you need to go — but some locations are beyond the confines of your browser window. Be sure to drag the view left, right, up and down to uncover points of interest on the outer reaches of campus, including our Animal Behavior Lab, the Bucknell Farm and the Susquehanna River.
Zoom in and out: The map for Bucknell's virtual tour lets visitors zoom in close enough to see the "B" statue near the South Campus Apartments, count the number of basketball, volleyball and tennis courts on campus, and trace the tree-lined paths between buildings.
Change the time of day — or year: Bucknell students love the fact that Central Pennsylvania experiences all four seasons. For a glimpse of what Bucknell looks like in the fall or winter, use the buttons on the right to change the season. Or try "Night" mode to see Bucknell's safe, walkable campus after dark.
The all-new virtual campus tour is a microcosm of the Bucknell experience: a place where students pursue their curiosity, answer important questions and make unexpected discoveries.