Center for the Study of Race, Ethnicity & Gender
The Center for the Study of Race, Ethnicity & Gender (CSREG) supports faculty development, scholarship, interdisciplinary exchange and collaboration on issues of race, ethnicity and gender as well as their intersections with other aspects of difference (for example, class, sexuality and nationality).
Recognizing that critical engagement with issues of race, ethnicity and gender is essential to understanding the 21st-century world, the center serves as the administrative home for the minor in Race & Ethnicity Studies and offers faculty various opportunities for enrichment, including:
The Annual Black Experiences Lecture
Speaker series, reading groups, workshops and films
The CSREG faculty colloquia series
CSREG curriculum and scholarly development grants, research grants and travel funds
Opportunities for Students
While its primary focus is faculty, CSREG supports student learning directly and indirectly. Many CSREG–sponsored events are open to students and the wider community or are assigned as part of a class; students have opportunities to meet and engage with speakers over a meal or in classroom discussions; and students take courses from or work with faculty whose research, scholarly interests or course content is enhance by the center's programming. In addition, students may serve as interns in the CSREG office. CSREG also maintains a resource library of books and films related to race, ethnicity and gender studies.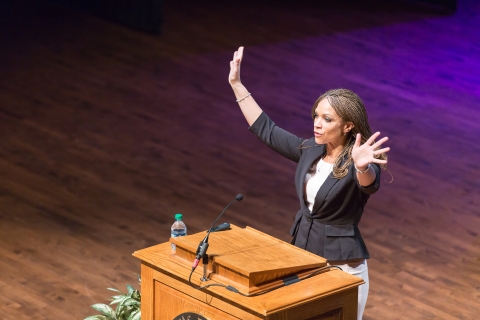 Speaker Series, Lectures & Colloquia
The center facilitates University-wide discussion of issues of race, ethnicity and gender through events and lectures.
Advisory Board
The center's advisory board is a diverse group of Bucknell faculty. The board advises the center on the approach and scope of programming and other initiatives.
Faculty Grants
The Center for the Study of Race, Ethnicity & Gender offers grants for faculty research and travel and for co-sponsorships of lectures and other events. Please see details below, and feel free to contact Susan Reed (sreed@bucknell.edu) for further information.
Reading Groups
The center provides funds and support for both ongoing reading groups and groups associated with particular speakers or events.
Take a closer look at the Humanities
Contact Details
Susan Reed
Associate Professor of Womens & Gender Studies and Anthropology Director, Center for the Study of Race, Ethnicity & Gender
Contact Details
Center for the Study of Race, Ethnicity & Gender