Get unprecedented access to some of the finest field sites in the East, including small towns, forests, mines, rivers and wetlands.
Beginning in your first year as a Bucknell geography major, you'll conduct faculty-guided research using our GIS lab, environmental science lab and 45-acre nature site. Study abroad for a semester or year, or apply to spend a summer on campus, supported by the McKenna Environmental Internship Program.
Whether you focus on human, physical or environmental geography, you'll be prepared for career success in fields such as international affairs, urban and regional planning, business, marketing, journalism, law, and healthcare. Our graduates have secured jobs with organizations like Accenture, AmeriCorps, the Children's Hospital of Philadelphia and the U.S. Army.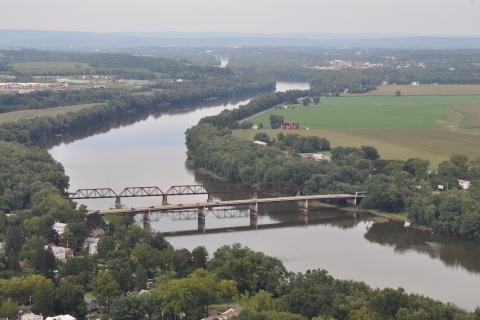 Make the Susquehanna Valley Your Laboratory
Bucknell's location in central Pennsylvania offers an ideal setting for studying both human and physical geography. Our region features a remarkable diversity of landscapes, including the Appalachian mountains, protected wetlands and historic farms; and cultures, from Amish and Mennonite rural farming communities to industrial towns with significant immigrant populations. Geography majors can explore these settings both in the field and through state-of-the-art technologies like our Geographic Information Systems laboratory.
Conduct Research Supported by On-campus Institutes
Bucknell is home to two institutes that provide support and faculty guidance to students interested in conducting social science research.
The Bucknell Institute for Public Policy (BIPP) provides qualified summer research fellows with $4,000 grants and housing to support full-time, faculty-guided projects that culminate in presentations at the Susquehanna Valley Undergraduate Research Symposium or another approved venue.
The Center for Social Science Research (CSSR) grounds students in the fundamental methodologies of social science field research. The center trains students to create deep connections with community field sites, ensuring that students have the tools they need to take on community-based research after they leave Bucknell.
News from the Social Sciences