Mathematical Economics Program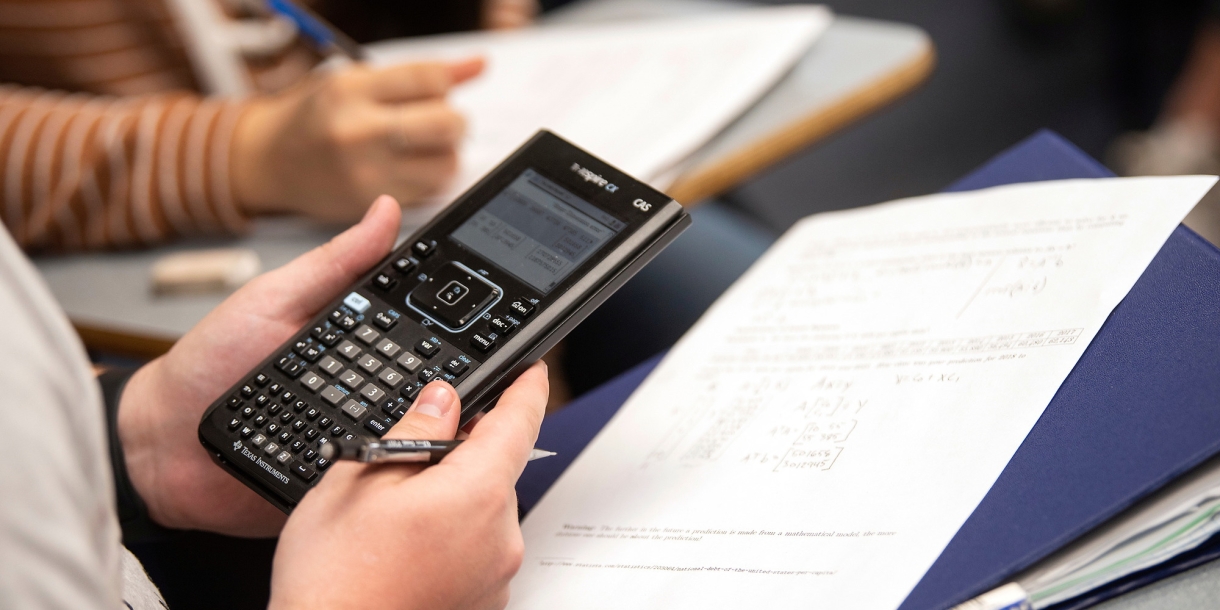 As a mathematical economics major at Bucknell, you'll dig past the data in spreadsheets and trend curves to uncover real stories and understand the quantitative models that drive global economic decisions.
As you acquire an ever-growing library of statistical and mathematical methods and apply them to economic questions, you'll learn more than just how to conduct an economic analysis. You'll understand why the analysis works. The powerful quantitative, interdisciplinary and critical thinking skills our students gain lead nearly half of our graduates to jobs as analysts their first year after Bucknell.
Other recent graduates have found fulfilling careers as traders, actuaries and financial advisers, and have been accepted to graduate programs in biostatistics, law, commerce and finance.
Why Study Mathematical Economics?
The mathematical economics major is for students with an interest in economics who want to learn more about the statistical methods used in the field. A love for data is a must, as well as a curiosity for understanding how things work. The major incorporates a greater focus on mathematics and analytics than Bucknell's economics major, and it allows you to choose from three concentrations:
Statistical: A track that's laser focused on understanding statistical methods and why they work
Computational: A track built around using and understanding computational tools and algorithms to solve problems in economics
Theoretical: A track offering greater emphasis on pure, theoretical math
The analytical skills you gain will prepare you for in-demand careers in a variety of industries and nonprofit fields. Recent mathematical economics graduates are now working for:
Booz Allen Hamilton
Cigna
Federal Finance Housing Agency
Goldman Sachs
Maryland Department of Budget and Management
Morgan Stanley
Nielsen
Northrup Grumman
Pfizer
Viacom
You may also consider a double major in economics and mathematics or combining a major and minor in the two fields.
The Dominguez Center for Data Science
Data Excellence
The new Dominguez Center for Data Science will launch in 2024, and with it, programming that leverages curriculum, research and the expertise of faculty from all three of Bucknell's colleges. Students can expect real-world, hands-on learning experiences that prepare them for 21st century careers and foster ethical data-driven decision-making and creative problem-solving, no matter their area of study.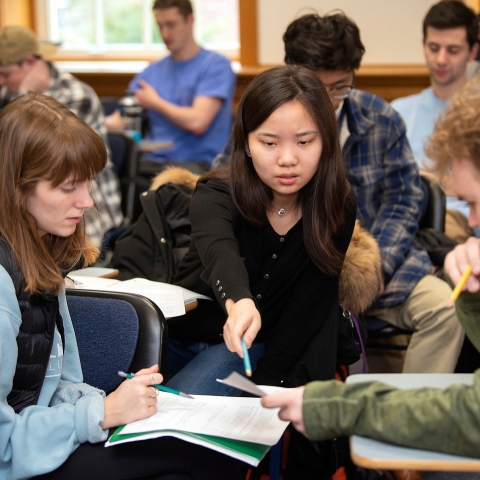 Mathematics Scholarships
The Bucknell Mathematics Scholars Program recognizes applicants for superior academic performance. Mathematical economics majors are eligible to apply.
$10,000 per year
Financial need is not a requirement
Automatically renewed for second, third and fourth years as long as you meet academic progress and program requirements
For more information, contact the Office of Admissions at admissions@bucknell.edu or 570-577-3000.
Deepen Your Education Through Internships
Nearly all mathematical economics majors will have at least one internship experience before they graduate, and Bucknell's deep career network is here to connect you with employers in fields you're interested in. With this practical career experience and the in-depth quantitative skills you'll gain in your major, you'll be prepared to follow whatever path you choose.
Learn more about internships on campus and beyond
Pre-calculus Requirement and Calculus Placement
To ease the transition to mathematics at Bucknell, all MATH 201 students are required to complete an online preparation course. Students are encouraged to complete this course the summer before enrollment.
More information about the course
A student's high school calculus experience, calculus credits obtained from the Advanced Placement Examination and calculus credits obtained from another college will form the basis of credit given and calculus placement.
Contact Details
Mathematical Economics Program