Symphonic Band
The Symphonic Band comprises students from majors across campus. Performing at least twice per semester, programs are selected from some of the most challenging and rewarding music of the entire band repertoire. Recent programs have included music by such composers as Holst, Grainger, Reed, Copland, Shostakovich and Whitacre.
Membership
The Bands at Bucknell are open to all students, regardless of major, through audition. Rehearsal and performance schedules are designed to accommodate the type of academic load often undertaken by Bucknell students, yet allow for the development of the highest musical performance standards. 
Becoming a member of the Bucknell Symphonic Band will provide you with personal and academic connections that will enhance your life beyond the classroom. Band members are more than musical colleagues; they are members of a musical family. The ensemble's warmth and respect creates a safe and encouraging environment which fosters musical excellence and inspired performance.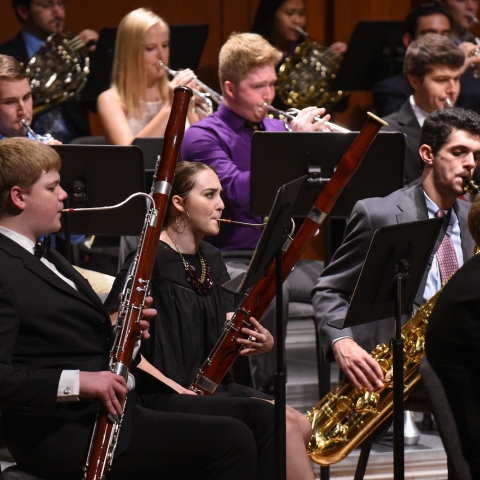 Auditions
Auditions are held before classes begin for the fall semester in Room 207 of Sigfried Weis Music Building. A sign-up sheet with available times will be posted at that location. Musicians are encouraged to bring a prepared piece; however, this is not a requirement. In addition, wind instrumentalists will be asked to play a common scale or two to demonstrate range and possibly to perform a brief sight-reading excerpt. Percussion auditions are determined by the stated interests and abilities of each percussionist. If you need to borrow a university instrument for an audition, please contact the director prior to the audition.
Rehearsals & Performances
The Symphonic Band at Bucknell rehearses and performs in a truly professional setting and we continue to perform the most exciting and challenging band- and wind-ensemble repertoire available. Rehearsals are held Mondays and Wednesdays, from 5:00 to 6:15 p.m. Concerts are held twice per semester and the concert season concludes a couple of weeks before final exams. Rehearsals and concerts are both held in the Weis Center for the Performing Arts.