Engineering Success Alliance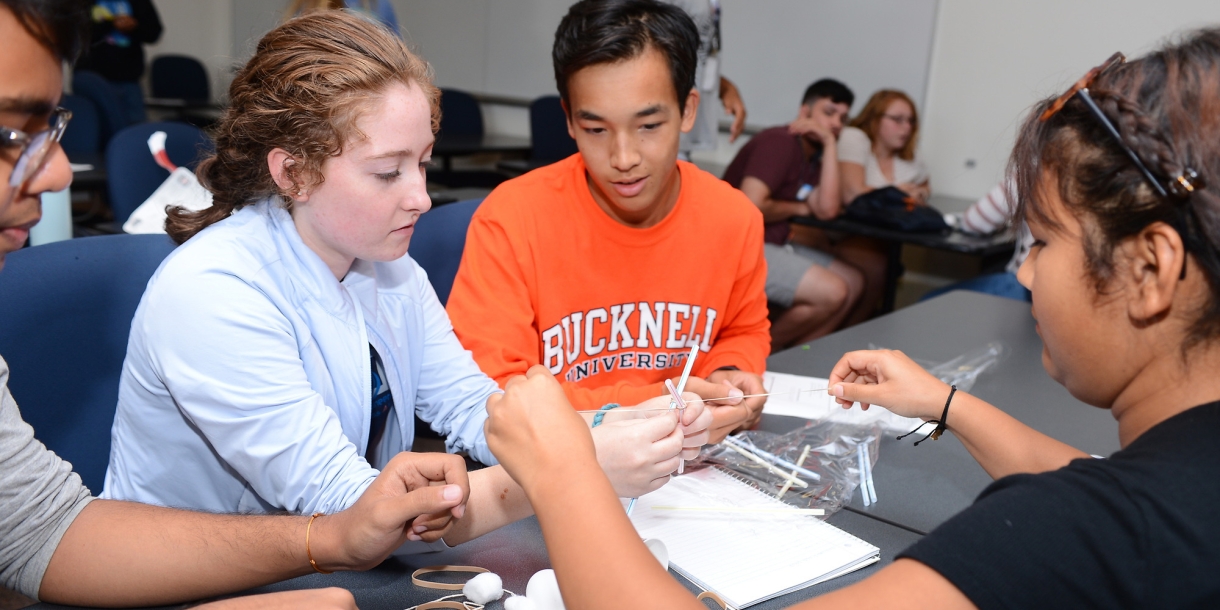 Engineering Success Alliance (ESA) supports students from under-resourced high schools who have the skills to succeed in our nationally recognized engineering programs. ESA is part of a comprehensive effort to increase the diversity of the student population while also providing access to underrepresented minority and first-generation students who may be disadvantaged because of educational and socioeconomic reasons. We offer targeted academic support, mentoring and professional development opportunities to help students gain confidence, feel a sense of belonging and thrive at Bucknell.
Students taking part in ESA have access to exclusive opportunities at Bucknell, including:
The Backstage Bucknell Pre-Orientation program
The Backstage Act II second semester Re-Orientation
Spring break service opportunities
Community-building programs
Admission to ESA is by invitation only. For more information, contact:
Jason Milner, Engineering Success Alliance Director
jason.milner@bucknell.edu
Backstage Bucknell Pre-Orientation
Backstage Bucknell is an invitation-only pre-orientation program where first-year engineers (at Bucknell, we don't call them engineering students) create a supportive community and build a sense of belonging on campus.
Students who are invited to participate will receive notification via email in the spring before their first semester.
What you'll do
Backstage Bucknell offers an array of activities designed to introduce first-year ESA students to College of Engineering faculty, staff and resources. You'll attend math and physics success sessions and pool your creativity in a group design challenge. Build a structure, then test its strength on a shake table. Or design rockets and send them soaring into competition with an air-powered launcher — all while making new friends who share your passion for engineering.
Take this opportunity to start building the academic foundation and inside track you need to make the most of your Bucknell experience — both as a student and in your career. ESA provides encouragement, resources and support all the way up to graduation and beyond, thanks to a vibrant network of ESA alumni.
Cost
Free
2022 Program Dates
Friday, Aug. 12–Tuesday, Aug. 16
(New Student Orientation begins Wednesday, Aug. 17)
Ongoing Activities & Support
The connections you make with your professors and ESA peers will stick with you throughout your time at Bucknell. You'll meet regularly with ESA students from all classes at exclusive programs and activities, and at the start of your second semester you'll reconnect with your ESA cohort through the Backstage Act II Re-Orientation program. You'll also connect with our accomplished alumni who are eager to help you succeed, including through individual coaching and mentoring with our advisory committee. And you'll give back through service-learning projects. Through it all, you'll build a sense of belonging and balance that will help you succeed at Bucknell and beyond.
Backstage Bucknell Act II
This 1.5-day Re-Orientation program will reconnect you with your ESA Pre-O group to share accomplishments, challenges, skills and experiences before you start off your second semester. You'll participate in morale-building activities and learn more about the resources available to you as a Bucknell engineering student. It takes place the January after your first semester.
Spring Service Trip
You'll give back at this annual outreach activity where ESA students visit K-12 after-school programs to share their knowledge and experience through hands-on demos and engineering exploration projects. Previous ESA groups have visited after-school programs in Lewisburg, New York City, Baltimore, and Washington, D.C.
Social Activities
Building a community is about more than supporting one another and helping out — it's about having fun, too. Throughout your time at Bucknell you'll be invited to ESA events, including a fall Homecoming luncheon, Halloween haunted house, Cake Wars and game nights. These events will keep you connected with your ESA class and the larger ESA and engineering communities at Bucknell.
Contact Details
Engineering Success Alliance