Backstage Bucknell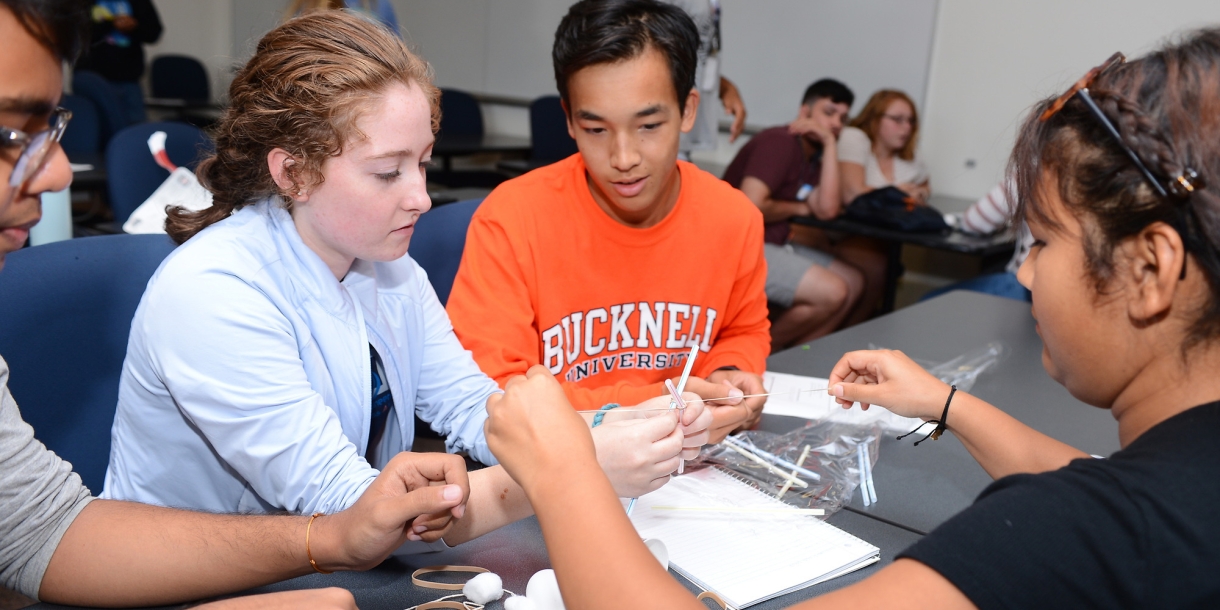 Part of the Engineering Success Alliance (ESA), Backstage Bucknell is an invitation-only pre-orientation program where first-year engineers can create a supportive community and build a sense of belonging on campus.
Students who are invited to participate will receive a notification via email in the spring before their first semester.
Pre-Orientation Move-In Day Schedule
Friday, Aug. 11
7–11 a.m.

Arrival and Check-in
Outside Sojka Pavillion
Students will receive their room key and BUID and check in with their Pre-O program leaders. After check-in, head to your residence hall to unpack your belongings and settle in.

Representatives from a variety of campus offices will be present to answer your questions. Meet staff from Bertrand Library, Bucknell Nutrition, Bucknell Student Health, Campus Activities & Programs, GenFirst!, Global & Off-Campus Education, the Teaching & Learning Center and more.

11 a.m.–12:30 p.m.
Lunch
Bostwick Marketplace, Elaine Langone Center
All Pre-Orientation participants, their families and friends are invited to lunch as guests of the University (no charge). Pick up your lunch tickets at Pre-O check-in.

12:30 p.m.

Program Meetings
See below for locations
Parents and families are invited to join their student and attend these meetings. Program leaders will share details about program schedules and expectations and be available to answer questions.

Arts First
Holmes Hall Lobby
Backstage Bucknell
TBD
BuckWild
Weis Center Concert Hall (please note location change)
Design Thinking Leadership
Square One Studio, South Campus Apartments Building 1
RAMP Up!
Walls Lounge, Elaine Langone Center
Taste, Tech and Teamwork
Holmes Hall 104

2 p.m.
Students: Programs Begin
2 p.m.
Families: University Welcome
Weis Center Concert Hall
President John Bravman and Interim Provost Margot Vigeant welcome and advise family members on the first year at Bucknell. Light refreshments will be served prior to the welcome; parents and families are invited to stay after to mingle.
What You'll Do
Backstage Bucknell offers an array of activities designed to introduce first-year ESA students to College of Engineering faculty, staff and resources. You'll attend math and physics success sessions and pool your creativity in a group design challenge. Build a structure, then test its strength on a shake table. Or design rockets and send them soaring into competition with an air-powered launcher — all while making new friends who share your passion for engineering.
Take this opportunity to start building the academic foundation and inside track you need to make the most of your Bucknell experience — both as a student and in your career. ESA provides encouragement, resources and support all the way up to graduation and beyond, thanks to a vibrant network of ESA alumni.
Backstage Bucknell is scheduled for Aug. 11–16, 2023.
Whom it's for
Backstage Bucknell participation is by invitation only to members of the Engineering Success Alliance. For more information about Backstage Bucknell or ESA, please contact jason.milner@bucknell.edu.
Cost
Free
Contact
Jason Milner, Engineering Success Alliance director
jason.milner@bucknell.edu
Contact Details
College of Engineering
Location
235 Dana Engineering Building

Hours
8:30 a.m. – 4:30 p.m.