Arts First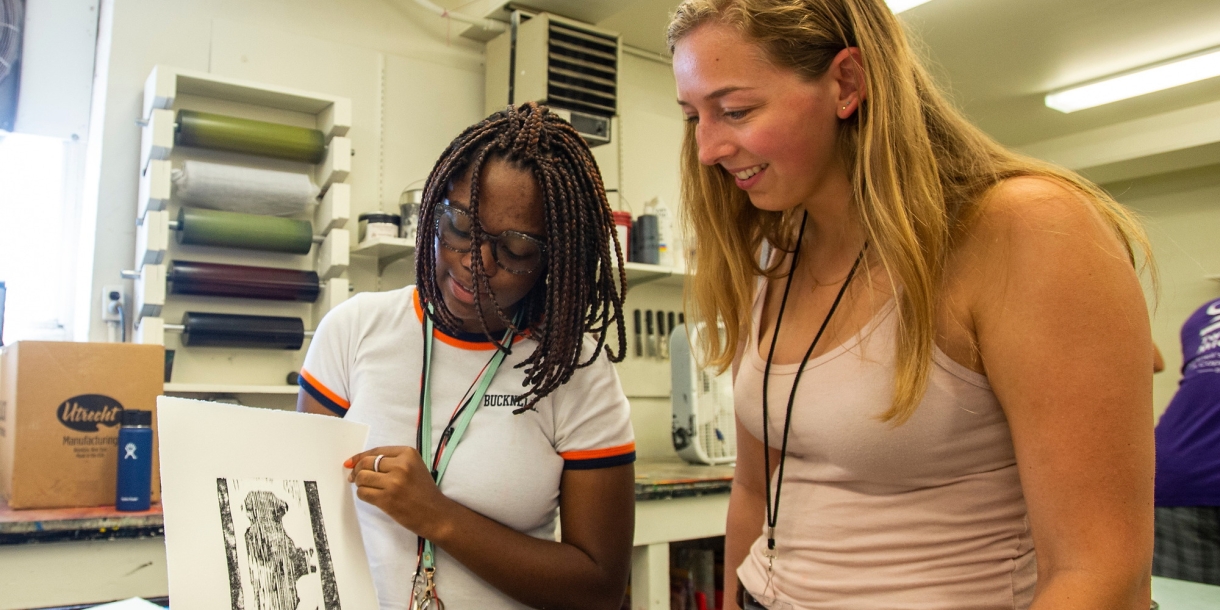 Arts First is a five-day Pre-Orientation program that introduces first-year students to the rich possibilities Bucknell offers for students interested in the arts. 
You'll journey through the creative process and learn about the life of the arts at Bucknell, including academic programs in art, creative writing, dance, film/media, music, and theatre, as well as performances, exhibits, readings and film series through the professional centers and leadership opportunities. Along the way, you'll explore the deep connections, understanding and insights that only the arts can inspire. 
2022 Pre-Orientation Dates to Know
Friday, Aug. 12: 

7 a.m. to 11 a.m.: Move-in for Pre-O participants 
After move-in, Pre-O programs begin 

Tuesday, Aug. 16: Last day of Pre-O programs
Wednesday, Aug. 17: New Student Orientation begins for all first-year Bucknell students 
Note: Dates and times are tentative and subject to change.
What You'll Do
Students in Arts First work with faculty and staff on a multimedia art project that leads to a culminating performance exhibit or event on the final day of the program. Evening showcases give participants the opportunity to show off their artistic talent through dance, stand-up comedy, poetry readings, dramatic skits and music in a wide array of styles. Arts faculty lead students in mini-workshops in a range of artistic genres, and professional arts staff introduce the work of the University's arts centers through tours and hands-on activities. 
In addition, Arts First includes late-night entertainment, team-building activities and more than a few chances to make lifetime memories. First-year participants often return to the program as mentors. If you love the arts, you'll love Arts First.
Whom It's For
Arts First is a great opportunity for artists, performers and other arts-minded students to meet peers who share their interests. The program includes but is not exclusive to Bucknell's Arts Merit Scholars and Arts Residential College students. We welcome all first-year students who would like to explore the arts for enrichment or as a possible platform for future careers — no arts experience is required.
Cost
Free
Contact
Mark "Hutch" Hutchinson, program director, mwh012@bucknell.edu
Kelly Knox, program director, kknox@bucknell.edu
Contact Details
Division of Student Affairs