Design Thinking Leadership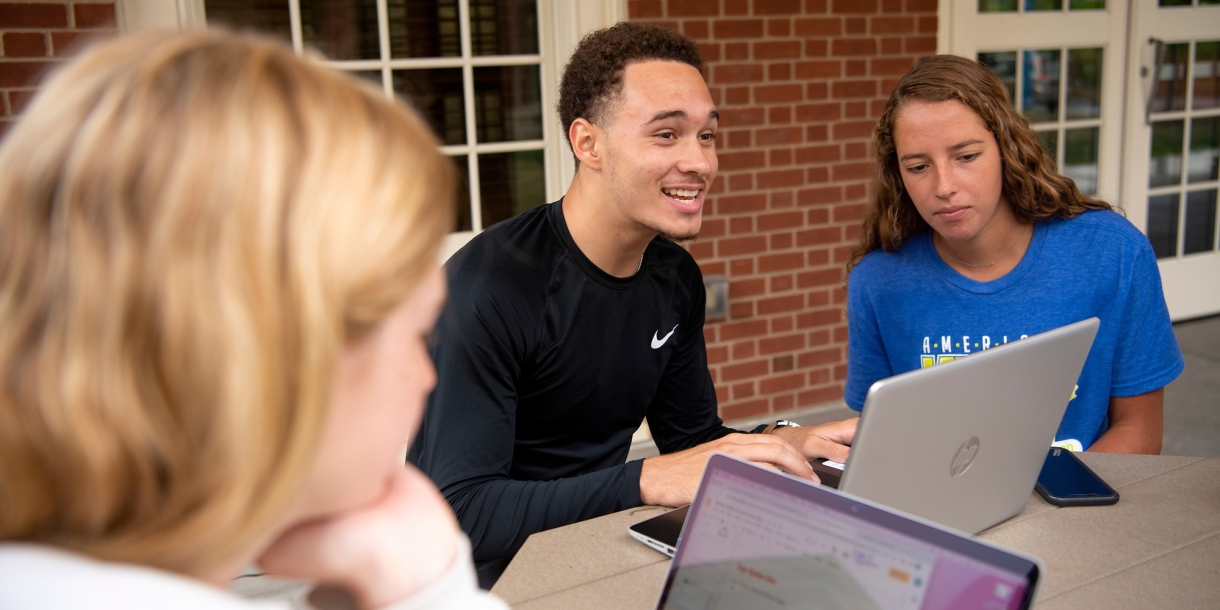 Learn to thrive when the answers aren't obvious. Design Thinking Leadership is a program for incoming first-year students who are interested in innovation, creativity and entrepreneurship. You'll learn new ways to analyze and solve problems, build connections with classmates, get to know Bucknell and the surrounding community, and have fun!
If you enjoy new challenges, brainstorming and collaboration, you'll enjoy thinking creatively and presenting your ideas to real companies in Design Thinking Leadership. Embrace the unfamiliar in this rewarding program — it's an inspiring start to your Bucknell career.
2023 Pre-Orientation Dates to Know
Saturday, June 10:

Deadline to sign up for the Organizations for Change Pre-Orientation

Sunday, June 25:

Deadline to sign up for the Taste, Tech & Teamwork Pre-Orientation

Friday, June 30:

Last day to sign up for other Pre-Orientation programs
Availability is limited; sign up as soon as possible to reserve your spot

Friday, Aug. 11:

7 – 11 a.m. Move-in for Pre-O participants
11 a.m. – 12:30 p.m. Pre-O participants and their parents and families are invited to join us for lunch in Bostwick
Pre-O programs begin after move-in

Tuesday, Aug. 15:

Last day of Pre-O programs

Wednesday, Aug. 16:

New Student Orientation begins for all first-year Bucknell students
Note: Dates and times are tentative and subject to change.
What You'll Do
Through design thinking workshops and small-group activities, you'll develop a strategic mindset for problem-solving. Get results in real time as you engage with local businesses to help them develop innovative solutions to real-world challenges. Your journey will be guided by the mentorship of alumni, faculty, staff and upperclass student leaders. Learn valuable skills that will enhance your studies in any field, and build relationships you'll draw upon again and again throughout your years at Bucknell.
You'll also enjoy outings to favorite local spots with your new classmates. Typical off-campus trips include team-building ropes course exercises, an afternoon at Knoebels Amusement Resort and ice cream runs to the Freez — a Lewisburg tradition.
Whom It's For
Students of all academic interests are welcome to join Design Thinking Leadership, and no experience in entrepreneurship or design is necessary. You only need to be interested in connecting with like-minded students, learning valuable new ways of thinking and having fun. Capacity is limited to 30 people.
Cost
None
2023 Program Dates
Friday, Aug. 11–Tuesday, Aug. 15
(New Student Orientation in-person sessions begin Wednesday, Aug. 16)
Contact
Sabrina Shankar, Program Adviser
ss100@bucknell.edu
570-577-1958