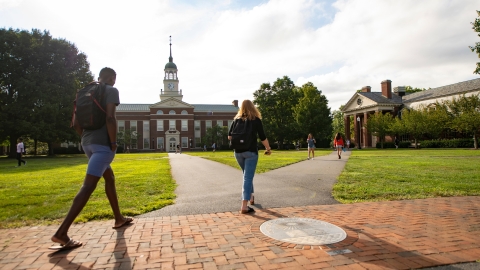 Is Bucknell Worth the Money?
July 20, 2020
We get it — it seems like a lot of money. The sticker prices of prestigious, private colleges like Bucknell are frequently high. You may have looked at our tuition and fees and felt hesitant about even applying. You're here because you want to know: Is Bucknell worth the money?
We believe the answer is unequivocally yes, and below you can learn more about exactly why that is. But before we begin to explain all that, there's one thing we need to make absolutely clear. If you take one piece of advice away from reading this post, it should be this: 
Do not let the sticker price of Bucknell — or any school you love — stop you from learning more, visiting or applying. You won't know what a college will actually cost you until you receive your acceptance and financial aid offer, and you may end up with a better offer than at another school with a lower sticker price. 
You can make your decision when you have all the information, but in the meantime, focus on learning as much as you can about the schools where you'll apply so you can make the choice that's right for you. Don't give up before you even begin. 
Below, you'll find real facts about why Bucknell is worth your investment, why it may be more affordable than you think and what you'll get for your investment when you're here. 
Bucknell Graduates Earn More
A college education is still the best investment you can make in your future, and the education you'll get at Bucknell has a payoff that's much higher than average. At the most basic, dollars-and-cents level, this is one big reason why Bucknell is in fact worth the money.
The simplest way to prove this is to look at return on investment: How much more can you expect to earn over your lifetime because of the money, time and hard work you invested in your Bucknell education? What do you get back for the investment you put in?
Many external sources have noted that Bucknell's return on investment is very, very good:
One of the most comprehensive studies of college payback ever done, released in 2019 by Georgetown University's Center for Education and the Workforce, found that Bucknell grads could expect to earn an extra $1.4 million over a 40-year career versus those with only a high school diploma. That's nearly double the value the researchers ascribed to the average four-year private college ($838,000) and four-year public college ($765,000). 

Payscale.com, one of the most trustworthy sources of information about salaries and compensation, regularly ranks Bucknell among the top liberal arts colleges in the U.S. for mid-career salary. 

Thanks to the experiences they have here and the comprehensive services offered by our Center for Career Advancement, many of our graduates begin seeing their degree pay off right away. Average starting salaries for Bucknell graduates have topped $60,000 in recent years, and Bucknell grads also fare far better than the national average in successfully finding a job or getting into the grad school or professional school of their choice after graduation. These statistics change from year to year, but you can find the most recent data, including all the places our graduates are working and outcomes by college and major,

here

. 
Bucknell Might Be More Affordable Than You Think
A college's sticker price is not the price that every family pays for their student to attend. A number of factors — including merit awards and scholarships, athletic scholarships, need-based aid, external scholarships and federal programs like Pell Grants — can all significantly reduce what students and families pay in tuition. 
Bucknell awards approximately $60 million in financial aid annually, and we're focused on increasing that amount. More than half of Bucknell students receive grants or scholarships, and more than 60% receive financial aid in some form, including student loans and work-studies. We have more than a dozen different types or merit scholarships — including scholarships that support artists, mathematicians, women in science and much more — as well as hundreds of endowments that support students based on financial need. For students who demonstrate need, the average need-based aid package is roughly $40,000. 
Thanks in part to programs like these, Bucknell students actually graduate with less student loan debt than the national average. Bucknell students who borrow typically owe around $20,000 in student loan debt after graduating, nearly $10,000 less than the average for borrowers nationwide. And due to the success their Bucknell degree helps them find, our graduates also beat the national averages at paying back their loans on time. 
The bottom line is that a Bucknell education is likely more in reach than you think, and if you can see yourself here, you should apply. You can apply for scholarships and submit the CSS Profile (used to determine need-based aid) at the same time you apply to Bucknell, and you'll find out exactly how much you can expect to pay for your education before you decide to accept your offer. Don't make assumptions about how much Bucknell (or any school) will cost until you know how much it will cost you. 
If you want to learn more about how much aid you might qualify for, including calculators to help determine your individual costs, visit the Tuition, Fees & Financial Aid section of our website.
You can find more information about scholarships at Bucknell here.
What Do I Get for the Money?
Choosing a college isn't just about where you'll end up in four years; it's also about where you're going to spend those four years, and how the experiences you have there will stay with you for a lifetime. 
At Bucknell, that experience is different in a number of ways from the type of experience you might have at a state school or larger institution:
We're a residential school. That doesn't just mean that you're guaranteed a place to live on campus for all four years. It also means that your college experience doesn't end when class is over. More than 90% of our students will live on campus with you (and most who don't will only be a few blocks away), meaning you can form a tight bond with the students around you in ways you're less likely to find at a larger school or one in an urban area. You'll join some of the same clubs, attend the same events and explore the beautiful region around you together. 
Plus, the common experiences you share with your classmates will also bond you to the alumni who graduated before you. The shared experience of Bucknell is one of the reasons our alumni stay connected and are eager to help current students and recent graduates succeed.  
We're undergraduate focused. At Bucknell, all of our faculty are tenure-line professors, we don't have doctoral students and there is one professor for every nine students. But our professors still do the same world-class scholarship and research as their counterparts at other top institutions. The difference is that here, you'll get to do that work side-by-side with them. Our faculty teach here because they're committed to the success of undergraduate students, and they'll help you gain experiences — like the opportunity to publish and present your work or get a prestigious internship or fellowship — that will be much harder to come by at an institution where grad students are first in line for those experiences. You'll get to know those professors, and they'll learn about you and help you explore what you're interested in, since nearly all your classes will have fewer than 30 students, and many less than 10. 
You can explore a wide range of interests and still know your degree carries value. Bucknell offers more than 60 majors and 70 minors and allows students a high degree of freedom in choosing and customizing their course of study. Are you planning to major in a science but want to gain entrepreneurial experience? Take a management course, like Management 101, where you'll start your own company and put the profits you earn toward a service project. An artist who wants to sharpen your design chops? Try an engineering course in computer-aided design or programming. And even if you're not a theatre or music major, you can still take those classes and perform in a play or with one of our many ensembles. At another school, you could be locked out of those sorts of experiences due to your major. Bucknell doesn't just give you opportunities to pursue the interests you want to pursue; you'll gain a more well-rounded experience that interviewers will value, along with the weight a degree from a prestigious university carries.
The bottom line is that by choosing Bucknell, you won't just gain an outcome that's worth the investment; you'll gain an experience that's worth it too. 
If you'd like to learn more about Bucknell, get started in our Virtual Welcome Center.
You can learn more about scholarship programs here and financial aid here.