Current Projects
Facilities works throughout the year to maintain a high-quality living-learning environment for Bucknell students, faculty and staff. See what we're building now.
Major Construction Projects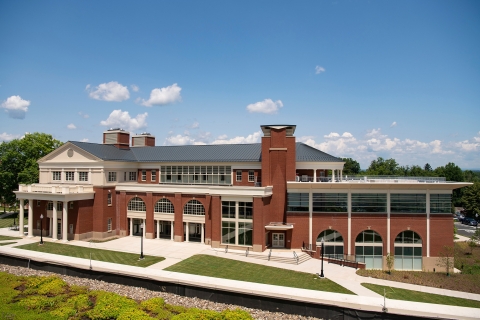 Academic East Building
Opened in August 2019, this project provides an interdisciplinary and collaborative learning environment for the College of Engineering and the Department of Education. The 78,000-square-foot structure with an occupied basement houses laboratories as well as classrooms, meeting and hearth spaces, and faculty offices for education and engineering departments. The building is designed to meet the requirements for LEED Gold certification and incorporates energy-saving technology, locally sourced and renewable materials as well as natural ventilation.
Architect: Stantec
Contractor: Zartman Construction
Project Costs: $37.9 million
Area: 78,900 gross square feet 
Completion: August 2019
---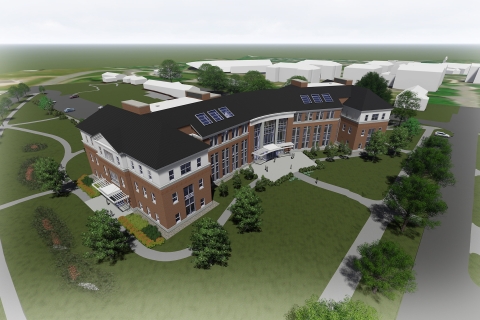 Freeman College of Management/Art & Art History Building
The Freeman College of Management/Art & Art History Building will be a model for interdisciplinary and collaborative liberal arts education, emphasizing skills such as communication, collaboration, and creative and critical thinking. This building will house collaborative classrooms and labs, design studios, an office suite for the dean of management, faculty offices, art labs and studios, and offices for art department faculty and visiting professors. Shared spaces will include a large two-story lobby gathering space, auditorium, seminar rooms, student study spaces, faculty lounge and student exhibit space. The current design reflects a three-story 79,584-square-foot building with mechanical spaces in the attic and a portion of a basement. The exterior of the building will be brick façade and curtainwall structure. Entrances from all four sides of the building will connect to the campus from Coleman Drive, Fraternity Road and South Campus Drive. The project is design is targeted to attain at least LEED v4 Silver certification, with the goal of achieving the LEED Gold rating.
Architect: Cannon Design
Contractor: Poole Anderson Construction
Project Cost: $49.6 million
Area: 79,584 gross square feet
Completion: Anticipated summer 2021
Contact Details
Planning, Design & Construction
Location
245 Gateway Drive, Geiger Physical Plant

Contact