Rooke Chapel
and Other Worship and Gathering Spaces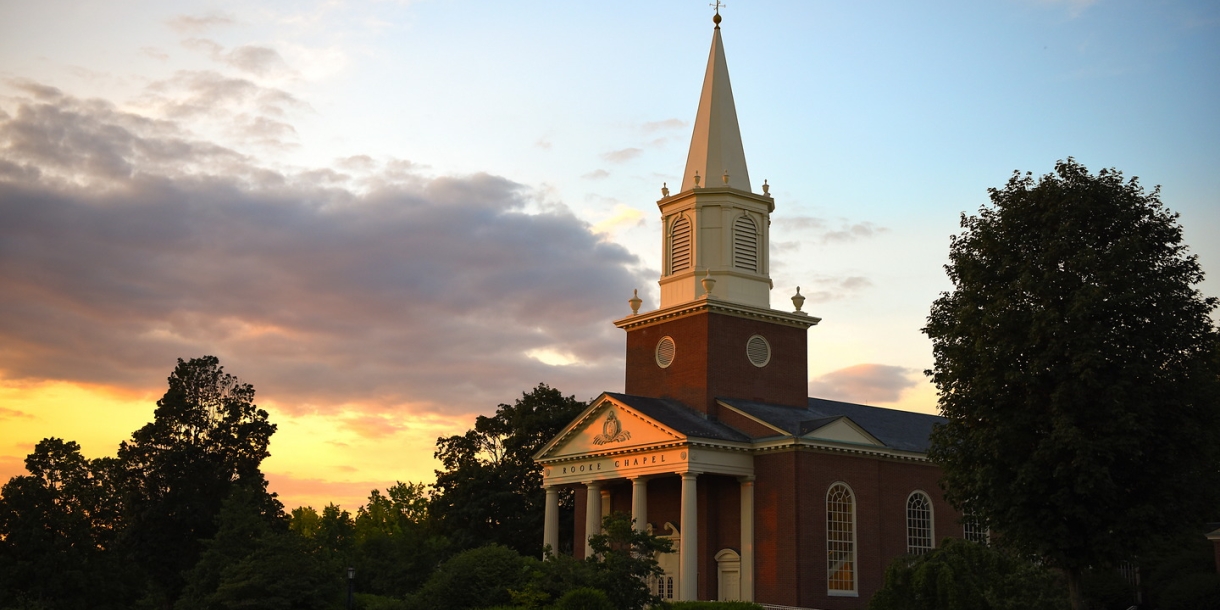 Rooke Chapel is Bucknell's main venue for worship, weddings and spiritual celebrations. An attached one-story wing also houses the Office of Religious Life, the University Chaplain's office, a meditation chapel and a kitchen.
About Rooke Chapel
Dedicated on October 25, 1964, the Charles M. And Olive S. Rooke Chapel is the gift of the late Robert L. Rooke, an member of the Class of 1913 and a member of the University's Board of Trustees. The chapel is named in memory of Rooke's parents.
Designed in Georgian colonial style, the main chapel includes a narthex, sanctuary, chancel area, organ chamber, choir rooms and balconies that surround the sanctuary on three sides. Approximately 700 people can be seated in the sanctuary and balconies.
The chapel's three-manual Reuter organ, one of the largest in central Pennsylvania, fulfills the functions of both a church organ and a concert instrument. This organ is capable of authentically reproducing the music of any period. Louis S. Armento's brushed steel chancel screens, between the chancel and the organ chamber, depict Moses, Jesus and other Jewish and Christian symbols.
Reservations and Weddings
Rooke Chapel may be reserved for weddings, subject to availability and University approval. For more information, please contact the Office of Events Management.
Accessibility
Accessible parking is available in the Stadium Drive lot. An accessible ramp is located on the right side of the chapel. The ramp for drop-off may be accessed by turning onto the driveway opposite the Weis Center on Dent Drive. There is an accessible sign at the entrance to the driveway. Drive to the ramp adjoining the chapel portico and exit back out onto Dent Drive to one of the parking areas. An accessible gender-neutral bathroom is located in the chapel to the left upon entry. Please contact the Office of Religious & Spiritual Life (570-577-1592) if you require information on accommodations. 
---
More Worship and Gathering Spaces
Fellowship House
628 St. George St.
Home to the Sojourners Christian Fellowship. Includes spaces to cook, relax, meditate and meet in small groups, as well as an interfaith gathering space on the second floor.
Newman House
610 St. George St.
Home to the Catholic Campus Ministry. Features spaces for spiritual education and informal fellowship, including a comfortable living room, large front porch, chapel, kitchen and piano.
Berelson Center for Jewish Life
632 St. George St.
Features two kitchens — including a separate, certified-kosher kitchen — as well as dining, lounge and study spaces, a library and the office of Bucknell's Chaplain for the Jewish Community.
Muslim Community Space
First floor, Davis Hall, South Campus Apartments
Includes a prayer room, gathering space, kitchen, wudu washing station and student work office. Available 24/7 via BUID card access.