Rooke Chapel
and Other Worship and Gathering Spaces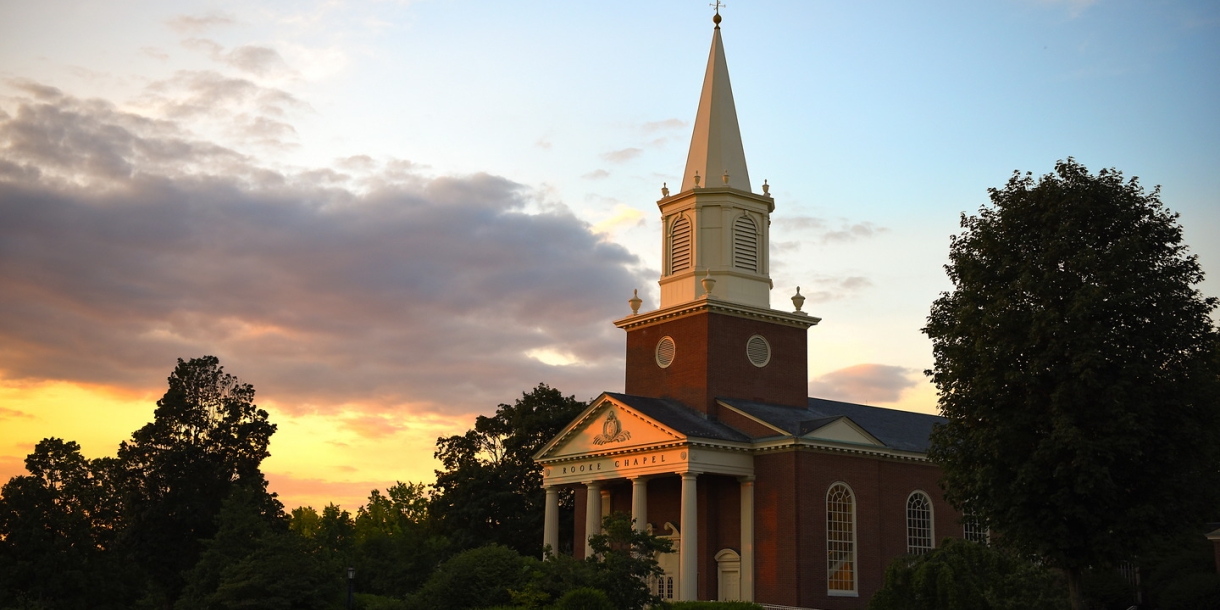 Rooke Chapel is Bucknell's main venue for worship, weddings and spiritual celebrations. An attached one-story wing also houses the Office of Religious Life, the University Chaplain's office, a meditation chapel and a kitchen.
About Rooke Chapel
Dedicated on October 25, 1964, the Charles M. And Olive S. Rooke Chapel is the gift of the late Robert L. Rooke, a member of the Class of 1913 and a member of the University's Board of Trustees. The chapel is named in memory of Rooke's parents.
Designed in Georgian colonial style, the main chapel includes a narthex, sanctuary, chancel area, organ chamber, choir rooms and balconies that surround the sanctuary on three sides. Approximately 700 people can be seated in the sanctuary and balconies.
The chapel's three-manual Reuter organ, one of the largest in central Pennsylvania, fulfills the functions of both a church organ and a concert instrument. This organ is capable of authentically reproducing the music of any period. Louis S. Armento's brushed steel chancel screens, between the chancel and the organ chamber, depict Moses, Jesus and other Jewish and Christian symbols.
Reservations and Weddings
Rooke Chapel may be reserved for weddings, subject to availability and University approval. For more information, please contact the Office of Events Management.
Accessibility
Accessible parking is available in the Stadium Drive lot. An accessible ramp is located on the right side of the chapel. The ramp for drop-off may be accessed by turning onto the driveway opposite the Weis Center on Dent Drive. There is an accessible sign at the entrance to the driveway. Drive to the ramp adjoining the chapel portico and exit back out onto Dent Drive to one of the parking areas. An accessible gender-neutral bathroom is located in the chapel to the left upon entry. Please contact the Office of Religious & Spiritual Life (570-577-1592) if you require information on accommodations.
---
The Rooke Chapel Gospel Fellowship
The 2023-24 Rooke Chapel Gospel Fellowship offers current master's or doctoral students (and recent graduates) the opportunity to cultivate the Gospel music tradition within a vibrant, multicultural University worship setting. The fellow leads, in collaboration with the Protestant chaplain and director of music, weekend residencies open to students, staff, faculty and the local community through the course of the academic year, which are designed to teach, explore and celebrate Gospel music.
Our 2023-2024 Gospel Music Fellow: The Rev. Angela Jones
The Rev. Angela Jones is a Howard University School of Divinity graduate and gospel recording artist who has performed with genre Billboard-charting artists such as Richard Smallwood, Yolanda Adams, Bebe Winans, Marvin Sapp, Brandon Camphor & OneWay, to name a few. Her singing group, Brandon Camphor & One Way, has been nominated for Stellar Awards, has been included on Billboard's top-30 chart four times, and has received three Wammie Awards. With more than 3.5 million digital streams, the group continues to hit radio platforms, including SiriusXM, with their newest single, "Forever." Jones has done production management at venues including the John F. Kennedy Center of the Performing Arts, the Walter E. Washington Convention Center in Washington, D.C.. As the former director of arts at Duke Ellington School of the Arts, in Washington, D.C., Jones mentors emerging artists to help them develop their voice through technique and performance at her voice studio, The Missing Piece. Jones currently serves as minister of worship arts at Word For Life Church Ministries in Maryland.
To Apply
Applications are closed for the 2023-2024 year.
Past Fellows
2021-22 and 2022-23 Fellow: The Rev. Karlos Nichols
The Rev. Karlos Nichols is an ordained preacher, educator, composer, singer, dancer and recording artist originally from Memphis, Tenn. He currently resides in Newark, N.J., where he serves as the associate pastor of worship and arts at Bethany Baptist Church–Newark. He is a graduate of AMDA, The New School (BFA), Walden University (M.Ed.) and Union Theological Seminary (master's in homiletics, arts and worship). He is currently pursuing a doctorate in education from Delaware State University.
Nichols has worked as a public school elementary performing arts teacher and curriculum developer, producer and associate pastor. He has had two consecutive Top 50 Billboard Gospel Sales Chart projects and continues to work through his company, The Kane Group, as a consultant for independent artists and non-profit organizations. Nichols is an executive team member for the National Baptist Convention's iROCK Young Adult Division. He is an active member of Alpha Phi Alpha Fraternity.
---
More Worship and Gathering Spaces
Fellowship House
628 St. George St.
Home to Wednesday night dinners, Quaker meetings, Bible study and more. Includes spaces to cook.
Newman House
610 St. George St.
Home to the Catholic Campus Ministry. Features spaces for spiritual education and informal fellowship, including a comfortable living room, large front porch, chapel, kitchen and piano.
Berelson Center for Jewish Life
632 St. George St.
Features two kitchens — including a separate, certified-kosher kitchen — as well as dining, lounge and study spaces, a library and the office of Bucknell's Chaplain for the Jewish Community.
Muslim Community Space
First floor, Davis Hall, South Campus Apartments
Includes a prayer room, gathering space, kitchen, wudu washing station and student work office. Available 24/7 via BUID card access.
Contact Details
Religious & Spiritual Life