First-year Common Reading
The First-year Common Reading selection for Bucknell's Class of 2024 is What the Eyes Don't See: A Story of Crisis, Resistance, and Hope in an American City, by Mona Hanna-Attisha.
About the Book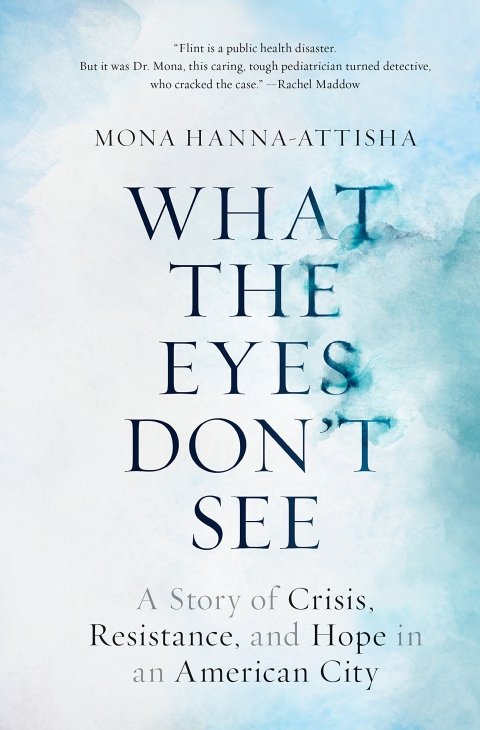 What the Eyes Don't See is a dramatic firsthand account of the water crisis in Flint, Mich., which many consider the signature environmental disaster of our time. A medical and scientific thriller, the book grapples with our country's history of environmental injustice while telling the inspiring personal story of Dr. Hanna-Attisha — an immigrant, doctor and scientist whose family roots in social justice activism helped her take on the crisis.
Dr. Hanna-Attisha spearheaded efforts to reveal, publicize and fix the crisis. In 2014, a change in Flint's water source resulted in astronomical amounts of lead leaching into the drinking water, causing irreversible damage to Flint residents. As a local pediatrician, the poisonous levels of lead in the water terrified Dr. Hanna-Attisha, and she was shocked that the government ignored complaints, protests and reports.
Dr. Hanna-Attisha held a press conference where she revealed her team's findings before they were peer-reviewed, prioritizing the health of her community over the risk to her career. She faced a brutal backlash, but her persistence paid off.
About the First-year Common Reading
The Class of 2024 will receive their books in a summer mailing and should read What the Eyes Don't See before New Student Orientation.
During New Student Orientation, first-year students will have the opportunity to meet in small groups with other members of the Class of 2024 to discuss the book with professors, staff and older students.