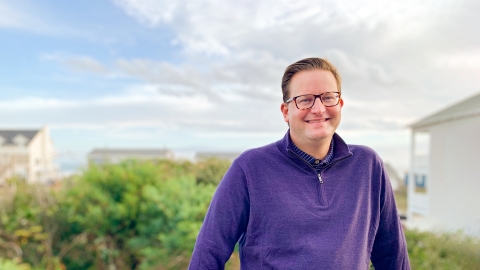 Brian Stolarz '95, Political Science and English
August 1, 2021
I was always told from a young age to use my talents for good. When I saw that's what Bucknell would empower me to do, I knew it was definitely the right place for me to start.
An innocent man convicted of capital murder, a tenacious attorney committed to reversing the sentence and a key piece of missing evidence that would lead to exoneration — anyone familiar with crime dramas might point to these as the ingredients of a sensational thriller.
But the story of the eight-year battle Brian Stolarz '95 fought to reverse the death-row conviction of Alfred Dewayne Brown is anything but fiction. It's one of eight remarkable true stories featured in Netflix's The Innocence Files, a documentary series released in April 2020 that shines a spotlight on miscarriages of justice.
As detailed in the series' eighth episode, "The Prosecution: Hidden Alibi," when Stolarz met Brown in 2007, it marked the first time the former public defender had represented someone charged with murder. Brown, an African American in his 20s, was wrongly convicted of killing a police officer during a robbery in Houston and had been on death row for two years when Stolarz began defending him pro bono.
"I felt the gravity of that responsibility right away because if I didn't succeed, a man was going to lose his life," says Stolarz, who attended the Catholic University of America Columbus School of Law after graduating from Bucknell with degrees in political science and English. "In these types of post-conviction cases, everything is stacked against you — it's hard to unring the bell of a jury verdict. But I felt that this was the ultimate manifestation of my calling to be of service to others."
It's a calling that took root in Stolarz's childhood, where he formed the strong belief that any profession worth pursuing is one that changes lives for the better. When he arrived at Bucknell as a first-generation college student, that principle instantly drew Stolarz to the Social Justice Residential College, an on-campus living-learning community that helps students explore marginalization from all angles.
"I'll always credit Bucknell with being the place where, for the first time, my eyes were opened to the abundant injustice that exists in the world," Stolarz says. "That experience, coupled with the classes I took, not only set me on a path toward law but also inspired me to use my talents to advocate for people like Dewayne."
So for nearly a decade, Stolarz and colleagues worked to dismantle the case against Brown, which resulted in several key witnesses recanting testimonies that contradicted his alibi. The final breakthrough came when a phone record proving that he was home at the time of the robbery was discovered in a box in a detective's garage. In March 2019, an independent prosecutor declared Brown innocent, making him the 154th death-row inmate exonerated in the U.S.
"Whether it's faulty forensic science, witness misidentifications or prosecutorial misconduct, it's important for the public to see that the system is incredibly broken in many ways," says Stolarz, who maintains a close friendship with Brown. "One way we create accountability for fixing the system is by being persistent in what we believe in and sharing powerful stories like this one."