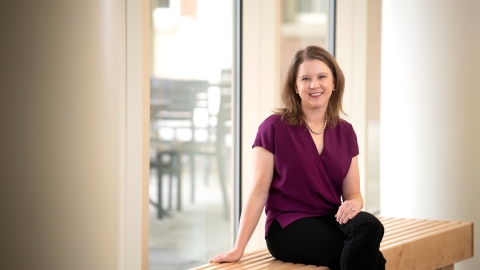 Jennifer Bower Dawson '03, Mechanical Engineering
January 10, 2020
"Part of what it means to be a professional engineer is to uphold the safety, health and welfare of the public. Those values were instilled in me at Bucknell."
Move fast and break things isn't the best approach when people's lives are at risk. As head of safety for Nuro, one of the first companies deploying unmanned, driverless delivery vehicles on public streets, Jennifer Bower Dawson '03 takes seriously her charge of protecting the public welfare as this revolutionary technology takes to American roadways. 
"Silicon Valley has a bit of a reputation for being cavalier in the way they deploy technology — it's go be disruptive, go change the world, and ask questions later about 'should we?' " Dawson says. "As self-driving technology was hitting the roads, I felt a moral responsibility to get off the sidelines and get involved."
Dawson's company began making home deliveries for the grocery chain Kroger in 2018, using autonomous electric vehicles that resemble a narrow, enclosed golf cart. She says autonomous vehicles like Nuro's have incredible promise to improve our lives by making roads safer, cutting carbon emissions and giving all of us more time to pursue activities we find meaningful. "But the potential of this technology is only going to be realized if we deploy it the safe way," she says.
Dawson's awareness of engineering ethics began at Bucknell, where thinking about the societal implications of her work was a part of every course she took in her mechanical engineering major. Her Bucknell education also focused on real-world problems from her first year, giving Dawson a flexibility she's relied on throughout her career — which has included stints as a professor, satellite systems engineer and program manager for a NASA partnership using robots to service spacecraft in orbit.
She still draws on that nimbleness today, as she makes plans not only for the hazards a driverless vehicle might encounter on a busy street, but also the particular needs of each of Nuro's partners.
"Delivering pizzas requires us to keep food hot and handle it safely, but with prescription drugs we are focused on HIPAA privacy laws — each delivery category requires us to accommodate different operational constraints," she says.
Her interest in engineering ethics has also led Dawson to confront one of the techs industry's greatest moral gremlins — the uphill battle faced by women in male-dominated Silicon Valley. She says that as a young engineer she struggled with "imposter syndrome" — the persistent feeling of inadequacy despite evidence of success felt by many women in traditionally male fields — and she wants to help the industry change from the inside. Dawson connects that mission, too, with her experience at Bucknell, where she found support and personal attention from faculty that she calls "absolutely pivotal" for her later success.
When she speaks with engineering students today — as she sometimes returns to Bucknell to do — Dawson not only aims to give women a toolkit for survival, but emphasizes the difference that allies like her professors can make in helping them stick with the industry. 
"In nearly 20 years of professional engineering, I've never had a male colleague sit down and ask what life is like for us and what he can do to help make it a little bit easier," she says. "My advice is to be open to those conversations, ask questions and be empathetic."