Kelsey Herrmann '09, Mechanical Engineering
November 16, 2022
The mystery and wonder of the solar system spark fantasies of space exploration for many children — Kelsey Herrmann '09 included. Long before she majored in mechanical engineering at Bucknell, Herrmann dreamed of becoming an astronaut.
In time, she realized she didn't need to physically be in space to reach for the stars. There is an expansive universe of technicians, designers and engineers deeply involved in the operations that enable missions to happen. And, today, Herrmann is one of them.
As a NASA flight director, Herrmann is part of a team of scientists working on the Artemis lunar rover, the Volatiles Investigating Polar Exploration Rover (VIPER). In late 2024, VIPER will embark on a 100-day mission to explore the extreme environment of the South Pole of the moon. The information VIPER will collect will teach NASA about water on the moon, which will help scientists better understand what resources are available for future human missions.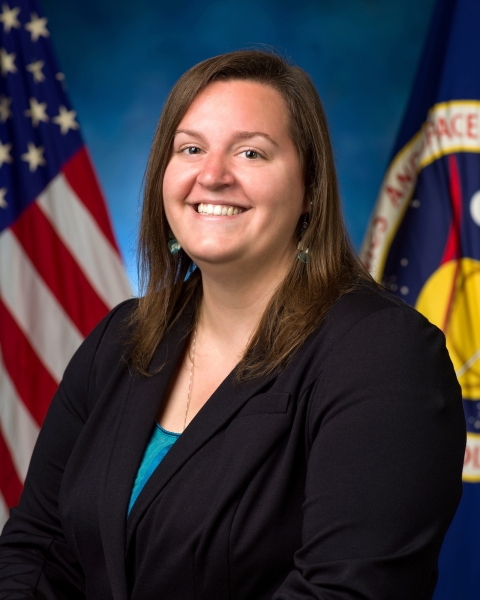 VIPER is just one of the ambitious pursuits of NASA's Artemis program, which successfully launched its moon-bound spacecraft, Orion, in November 2022.
Herrmann, a self-proclaimed "LEGO nerd," has always loved building things, which made engineering a natural pursuit. Bucknell's strong and supportive engineering program lured Herrmann across the country from San Mateo, Calif.
When tragedy stuck — Herrmann's brother passed away from cancer during her junior year — she says Bucknell's faculty, particularly Professor Keith Buffinton, mechanical engineering, provided compassion, flexibility and support that enabled her to spend time with family and stay on track academically.
After Bucknell, Herrmann craved a change of pace and landed a job in Los Angeles doing special effects. "I worked on TV shows and did a couple of indie films and music videos," she says. "It was fun, and it got my creative juices going, but I found that I wasn't intellectually stimulated, and I missed science and engineering."
That realization led her to Northrop Grumman, a global aerospace, technology and security company, where she became a manufacturing engineer of communications satellites. The work rekindled her childhood fascination with space, and inspired her to study aerospace engineering at the University of Washington. While pursuing her master's, she landed two internships with NASA, one at NASA Langley Research Center. The experience affirmed her passion and solidified her ultimate career goal: "After that, it was like, alright, it's NASA or bust."
Since joining NASA in 2016, Herrmann has held several positions, including Mission Control flight controller as an Operations Support Officer (OSO) for the International Space Station (ISS) at Johnson Space Center. "Working in operations is as close to being in space as you can get while being on the ground," she says. "You're the person who's talking to the astronaut or talking to the space vehicles from a control center. When things break on the ISS, we're the ones who figure out the solution and talk to the crew. We're the people in their ears, talking them through how to fix things."
It's work that satisfies her hunger for knowledge and discovery. "The deeper you go, and the more you learn, the more it becomes apparent that we know very little," says Hermann, who is based at NASA Ames Research Center in Mountain View, Calif. "It's just like, holy cow, there is so much we don't know about our own moon and our adjacent planets and our own solar system. I like the endless possibilities of space."
She also benefits from knowing that her work supports research that has the potential to improve lives back home on Earth. "A lot of the research on the ISS is medical-related," she says. They are hoping to be able to help us better understand things like heart disease, Parkinson's and cancer."
For now, she's focused on the countdown to VIPER's upcoming mission. "We'll be looking to understand the components of the moon's water, which is not the water that we experience here on Earth," she says. "We will be drilling into the surface to see how deep the water constituents are. It will be the first time that we will be remote-control driving on another celestial body.
"Being part of that is pretty cool. It's hard to find anything cooler than space exploration."